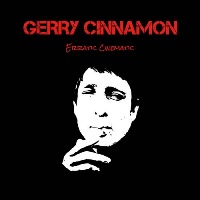 Wiggles has been hounding me to write about this song for weeks, but apart from having heard the song, I knew little about it. When this happens I usually contact the person or people involved to try and find out more. On this occasion, despite several attempts, Gerry and his manager, Kayleigh haven't bothered responding, however, through a friend some details have been obtained.
Gerry was born Gerard Crosbie in Glasgow in 1984 who, by his own words, said, "My life was f***ing mental growing up" because he had no father around and from his teens was often in trouble. Post education he worked as a plumber and then as a scaffolder without satisfaction. He tried his hand at being a chef and even worked in a coffee shop, but then moved to London and resided with a friend's father and began learning guitar. He briefly formed a band called The Cinnamons but that didn't work out and he returned to Scotland. Following some experience with cocaine, he began writing songs about his past experiences which he found came easy and has since poured them out in his songs.
Gerry began a solo career and originally used the mononym, Cinnamon before adding is real first name. He is passionate about his home country and all things to do with it and sings in a strong Glaswegian accent. Many of his songs are reminisce about growing up in Glasgow and his use of cocaine.
"My lyrics are honest almost to a fault, it gets me into trouble," he told Nadia Younes. "I think people appreciate that… The music I write is what I want to hear myself. What other artists play acoustic guitar and their gigs are bouncing? That's all I'm looking for."
In 2017, he released his debut album of self-written songs on his own eponymous label and called it Erratic Cinematic and the opening track is Sometimes.
Sometimes really talks about his troubled upbringing, he openly states, 'Insecurity is rife, I'm not the ideal person to be lecturing of life.' and then in verse two the reference to the drugs, 'Some things I've learned about myself, being in sticky situations, I won't bore you with the filth, breaking bones and sniffing gear.'
Gerry formed his own Little Runaway records because gone are the days when artists needed record labels to help boost their career because with the advent of social media, the artists can do their own promoting and not lose interest like the record labels so often did if a song wasn't a bit hit first time round. He told Craig McLean at The Face, "I know there's people that think that the fact I don't deal with labels is some sort of front. As if I've not had any offers from labels! If they think that what I'm doing just now is because I haven't had offers from labels, then they're a fucking idiot, aren't they? They don't know what they're talking about. Of course I've had offers! All sorts of offers. But it's like, why would it work for me? Why should I sign? At the start I was like: 'let's see if I can open the door. If I can show that there's a way to do this without the glass ceiling or waiting for somebody else to do it for you."
He has a cult following by a loyal fan base who turn up time after time regardless of where the gig is and it's another thing that record companies never really took into consideration. They just looked at sales figures and how much money they could make.
In 2017, he played the John Peel tent at Glastonbury to a 7000-capacity audience who seems to know every word to every song which just enhances his live popularity.
He has, to date, minimal UK chart success having charted three singles, Canter, in the summer of 2019 peaked at number 50, the follow up, Sun Queen petered out at number 64 and last week Where We're Going stalled at number 67. Meanwhile the album, Erratic Cinematic, reached number 17 and spent one year on the chart. In May 2019, he supported Liam Gallagher on tour and later this year he confirmed he'll be headlining the Hampden Park festival, the 51,000 capacity stadium and thus will become the first Scottish act to do so. Things are really taking off for him and only three weeks ago he announced that he will be appearing at the Reading and Leeds festival in August.
In time for that he's had begun work on his second album, The Bonny, which is short for Bonfire and in his mind that is an image of defiance and light coming together.
"The statistics I never really gave a fuck about, it's just the magnitude of it," Cinnamon revealed to Nadia Younes "To be honest, I've got no ambitions, I'm trying to say this without sounding like a negative bastard, but I don't really have any ambitions for it to go any bigger. I don't want it to get any bigger. It's just trying to make it better. And if that means a bigger venue, then so be it."