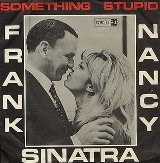 In America, only once has a father/daughter combination topped the Billboard singles chart when in 1967, Frank and his daughter Nancy rode on the crest of a wave with the sickly sweet Something Stupid, They did likewise in the UK but over here there was a 36 year wait until it happened again when Ozzy and Kelly Osbourne covered Changes, a song Black Sabbath first recorded in 1972.
Frank had been a massive star in the forties and early fifties, but then rock 'n' Roll came along and washed him aside a little. Frank said that he hated rock 'n' roll and that it was made by 'cretinous goons'. He decided to form his own record label which he called Reprise but soon realised that he needed some rock acts to balance the books and what's more, his daughter, Nancy, and Dean Martin's son, Dino, wanted to rock. Frank himself was swept along with the tide and Grenada and The Coffee Song became his first two hit on his own label in 1961.
Something' Stupid was written by a songwriter named Carson Parks, a University of Miami graduate, who along with his soprano singing partner Gaile Foote, recorded the song in November 1966 and released as Carson And Gaile on their album San Antonio Rose early the following year. It sold only a handful of copies – but fortunately one found its way to Irving Weiss, one of Frank's employees. Nancy recalled, "Irving fell in love with it, brought it to my dad and said to him 'What do you think of it for you and Nancy?' I'd had some chart records then, so it was a business thing. Dad said, 'Get it to Nancy, and if she likes it, we'll do it.' Well, of course I liked it – it's a classic, a forever song."
There were reservations from the executives at the label who thought a father-daughter romance record was too yucky to contemplate. Nancy was convinced it would work and Frank told them not to worry as Nancy would get top billing and he was right as it topped the charts for a fortnight over here and a month over there. The Sinatra expert, Will Friedwald, commented, "It may be the most un-Frankish performance Sinatra ever recorded, with the two Sinatras chanting away in bland folkish harmony," but the song's co-producer Jimmy Bowen added, "I do know that Frank was pleased with the results of Somethin' Stupid, he would be, at 52 it probably won him teenage fans."
In the Los Angeles studio the musicians were Chuck Berghofer on bass, Glen Campbell on guitar and Hal Blaine on drums, they were known as the wrecking crew, a phrase coined by Blaine. Another Wrecking Crew member, Al Casey, who had played on the original version, recalled, "Frank wanted the exact same guitar line he heard in the original. Glen tried in vain but couldn't please Sinatra, so I showed Glen the part Sinatra was asking for and suggested it was probably best if he did it again, which he did."
Now came to the recording, but a studio slot wasn't booked. In her book Frank Sinatra: An American Legend, Nancy Sinatra recalled, "Dad had been in the studio recording some sessions with Brazilian performer Antonio Carlos Jobim (for the album Francis Albert Sinatra & Antonio Carlos Jobim), at the end of the session, the A Team in the studio stepped aside, and Dad let me bring in my B Team to record our duet. The whole thing took about 20 minutes and we recorded it in two takes, and the only reason it took two was that Dad kept singing shumshing shtupid like Daffy Duck to make me laugh on the first one, and we couldn't finish it, so we had to do a second take. Mo Ostin, the president of Reprise, bet him two dollars it would bomb. He lost his money." During the Brazilian session Frank jokingly said, "I haven't sung so softly since I had laryngitis." Frank & Nancy never made an album together, although the famous picture of them touching noses would have made a brilliant cover shot.
The same year Frank's latest film, Tony Rome, was released and Nancy had sung the title track. Frank was also heading a national campaign to discourage identification of gangsters in ethnic terms. Little did he know that The Godfather was just around the corner.
The song has been faithfully covered a few times; in December 1995 UB40's lead singer Ali Campbell revived it with his daughter, Kibibi and reached number 30 and exactly six years later, Robbie Williams who had been impressed with Nicole Kidman's performance in the film musical Moulin Rouge, suggested, after meeting her in Los Angeles, they record the duet. She agreed and after changing the mood to something more sensual their version made the Christmas number one of 2001. The exact same thing happened to Michael Bublé when he decided to cover the song for his 2013 album To Be Loved. He couldn't decide who he would like to record it with, he said, "I had gone through the singers I knew, like Adele and Katy Perry, and my manager said, 'What about Reese Witherspoon?'" Reese had recorded tracks for the Johnny Cash biopic Walk the Line, in which she played the late singer's wife June Carter. Bublé told BBC News in an interview, "I was impressed by her talent and he and his manager were absolutely fascinated by Walk the Line. She walked into the studio and nailed it, there was no messing around or having to piece things together."
The Sinatra business is still a real family affair with Frank's children right at the heart of the campaign: Tina runs the business affairs, Frank Jr. tours, performing his father's songbook with the original big-band arrangements; and Nancy maintains FrankSinatra.com and does most of the public appearances. Nancy said, "I still have, in my office, a framed copy of a picture of my dad and me taken at that session that Mo sent me. Coming out of a balloon in my dad's mouth are the words, Silly bastard bet me $2 it would be a bomb and attached is a $2 bill."