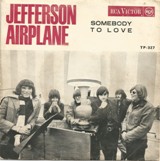 If Scott McKenzie's San Francisco (Be Sure To Wear some Flowers In Your Hair) and Procol Harum's A Whiter Shade of Pale shaped the Summer of Love in the UK in 1967, almost certainly Somebody to Love by Jefferson Airplane did the same across the pond. It might just have been the right time for that song because it failed first time round.
The song, which for a certain generation, will always be associated with the American psychedelic rock band Jefferson Airplane, never made the UK chart so for another generation it will be best remembered by the Boogie Pimps who took a dance version to number three in 2004.
Jefferson Airplane were formed in 1965 in San Francisco and originally comprised singer and rhythm guitarist Paul Kantner, bass player Marty Balin, lead guitarist Jorma Kaukonen, singer Signe Anderson, double bass player Bob Harvey and drummer Jerry Peloquin. Within a few months Peloquin was replaced by Skip Spence and Harvey left. Arguably the most famous female voice of Jefferson Airplane was Grace Slick who joined the following year to replace Anderson who left to have a baby.
Slick, who was born Grace Wing, was a member of The Great Society, a band formed at the same time Jefferson Airplane. That band comprised Grace's husband (drummer) Jerry and his brother (guitarist) Darby and they recorded Somebody to Love originally in a much mellower style but it sank without trace. It was written by Darby when he realised that his girlfriend had done a runner. Darby became a bit disheartened and turned to exploring Indian music and in-turn Grace left to join the Airplane and one of their first tasks were to re-record the song this time in a more brash way most notably with the line ' Your mind is so full of red.'
Balin was unhappy about Anderson leaving and Slick replacing her and despite them singing together on most song they rarely spoke to each other, "Marty was never very communicative, which is odd when you're singing duets," Slick recalled, "Maybe he was jealous of me 'cos I was so fabulous. He's the only one (of the band) I never speak to anymore. Jack Casady, Jorma Kaukonen, Paul Kantner – anyone who's alive is fine. Not Marty. His wife calls me once a year – when she's drunk."
In an interview with Loudersound, Slick was asked what she remembered about the recording, "I don't know whether it was a Tuesday or Thursday, but I remember being in front of the microphone, then listening to the playback on four big Altec speakers in the control room. I remember thinking, 'My God that is amazing – they make it sound like I can really sing.' My mom was a singer, I can imitate her, but it's not my style. She was a lot quieter. They didn't have rock and roll in the thirties."
Their debut album, Jefferson Airplane Takes Off in 1966 did the exact opposite, it failed to trouble the UK & US chart, the follow-up, Surrealistic Pillow, now with Slick at the helm had a cult following and, like the single, never troubled the UK chart, but did reach number three in the States. It also contained the Slick-penned track White Rabbit also written and first recorded by the Great Society after Slick had read Lewis Carroll's book Alice in Wonderland.
In 1996, Jim Carrey performed a version in the film The Cable Guy in which he starred.
The Airplane recorded five further albums over the following five years, After Bathing at Baxter's (1967), Crown of Creation (1968), Volunteers (1969), Bark (1971) & Long John Silver (1972) but by now Balin had left the group and other members were embarking on their own solo projects. Some remained friends and continued touring and they decided in 1974 to continue under the name Jefferson Starship with Balin returning. Balin left again in 1978 and was replaced by Mickey Thomas and the following year Slick departed for a solo career. In 1980 they had a UK hit with Jane and recorded eight albums under that moniker.  In 1984, Kantner, the last remaining original member left and then filed a lawsuit over the use of the name. Kantner settled out of court and an agreement was signed that no one left in the group could use the name Airplane nor Starship, so they became just Starship and had their biggest UK success with We Built This City in 1985 and the chart-topping Nothing's Gonna Stop Us Now, written by Albert Hammond, two years later. At the time it was announced that Slick, then aged 47, became the oldest female to appear on a number one hit however researchers at the time hadn't considered Hilda Woodward, the piano-playing mum with Lieutenant Pigeon who was 59 when Mouldy Old Dough went to number one in 1972.
After all that, in 1989, with the original 1966-70 line-up (except Dryden), reunited for a tour but he did join them in 1996 when they were inducted into the Rock and Roll Hall of Fame where they performed as well, but Slick was not present apparently due to medical reasons.
In 2006, Richard Branson launched Virgin America Airlines and named their first aeroplane Jefferson Airplane. Slick was present at the time and gave a speech. The same year she had health issues suffering from diverticulitis and also required a tracheotomy. She was put into an induced coma for two months but then had to learn to walk again.
Not many of the original line up are still about; Spencer Dryden died of colon cancer in 2005 and both Anderson and Kantner died on the same day – 28th January 2016.