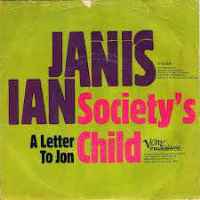 The artist of this week's suggested single has a special place in my heart. It was her 1975 album Between the Lines that was playing during my first ever very intimate romantic liaison in 1981 and have played it to death since. It has, since around that time, become my all-time favourite album. It was later that year, whilst in New York and driving down Broadway one morning that I spotted a sign which read, "Tonight, for one night only, Janis Ian – live'. I slammed on the brakes only to learn that that appearance was the night before. I would have to wait a few more years until she came to London and played another one night only at the Dominion theatre that I finally got to see her. In 1990, I owned my first CD when my brother managed to get her album, on import, from the States. Between the Lines contains, arguably, her most well-known song, At Seventeen which has never made the UK chart. but this week's suggestion goes back to the beginning of her career in 1966.
She was born Janis Eddy Fink in April 1951 in New York to a Jewish family but spent her primary years growing up in East Orange, New Jersey. The area predominantly made up of African Americans and she was just one of a handful of white people in her school which is clearly where some of the inspiration came from. She grew up listening to and thus being inspired by Odetta and Joan Baez. In 1963, at the age of 12, she wrote her first song called Hair of Spun Gold. The following year, perhaps realising she wanted a career in music, she legally changed her surname to Ian which she 'borrowed' from her brother Eric as it was his middle name.
When she was 13 she was inspired to begin writing a song which was originally called Baby, I've Been Thinking. It tells the story of an interracial affair between and white girl and a black man. She tells the story as if she was the girl and how she watched her boyfriend suffer racial abuse from her own mother as well as their peers. She has stated that the song isn't written about any one person in particular even though she sings of the taunting she received because she was involved with a man of the opposite colour which simply wasn't accepted in the sixties especially in America. Clearly her mother couldn't accept her daughter's choice of boyfriend and on their first encounter she resorts to calling him boy instead of using his name. So early in the song she tells him that she can't take it anymore and has to break off the relationship.
In an interview with Songfacts Janis explained, "I don't think I made a conscious decision to have the girl cop out in the end, it just seemed like that would be the logical thing at my age, because how can you buck school and society and your parents, and make yourself an outcast forever." Emphasising the point that it's not autobiographical, "My parents were the complete opposite of the parents in the song," she reiterated. "They wouldn't have cared if I married a martian, as long as I was happy. I felt bad for my Dad because everyone assumed he was a racist."
Ian was discovered by songwriter and producer Shadow Morton who had written and produced most of the Shangri-La's hits, in the same interview she described how a young girl first met the producer, "The way we got it cut was I was hanging around with the Reverend Gary Davis trying to learn guitar from him. His wife took a liking to me and told the owner of The Gaslight Cafe, Clarence Hood, that she needed me to open for the Reverend Gary. I did and this guy came running backstage and said 'kid, I'm going to make you a star,' which was such a cliché because I was into being a folk singer, I didn't need to be a star. Plus, at 14, you don't need to earn a living. I met him after school the next day and he took me up to Shadow Morton's office. Shadow was in one of his periodic funks, thinking he was going to leave the music business. He was sitting there with his cowboy boots on the desk, sunglasses and hat pulled over his head reading the New York Times, and he said 'yeah, go ahead.' So, I sang him some songs, and realised he wasn't listening. Apparently, although I don't remember it, I pulled out a cigarette lighter and lit his newspaper on fire and left. A few minutes later he realised his newspaper was burning, put it out in the trash can and thought 'what am I walking away from here.' He caught up with me in the elevator, pulled me back and actually listened. For some reason he decided this was the one we would cut, and a week later we were in the studio cutting it. I was pleased with the chorus because I had just learned to play an F-sharp minor chord. I had no idea it was unusual to have the chorus slowed down, but it became a real problem when we went to cut it." It was then Morton's idea to alter the title to Society's Child but have  (Baby I've Been Thinking) in parenthesis.
It was recorded with six musicians but nothing was flowing properly. After a few takes they were contemplating leaving it when George Duvivier, the upright bass player, told everyone to stop and actually listen to the song's lyrical content and play with that thought in their mind and within the next 20 mins, the session was done.
Once released on the Verve record label, it wasn't an instant hit in America as many radio stations refused to air it owing to its subject matter. Later the same year, however, a documentary called Inside Pop: The Rock Revolution aired on CBS television which was produced by David Oppenheim and Leonard Bernstein and starred the latter. Bernstein had seen Ian perform the song live at a cafe in the Greenwich village area of Manhattan called The Gaslight and invited her to be a guess on his programme. After she'd performed it, Bernstein went on to criticize the radio stations who had refused to play it and after her performance, the next day they did and eventually climbed to number 14 on the Billboard Hot 100.
The disgraced television entertainer and actor Bill Cosby tried to hinder her career when he misinterpreted something she did as being lesbian and attempted to warn other television channels not to give her airtime because of it. Although she is a lesbian which was made public by a New York publication called The Village Voice in 1976, most people ignored this as it didn't seem relevant to anything or anyone, but she did come out many years later and enhanced by the title of her 1992 album Breaking Silence. She claimed she did this because she was worried about the increasing suicide rates among gay and lesbian teenagers.
She has continued to record and release albums every two to three years with her longest gap being between 1983 and 1992. In the 1980s, she formed her own Rude Girl record label which she still releases her material on and her latest album, Hope has just been released.
Society's Child was inducted into the Grammy Hall of Fame in 2001 and the song, which she stopped performing live for many years, became the title of her 2008 autobiography.