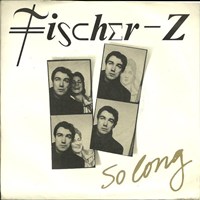 Fischer-Z arrived on the scene around the same time as The Stranglers, 999, Dr Feelgood and the Buzzcocks, they all signed to the same label – United Artists, yet Fischer-Z never quite got the same recognition and chart success as its peers, but the quality of music was right up there. Let's check them out.
The band were formed in 1976 by guitarist and singer John Watts whilst he was studying clinical psychology and working in psychiatric clinics. The original line up comprised, bassist David Graham, keyboard player Steve Skolnikand and drummer Steve Liddle and their name is a pun on the words fish's head but said in a cockney style.
In an interview with Aaron Badgley, John talked about his early life, "I was brought up by my grandparents, who were really from the Victorian age, where kids do not talk. I was taught to observe. As a kid I was a loner, I guess you would say, and I would observe, people, and how they acted. I also read Maya Angelou from a young age. Then I went to University and studied psychology, as I was interested in people." It was there he formed a new wave band; "I felt the energy of 'punk' at the time, but I was a never a punk," he continued. "I was more of an art person, my hero was Andy Warhol, but I liked the spontaneous notion of punk, not careful in their approach, which is a lot like art. Art is an expression of the world, but it has to move you."
They were more successful across Europe than in the UK. They toured with The Police and Dire Straits and once shared a stage with James Brown. Peter Gabriel and Kevin Rowland were fans and he collaborated with both of them. He was also on the bill for the last European festival dates with Bob Marley & the Wailers.
John's songs are always melodic so it's hard to know if the music comes first or the words. "I'm inspired to write words, sometimes about an event or feeling or something that evolve from words themselves," he told Stephen Schnee. Their debut album, Word Salad in June 1979 became their only charting album in the UK and spent a solitary week at number 66. Three singles were released from that album, Wax Dolls and Remember Russia both failed to interest the public, but the third, The Worker went to number 53 and spent five weeks on the chart. The follow-up album, in 1980, was Going Deaf for a Living which contained the single, So Long. It was a much more melodic album with a hint of reggae and championed by John Peel and put on heavy rotation by the newly-launched MTV the following year.
So Long is a heartfelt song, a typical relationship break-up song where she decides to leave and pens a note for him to read. He obviously wasn't expecting it and tries to patch things up. He gets nowhere and feels life can't go on. He tries to find her through her friends but they just made excuses. He hired a private detective who tracks her down in France…with someone else. He asks her mother but she just advises him to leave her alone. Now he's angry and wants to tell her that he hopes she's happy she had done this to him. He cannot understand why she didn't say anything. Surely the most common issue in a break-up?
Watts continues to make music and tour. He does a regular blog which is always an interesting read. He uses various guises for recording which include Fischer-Z, Watts, J.M.Watts or in the mid-eighties as The Cry which he briefly formed with ex-Fischer-Z bassist David Graham.
In 2014, he did a short tour of The Netherlands which extended into Germany. The following year he released the album This is My Universe back under the Fischer-Z moniker. Two years later, he released Building Bridges – his 19th album and last month he released his latest single called Choose. One thing that hasn't changed in 40 years is John's voice and enthusiasm which comes across so strongly in his lyrics.