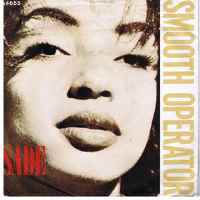 Eight months ago, I had a request from Mark Feltham who asked for two songs by the same act so I thought I'd spread them out. The first was No Ordinary Love and then Smooth Operator both by Sade. In the mid-1980s, on the tail end of the new romantic era, came a new, but limited genre called jazz pop. Matt Bianco, Swing Out Sister and the Blow Monkeys are all good examples as well as Sade none more so than on her third UK hit single.
To recap the previous entry, Sade is not a person, it's a band who take their name from a portion of their lead singer's real name which is Helen Folasade Adu. They opened their UK chart account in February 1984 with the infectious Your Love Is King and followed it three months later with the underrated When Am I Gonna Make A Living. Four months later came Smooth operator which, given the airplay exposure it had at the time, and ever since for that matter, it's hard to fathom how that song peaked at number 19.
Helen had previously been a member of a band called Pride and when Sade came together she brought guitar and bassist Ray Saint John with her and he co-wrote Smooth Operator. It's a story told of man who can charm many women at the same time because he is simply irresistibly attractive. The fourth line in the song tells us that 'He's loved in seven languages' meaning he loves women was various different parts of the world. in other words, his charm speaks volumes to women regardless of their native tongue. He also lives an exciting and flamboyant lifestyle which the women love. That last bit is probably what makes him different from a large percentage of the men in the world. It would seem that the United States would be a good place to illustrate this, 'Coast to coast, LA to Chicago, western male, across the north and south, to Key Largo, love for sale.' It also appears that he only using these women with no real love or affection for them as made clear in the last line of the last verse, 'His eyes are like angels but his heart is cold.'
Prior to forming Sade, Helen had never really been in a recording studio and so, in 1983, she was teamed with producer Robin Millar who is also known for his work with the Pale Saints, Everything But the Girl and Fine Young Cannibals. In an interview with Helienne Lindvall he explained, "I first met them in 1983 they'd never been in a proper studio. The 24-year-old singer had just finished studying fashion design, while working on her creative writing skills. They had some rough, homemade four-track demos of Your Love Is King and Smooth Operator that sounded like a funk band playing free jazz. It was basic, but the songs were good – and then there was that voice. I've always thought there are certain voices that make people feel better: Bing Crosby, Frank Sinatra, Nat King Cole and Ella Fitzgerald, " Millar said, "and when I first heard Sade I really felt she had it. She also had an amazing effect on people in the studio, both men and women – her charisma and how she looked."
Helen clearly feels that her music is more pop than jazz, "When we create a song, it's just… the way it goes. Our music is clearly pop, because it's easy to understand. All the songs I've ever loved – even jazz stuff – are things that tell a story," she said to soulmusic.com. An example is Miles Davis' Sketches of Spain – you feel you're in Spain." she continued. "The soul stuff I like is Sly & the Family Stone's and Family Affair, and Marvin Gaye, who always tells a simple story. It's all simple and unpretentious, and that's what music is to me. It should take you somewhere and move you in some way, and that's what I want our songs to do."
Once the tracks and the parent album were completed they had trouble getting record companies to take an interest. Millar explained, "The band's manager took the demos around to record companies – and every label turned them down. They said the tracks were too long and too jazzy." Millar remembered, "They kept saying, 'Don't you know what's happening? Everything is electronic drums now: Tears for Fears, Depeche Mode.' This was a bit of a blow, because when we played them to people who came by the studio we'd get a fantastic reaction."
Eventually Epic records signed them and radio came on board very quickly and Diamond Life sold over 10 million copies worldwide, and was the best-selling debut album by a British female vocalist (even it is technically a band!), until Adele superseded it in 2008 with her album 19.
In that same interview with Helienne Lindvall, Millar made a very good point about the auto-tune facility and was very glad it wasn't around when he was working on this album, he said, "One of the things that makes a string section sound great is that they're all playing with a slightly different sound, pitch and timing. If you tune them all up they sound smaller and thinner. Where the Auto-Tune sounds most inappropriate is with someone such as Michael Bublé. Sinatra used to sing slightly flat all the time, and so did Sade – that's what gave her that melancholic sound."