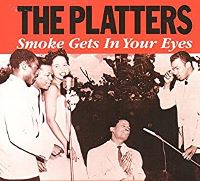 An email came in a couple of weeks ago from Bill Reynolds which said, "Hi John (sic), I live in Cleveland, Ohio and recently came across your website which I found captivating. I was interested to read many of your archived singles of the week which are also really interesting and easy to read. I've got a suggestion for you if that's ok, I recently heard The Platter's (sic) song Smoke Gets in your Eyes on the radio and the DJ said it was a really, really old song which I never knew. Can you enlighten me and give the story of it please?" I replied thanking Bill for his kind comments and got to work on the story.
Well Bill, firstly it is indeed an old song which dates back to the early 1930s and, like many songs, from that era that later became pop hits, it was written for a Broadway show and, in this case, it was a show called (Gowns By) Roberta which was penned by the great lyricist Otto Harbach with music by the equally great Jerome Kern. It starred Bob Hope and Tamara Drasin (who was known mononymously as Tamara) as Princess Stephanie and tells the story of a man in Paris who knows absolutely nothing about fashion suddenly finds that he inherits his late aunt's dress shop.
It opened at the New Amsterdam theatre in November 1933 and ran for just under 300 performances before closing in the summer of 1934. The title, Smoke Gets In your Eyes as a standalone line makes you wonder if someone has run into a burning building or set their kitchen on fire of something, but Harbach & Kern originally called it, (When Your Heart's on Fire) Smoke Gets in Your Eyes which would have made more sense back in those days. Tamara introduced the song in that show but she never laid down a recording of it, nor did she do it first.
It was first recorded just a month earlier, on the 13th October 1933, to be precise, by the American actress, comedian and torch singer Gertrude Niesen who had been born on a ship as her parents were on their way back from a European holiday. She had already signed a recording contract with Victor and they got the song to her first. In 1934, four different versions all made the Billboard chart; Paul Whiteman and his Orchestra using the full title made number one, Leo Reisman who had originally backed Tamara on her version made number three, Emil Coleman peaked at number four and Ruth Etting reached number 15.
In 1935, a film version of the show had been made which starred Fred Astaire and Ginger Rogers and the song was sung by the lead female Irene Dunn. The film version had omitted the songs The Touch of Your Hand, Something Had to Happen and You're Devastating but did include two new songs; I Won't Dance and Lovely to Look At which became popular and did feature in further Roberta shows.
Many have covered the song over years including Harry Belafonte (1949), Charlie Parker (1950), Eartha Kitt (1953), Dinah Washington (1955), Ramsey Lewis (1961), Gene Pitney (1968), Bryan Ferry (1974), Serge Gainsbourg (1975), Patti Austin (1988) and Barbra Streisand (2009) among others.
By far the best-known version is the Platters who topped the UK singles chart in early 1959, "Tony Williams had the best, the clearest, the truest voice I have ever heard in pop music," says Gene Pitney and certainly Williams' soaring lead vocals for The Platters were extraordinary. The Platters bridged the gaps between pop ballads, rock 'n' roll and doowop. The five vocalists appeared in rock 'n' roll films and sang their ballads, Only You (And You Alone), The Great Pretender and (You've Got) The Magic Touch. The group featured Zola Taylor, David Lynch, Paul Robi and the bass voice of Herb Reed. "Not a group out there could touch us when we walked out on stage," said Zola Taylor, "We were a God-blessed winning team." Zola's brother incidentally was Cornell Gunter from the Coasters.
The Platters were managed by Buck Ram, a songwriter who had been a member of The Three Suns in the Forties. In 1958, the Platters' revived The Three Suns' Twilight Time which reached number three and was the first rock 'n' roll hit with a string arrangement. Pleased by the success, they turned to Jerome Kern & Otto Harbach's torch ballad. Smoke Gets in Your Eyes is a deeply sad song which tells of the oh so familiar story of losing yourself when you're young and in love and taking no notice of all your friends and family who try to warn you away from it. Then when it actually does fall apart humbly admitting to your peers that they were right all along. The way Tony sings it almost masks the sadness by keeping his composure. As the song continues and builds, you can feel for him and when his final note explodes, complete with swirling strings you feel the punch, right in the gut. Just so powerful.
Interestingly, after Jerome Kern died in 1945, his widow announced that she hated the song and was livid that Otto had publicly thanked and congratulated The Platters' producer, Buck Ram for reviving his song with taste." She was so upset that she considered taking legal action to prevent its distribution.
The song has been used on the Hearts in Atlantis soundtrack and a cover by Nu Colours featured on the Four Weddings and A Funeral soundtrack. In 1995, The Jerry Garcia Band recorded it for the Smoke soundtrack. I mentioned earlier about it possibly being about a burning room, well someone else obviously thought that because in the same year, it was used in the finale of the TV series London's Burning which then led to cast member Billy Ray (played by John Alford) recording his own version which became his debut hit in 1996 where it reached number 13.
Despite anti-smoking lobbies, the song will always be an evergreen. Tim Rice has described it as the greatest lyric of all-time. The original Platters left the group one by one but they found it tough going as Buck Ram owned the name and they could only trade on their past reputation with difficulty. Even though Ram died in 1991, the Buck Ram Platters still tour the world, a fine group but with no original members.