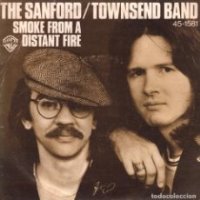 Back in the days when really only radio play of a song would get you into the chart, it's baffling why this song didn't chart. There will be a large number of people who will know this song from the days when Chris Evans used to open his all-request Friday show on Radio 2 with this and even then, the record companies missed a trick by not re-issuing it. Andrew Austin who requested said, "It's a great song but I don't know much about the band or track." Well Andrew, let me tell you all about it.
The Sanford/Townsend Band were a duo made up of Ed Sanford and Johnny Townsend who issued this as a single in America back in 1976 and a year later in the UK, but the story began roughly 10 years before that. "I seemed to have some musical abilities at an early age, so my Mom had me start piano lessons in the fourth grade," Johnny Townsend told Rick Simmons. "When I was 17, I saw this band called Big Ben Atkins and the Nomads, and they blew me away. On the way home that night, I started singing along with the car radio, and my friend Jimmy said, 'Hey, you sing pretty good! want to start a band?' So, we did. Our first gig was a junior high prom and we were paid a grand total of $20, but it told me we could actually make money at this thing. By the time I reached college, we were making money hand-over-fist and were one of the most popular bands in a three-state area in the Southeast. We called ourselves the Magnificent Seven and we were seriously influenced by the rhythm and blues coming out of places like New Orleans, Memphis, and Muscle Shoals. We started to get a little more exposure and eventually became part of the Florida Gulf Coast club scene. In Panama City, there was a popular band called the Swinging Medallions that had a big hit with their song Double Shot, and as a result, vacated their club gig at the Old Hickory, leaving a spot for us to slide in and grab an audience of high school and college kids vacationing in Florida for the summer."
After originally declining and then serving a short spell with the band Hour Glass which briefly had Gregg and Duane Allman before they went off to form the Allman Brothers (I wonder how long it took them to think of that?), Townsend spent six months in Los Angeles when he met his future band member Ed Sanford.
"We wrote maybe a dozen songs together," Townsend said. Ed and our friend Steve Stewart were living in a duplex down in Hollywood, and I'd go hang out with them every day. Ed had a little piano, and Steven was an excellent classical guitarist, and he was one of these driven people who would sit up all night with a music stand in front of him with his guitar thinking if he couldn't be Bach, then life wouldn't be worth living. I went over one morning, and Ed had been up all night because he'd been kept awake by Steve playing in the next room. Ed said, 'When are you going to knock that crap off and write something that's gonna make you some money?' Steven turned around and said, 'Anybody can write that stuff!' and he starts playing this great riff he'd made up on the spot. Ed and I looked at each other and said, 'Hey, that's pretty cool!' We sat down at the piano and started the song using Steven's riff, and Ed said, 'I think this will fit a poem I wrote in college; check out these lyrics and see if they work for you.' The poem he'd written was actually called Smoke from a Distant Fire. He'd had this girlfriend who was fooling around on him, and I thought it was a great image, we all did at the time. I don't remember anything else about the poem, we just took the title from it. In the spring of 1974, Ed Sanford and I had just signed a publishing deal with Chappell Music. They gave us a nice advance and a weekly stipend and for a couple of unknown writers, this was a rare deal."
Townsend revealed in an interview with Songfacts, "We demoed with a lot of the great players of the day which caught the attention of another big time New York producer, Jerry Wexler." Wexler was impressed and took the band to Muscle Shoals studios to record. "We used our band with Barry Beckett as co-producer and musical supervisor. The experience was incredible. We had some of our friends from the Loggins and Messina band come in and play on the record. I got my younger brother Billy up from Tuscaloosa to help with background singing and we came up with quite a nice record. The most memorable song from that outing was Smoke from A Distant Fire. Still a big favourite with a surprising amount of folks to this day. Jerry was not a musician, he couldn't read or play a note. I don't think he could even carry a tune. But he had those ears and he trusted them implicitly. More than anything else, that was his biggest strength. He just knew when it was right, and he knew the difference between something that was good and something that was great, and he could point the way to greatness."
The Sanford/Townsend band were the first group Jerry had produced as he usually preferred to work with solo artists, he made Barry Beckett co-producer and part of our deal with Barry was that in addition to part of his percentage on the record, he got $5,000 and with that money he hired a promotion man who got the song on to around 30 stations in Alabama, Mississippi, and Georgia.
Once those few stations picked it up, it spread like wild fire and before long radio stations in Los Angeles, New York and Boston, Massachusetts were all playing it and it hit the Billboard charts where it peaked at number nine in the Autumn of 1977.
They released five further singles, but none were hits, thus they joined the long list of one-hit-wonders, but on the back of that hit, "We toured for about eight years and went all over the world and shared the stage with a lot of premier acts of that time like Fleetwood Mac, the Marshall Tucker Band, Jimmy Buffett, Foreigner, and others," Townsend said. "Ed later co-wrote I Keep Forgettin' with Michael McDonald, but eventually we too went our separate ways. I still get a thrill out of playing Smoke from a Distant Fire. Everybody still likes it, and it always gets a great reaction. I remember when we played in Myrtle Beach, and there was a great crowd. After we played the song, people came up and said, 'You sound just like that guy who sang that song,' and I'd say, 'Well, that's because I am that guy!' Other people would say, 'I never knew you guys were white!' For someone with my musical roots, that's one of the greatest compliments I could ever have."
A few years ago, the pair reunited to remaster some of their early recordings. Townsend said, "I'm also working with an 11-piece horn band in Virginia Beach called the TGZ Band. I also did some writing and recording with my friends Rick Vittallo and Larry Antonino. Rick was music director for Englebert Humperdinck's 54-piece orchestra, and Larry is the current bass player and singer with the group Player. We also added former ELP and Doobie Brothers drummer Tony Pia.
Jerry Masters was the engineer on the original session and in 2015 he recalled, "I had the distinctly pleasure to record Smoke from A Distant Fire at Muscle Shoals Sound Studio. I cut all the tracks and did all the overdubs. I had to leave for a week for personal reasons, so Gregg Hamm did a wonderful job of mixing the final product. I always thought it was the best LP I did in my career, sound wise, and talent wise. Johnny's and Ed's vocals blew me away, and still do, even to this day.