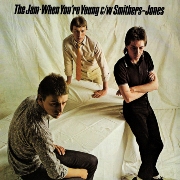 Back in the sixties and seventies, when you left school those who weren't massively educated either followed in the family business or took a job with a big industry company; gas, water, transport etc and were generally guaranteed a job for life. That almost certainly does not happen anymore and now looking less likely than ever as the big corporates talk about employing robots to do your everyday jobs. The city gent image of that long-forgotten era, with the men in their pin-stripe suits, bowler hats and umbrellas inspired a song which ended up as a B side, but its sentiment is probably more poignant now than it was back then.
The song is Smithers-Jones, a track recorded by The Jam which ended up on the B-side of their 1979, number 17 hit, When You're Young. Like the Beatles whose almost entire hit singles catalogue were written by Lennon & McCartney, except From Something which was written by George Harrison, 16 of the the Jam's 18 hits were written by lead singer and guitarist Paul Weller. David Watts, written by Ray Davies, and News of the World written by the band's bass player, Bruce Foxton, were the only exceptions.
Bruce also wrote Smithers-Jones and said of it in an interview with Pennyblack Music, "Yeah, Smithers Jones was, and is, especially heartfelt. You still do get loads of people who give their lives to the job and then once they are past their sell-by date loyalty doesn't matter. That is what happened to my Dad and hence that is how Smithers Jones came about. There is a lot of anger there in that song."
It's a shame there weren't more Foxton-penned songs, he'd written two tracks that appeared on the 1977 album This Is The Modern World and one track on The Gift from 1982, Vic Coppersmith-Heaven, the Jam's producer gave this explanation in an interview with Richard Buskin, "There were some Bruce songs that [manager and Paul's father] John Weller was trying to convince me to include, but it was less about whose song than it was about the concept of the album. We were all very involved with the production at that stage, and we worked together pretty much as a four-piece in terms of choosing the songs. Smithers-Jones worked because it was fresh, it was new and it was interesting to have a different kind of arrangement." The version that appeared as the flip side to When You're Young was a band arrangement and, in my opinion the better version, but for the 1979 album Setting Sons it was a re-worked as a much more orchestral version. Vic continued, "We transposed rhythms from the original band arrangement to the violin score. It was a very good song. Paul's music virtually conceptualised the Jam at that point."
Setting Sons was originally supposed to be a concept album about three young school friends who, a few years after leaving school, were reunited and learned of the directions their individual careers paths had taken but it didn't work out that way because their record label were rushing them to get the album finished. "Polydor wanted Setting Sons released in time for the band's next tour, which had already been fixed," Vic recalled, "so we were locked into that kind of pattern where Paul had to disappear and write the songs, and then we had to get together to record the album and finish it in time for it to be cut to vinyl, released and promoted – with the videos all shot – before the tour began. I, for one, felt enormously pressurised, but the whole project was also getting very exciting, especially with tracks like Eton Rifles taking off and leaping into the charts."
The story of Smithers-Jones basically tells the story of a typical commuter travelling from Woking to London packing, like sardines, into a busy train and how he is loyal and reliable to the company, but one day he turns up and a colleague tells him that the boss wants to see him alone, you know that sinking feeling and so, indeed, the boss in that initial friendly way tell him 'Come in Smithers, old boy take a seat, take the weight off your feet, I've some news to tell you there's no longer a position for you,' and ends the conversation quite bluntly with 'sorry Smithers-Jones'. Smithers returns home now uncertain of his future but seemingly decides to put his feet up and go into early retirement probably thinking, to his chagrin, that 'the only one smilin' is the sun-tanned boss'.
The Jam called it a day in 1982 and Weller went straight on to form the Style Council who, like the Jam, also had 18 hit singles before Weller disbanded them and launched a solo career in 1991. The Jam's drummer, Rick Buckler, formed a new band called Time UK and had one minor hit called The Cabaret in 1983. In the mid-nineties he left the music industry to set up an antique furniture restoration business but returned in 2005 with a new band called The Gift, named after the Jam album and in 2013 moved into music management. As for Foxton, he had three hit singles in 1983/84, the most successful one being Freak which reached number 23. To his other credits, he discovered the Vapours whose big hit was Turning Japanese in 1980 and then, in the mid-eighties, joined Irish band Stiff Little Fingers.
In the early 2010s, after many years of Hostility with Weller, he attended John Weller's funeral and then played bass on a couple of tracks on Paul's 2010 album Waking Up the Nation, later the same year he joined Weller on stage at the Royal Albert Hall – their first appearance together in over 28 years.