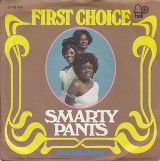 Years ago, some artists would 'borrow' a riff from another artist, recreate it and sometimes get away without giving credit where it is due. Other times there would be a massive court case costing hundreds, if not thousands, of pounds or dollars. In the last 20 or so years that 'borrowing' is now commonplace and is referred to as sampling, where DJs, producers and rappers particularly would take a straight extract from another artist and use it in their own song. It probably gave them a better chance of a hit if the song contained something familiar. The most sampled musical artist is James Brown and the two most sampled voices are arguably Loleatta Holloway and Rochelle Fleming.
Two names you may not be over familiar with but their voices you probably will be. Chicago-born Loleatta had three minor US disco hits in mid/late seventies but was then poached by various producers and artists to lend her vocals to their hits. One of the most famous was Dan Hartman's 1978 original version of Relight My Fire which was later covered by Take That. In 1980 she recorded a song called Love Sensation which is probably her most sampled track and can be heard in many songs including, I Wanna Have Some Fun (Samantha Fox), Grand Piano (Mixmaster), Good Vibrations (Marky Mark & The Funky Bunch), Move (Moby) and Blind Faith (Chase & Status). The most well-known one was Black Box's 1989 million seller Ride on Time, where the sample was used without permission and resulted in Loleatta getting paid out over 10 years later. As for Rochelle Fleming, she was the Philadelphia-born lead singer with the seventies group First Choice and a multitude of acts have used various sections of one of their non-charting songs, Let No Man Put Asunder. You can hear that in Jack Your Body (Steve 'Silk' Hurley), Thousand (Moby), Break of Dawn (Rhythm on the Loose), Can You Party (Royal House) and Too Blind to See (Kym Sims). However, after all that, this week's Single of the Week is Smarty Pants by First Choice.
Rochelle Fleming and future First Choice member Annette Guest were part of a vocal quintet when they were both students at Overbrook High School in Philadelphia. They used to rehearse in Annette's mum's house and were soon doing the rounds of talent shows and public events. After contacting Georgie Woods, a radio DJ at WDAS, they were introduced to the soul producer and songwriter Norman Harris and the Delfonics' manager Stan Watson. The full original line-up was completed when they added Wardell Piper, and Mulaney Star. In 1973, just before the recording of Smarty Pants, they signed a deal with Philly Groove records and Piper left and was replaced by Joyce Jones.
Rochelle explained how they came by the name and how they got together with the producer and the song's writer, "We didn't have a manager at the time we met Norman (Harris) and Allen (Felder), but they knew someone who could help us and would probably be good as a manager and introduced us to Stan Watson. He was called Stan 'the man' Watson and we liked him and he liked us and so he became our manager. One day we were all in Stan's office when our parents were signing our contracts for us and Stan said we needed to lose the name Debonettes (their original name) because it sounded old. We said we had the name for a long time and Stan said, 'I know, but you can't come out with that name.' We had already recorded the first album by this time, but we didn't have a title for the album and the group was on the back burner as far as the new name for the group. So we were all sitting around in Stan's office in Center City Philadelphia. One of the girls said, 'First, first…' then Annette and I collectively said, 'Choice!' Then someone said, 'What about third…' Annette and I said, 'No, First Choice.' To this day, Stan could say he thought of the name of the group but we all came up with the name collectively."
They went into the studio and recorded the album Armed and Extremely Dangerous. The title track was the first released single from it which reached number 16 in the UK and 28 in the States. The second single, Smarty Pants fared less well in the US but peaked at number nine here. It might have been the lyrical content that hindered it as it was written about an unwanted pregnancy following the story of a man called Dan that she pulled in a nightclub, but as explained in the lyrics, 'nine months later looks like the joke's on me, Dan's still on the corner And I'm a mother-to-be.'
For the bulk of their records, First Choice was backed by the tight rhythm section of guitarist (and co-writer) Harris, bassist Ron Baker, and drummer Earl Young, who were all part of MFSB, the house band for Gamble & Huff's Philadelphia International Records.
A later song they did was a cover of Stevie Wonder's Love Having You Around which Stevie produced, what did Rochelle think of it and the experience of working with Stevie? She explained in an interview with Soul Train, "Ursula did the lead vocals on that tune. I remember saying that would be a good song for Ursula since she had that Maurice White and Lionel Richie-type of voice. She used to sing The Commodores' Easy at our concerts. Stevie told us that she and all of us did a great job, and he doesn't tell this to many people who sing his songs. But he knew our music and our style. I remember we were at the Copacabana and we were doing Smarty Pants and Stevie was singing it in the audience. I told the band to bring the music down and I said, 'Excuse me, Stevie, don't be trying to sing our song. Stevie and the audience fell about laughing. Stevie said, 'Alright, alright. I'll chill out.'"
The group split in 1979, "Annette wanted to get married and Debbie wanted to do Broadway, so I gave them God's blessings," Rochelle recalled. "It was an amicable and friendly split, that's why we are able to still come together to this day since we never had any animosity. I love them with all my heart but especially Annette. She and I are super close. I've known her since eighth grade going into ninth grade. She called me recently and said, 'Can you believe we've been friends since ninth grade?' I am the godmother of her son. We both have the same spirit and never had any fights."
Rochelle is back in the studio working on a new CD which is due out by the end of this year, she said, "I'm looking forward to many exciting things in the future one being my new single with The Basement Boys due out in a couple of weeks."