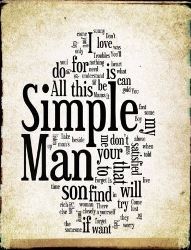 "This song isn't just a song it's a lesson of life that everyone should be taught." A statement someone made on YouTube about this song and there's a whole lot of truth in that. There are some very touching tributes on there and seemingly a favourite funeral song. Simple Man is a simple song with heartfelt words about a mother and son relationship. It also shows that there is far more to Lynyrd Skynyrd than just Freebird and Sweet Home Alabama.
It's a well-known fact how the band got their name, but if you didn't know, they named themselves after Leonard Skinner, the school PE teacher who taught at the Robert E. Lee High School where a couple of members of the band attended. He hated boys to have long hair and the school had a policy about it which Skinner seemed to enforce more than others.
The band originally formed in 1967 and comprised lead singer Ronnie Van Zant, guitarists Gary Rossington and Allen Collins, Larry Junstrom on bass and Bob Burns on drums. Previous names had included My Backyard and later The One Percent. After being mocked about the latter name with some saying the band had only one percent talent, they finally settled on the teacher's name in 1969. After a few line-up alterations, they were playing a gig in 1972 when they were spotted by Blood Sweat & Tears musician Al Kooper who was impressed enough to sign them to his Sounds of the South record label which had the backing and distribution power of MCA records. Their debut album, Pronounced Leh-Nerd Skin-Nerd was produced by Kooper who also co-wrote the track Mississippi Kid.
Simple Man featured on this album and the song came about very much like Mike + The Mechanics' the Living Years some 16 years later in as much as it was written by its founding member, Mike Rutherford and songwriter B.A. Robertson who had both recently lost their fathers thus making it very personal to them and a song so any people can relate to.
Simple Man was written shortly after the deaths of Gary Rossington's mother and Ronnie Van Zant's grandmother. The pair sat down one day at Van Zant's home and started talking about their respective losses. After learning that the two women essentially gave them the same advice, Ronnie penned the lyrics which open with, 'Mama told me when I was young, Come sit beside me, my only son and listen closely to what I say, and if you do this it'll help you some sunny day,' while Gary came up with the chord progression. Within an hour the song was written. Pretty impressive seeing as the track clocks in at just under six minutes. The only thing not quite accurate is that Van Zant was not the only son, he had two younger brothers, Johnny and Donnie as well as two sisters, Darlene and Marlene.
The song goes on to offer more advice from personal experience and mistakes made in life that they have been through. She says, 'Follow your heart' and you can make it if you try. She explains that he will encounter troubles along the way but explains that she just wants her son to be happy by living a content life; to become a simple man.
Ronnie's son Johnny is the current lead singer with the band and in a track-by-track commentary on the DVD that accompanied the 2007 live album Live from Freedom Hall, said, "Well that's a great song and something that I think we all live by. I think anybody out there needs to respect their mother, and the words of their mother. It's mama talking to you in that song and I think it's probably one of my favourites if not my favourite to do live. It's just a great song and that one stays in the set and the crowd always goes crazy on that one."
Al Kooper didn't like the way the song sounded. The band decided to re-record it without Al on it but agreed to let him add his organ part later. He also didn't think they should release it, but after it was so well received in their live sets, he realised he was wrong.
During a radio interview in 1976, Ronnie admitted the writing itself isn't hard to do, but the difficult part is getting started: "I think the whole trick to writing is it's not very hard to do. The hard thing to do is to get yourself in the mood for writing, just get yourself in that right atmosphere. When you get yourself in the right mood and the right place all the pressure's off your head."
On 20 October 1977, tragedy struck. After a gig in South Carolina, the band boarded a plane bound for Baton Rouge, Louisiana when it ran out of fuel and crashed in a wooded area in Mississippi, killing Ronnie, guitarist Steve Gaines and Steve's backing singer sister Cassie as well as their road manager Dean Kilpatrick, pilot Walter McCreary and co-pilot William Gray. Other member suffered serious injuries.
The group disbanded shortly after the accident reuniting briefly in 1979 and then again in 1987 when they recorded Live from Freedom Hall which was a 30th anniversary tribute of the plane crash. The album was dedicated to Ronnie.