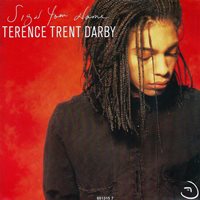 It still amazes me how someone comes onto the music scene, releases a handful of fantastic well-received singles as well as a multi-million selling album and then within a few years seemingly completely disappears. That was the case with this week's artist. He believed there just wasn't enough room for another black superstar operating in the realm of poppy, soulful R&B, especially one as resistant to racial narrowcasting. He said, "It was a limited plinth and either me, Prince or Michael Jackson had to vacate. Ironically, the other two did vacate, far too early.
He was born Terence Trent Howard in New York in March 1962, he took his stepfather's surname Darby and added the apostrophe for fashion purposes. He trained as a boxer in Orlando and won the Florida Golden Gloves lightweight championship but declined an invitation to join a boxing school in the US Army instead deciding to attend college. He did later enrol in the Army and, like Elvis, was posted to Germany. That is where he got his break in music when he joined a band called The Touch and released one album called Love On Time.
In 1987, he recorded the album Introducing the Hardline According to Terence Trent D'Arby which was co-produced by Heaven 17's Martyn Ware and his band mate Glenn Gregory contributed backing vocals. With the exception of a cover of the Miracles track, Who's Lovin' You, D'Arby wrote all the tracks. Four singles were lifted from it, If You Let Me Stay made number seven, Wishing Well fared better at number four, Dance Little Sister stalled at number 20 and then Sign your Name went to number two.
Sign your Name, has one thing in common with Yesterday, Purple Haze, Every Breath you Take and (I Can't Get No) Satisfaction, among others and that is they all began in the songwriter's dream. He explained to the Songwriting team how it came about, "While living in Frankfurt, I'd seen Live Aid on television and was absolutely captivated by Sade's performance, but most especially by Is It a Crime. Being, like most sensible fools, in love with her, I dreamed the next night that she had asked me to write her a song. Within a few days, I woke up with the song that I then translated on my little Casio keyboard and my 808 drum machine. That song was Sign your Name and if you listen to it, it sound very much inspired by her music."
Sheryl Crow made an interesting cover in 2010 and appeared on her album 100 Miles from Memphis album. Her version is even more soulful and features Justin Timberlake on backing vocals. She explained, in a Billboard magazine interview, "Justin happened to be at Henson Studios producing Jamie Foxx, and he was in the hallway. I've always liked him. I played the song for him, and when it got to the chorus he's like, 'Who's doing the backgrounds?' I said 'We haven't done them yet,' and he said, 'I got it.' It was all very organic and, man, perfect. People have no idea how talented this guy is."
Terence had five further top 20 hits between 1993 and 1995 including Do You Love Me Like You Say?, the beautiful with Des'ree called Delicate, which he also dreamed that Sade had asked him to write, She kissed Me and Let Her Down Easy. His last hit was the bizarrely titled Vibrator which stalled at number 57, and then he had a crisis.
He had a nervous breakdown that, in-turn, instigated an identity change and began living as a recluse. In 2001, he legally changed his name to Sananda Maitreya and has nothing to do with D'Arby. When talking about it he refers to Terence Trent D'Arby as 'he' rather than 'I'. He said at the time, "Terence Trent D'Arby was dead… he watched his suffering as he died a noble death. After intense pain I meditated for a new spirit, a new will, a new identity." In another interview he stated, "I was always Sananda Maitreya and he (D'Arby) was assigned the role of this other form, which he performed until they pulled the plug on him. People ask 'Why did you change your name?' When you have a psyche that's no longer functional, you petition another psyche. You either die – you kill yourself – or you think: 'No, I've got more to do.'"
He moved to Milan where he lived with his Italian wife, Francesca Francone, who is an architect and former television presenter, they also have two sons.
Years after his Army service, he still battles post-traumatic stress disorder (PTSD) and explained his absence from the public eye, "I guess I stayed away because I didn't want to face it. The PTSD can strike at any time and you have to deal with it. I can't blame drugs, I can't blame alcohol. The dude didn't just change his name to be clever.
Since 2002, he had continued to make music as Sananda Maitreya and has continued to release albums every couple of years through his own website and various other digital platforms. He does give good value for money, his 2013 album, Return to Zooathalon had 22 tracks on it, the follow-up, The Rise Of The Zugebrian Time Lords had 27 and his last album, Prometheus & Pandora in 2017 was a three-CD set with a whopping 53 tracks.
He occasionally tours but mostly in Italy and he's currently in the middle of his Fallen Angel 2019 tour.