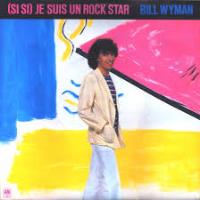 Bill Wyman was also known as the laid-back member of the Rolling Stones who inadvertently invented an instrument and then, for a later generation became famous for his short-lived marriage.
Bill was born William George Perks Jr. in October 1936 and took piano lessons for three years when he was 10 years old. On his 23rd birthday he married a bank clerk and the following year bought himself a guitar but found learning it quite difficult, so after attending a Barron Knights concert he was impressed with their bass player and decided to learn bass guitar instead. Once he'd learned it, he wanted to adapt it by making it shorter so he removed the frets by sawing and filing and thus created a fretless guitar. He told Rolling Stone magazine, "I've got my homemade bass, which I made in '61, before the Stones, which was the first fretless bass ever made. I didn't know I made a fretless bass until they started to make fretless basses six years later."
In 1961, he was briefly a member of a south London band called the Cliftons and the following year the then-drummer with the Rolling Stones, Tony Chapman, mentioned that the Stones were looking for a bass player and so he auditioned, got the job and replaced Dick Taylor. In doing so, he became the oldest member of the group and remained with them until 1993.
Various member of the Stones have enjoyed concurrent solo careers without ever leaving the band, Wyman, in 1971, performed with Howlin' Wolf alongside Eric Clapton and Steve Winwood and later the same year was one of the musicians who recorded an album called Jamming with Edward, with Mick Jagger, Keith Richards and Ry Cooder.
He released his debut solo album Monkey Grip in 1974 followed by Stone Alone two years later. In 1981, he composed the soundtrack to the Ryan O'Neal and Omar Sharif film Green Ice and later that year recorded his third solo album, Bill Wyman that included his one and only hit single (Si Si) Je Suis Un Rock Star. Whilst writing songs for the album, he had no intention of releasing them as single and he claimed he never liked his own voice. He wrote it with Ian Dury in mind to sing it and so recorded a demo and asked for it to be passed to Dury for his thoughts. The trouble is, no one wanted to do that deed claiming the demo was good enough and Wyman should record it himself. Eventually, he reluctantly agreed.
He describes his voice on it as "Cockney French" and it tells the story of a man scoring with a Brazilian beauty who had come to London and met in Trafalgar Square. He then takes her to a disco in, of all places, Battersea and invites her to his villa in the south of France. He has trouble with the flight because BEA – formally British European Airways – is on strike, so he hatches another plan and that is to travel by water and so suggests they could take a hovercraft. For a bit of excitement he speaks a little French, 'Voulez vous, Partir with me?' meaning do you want to stay with me. What's a little puzzling is that he suggests that if they go by hovercraft, 'They'll think I'm your dad and you're my daughter,' why would they only think that on a watercraft and not an aircraft?
Mick Jagger, when he first heard it, said it was a "silly record" but Bill said of Jagger that he did have a huge ego. He got on better with Keith Richards.
Interesting point and going back to the line, 'They'll think I'm your dad and you're my daughter' which is ironic given that in 1989, when he was 52, he married Mandy Smith who was 18 at the time. Wyman later revealed that he had been seeing Smith for five years when they married, which would have made her 13 at the time. Their marriage last just two years. One of the best wedding presents Wyman received was from Spike Milligan who bought him a zimmer frame.
To add an interesting twist, a few weeks after Bill and Mandy split up, Bill's son, Stephen, who was then 30 years old, married Mandy Smith's mum who was 46 and thus meant that Mandy was Stephen's stepmother. Now to add more fascinating confusion, if Bill and Mandy had remained married, Stephen would have been his father's father-in-law and his own grandpa. Bill would have been his son's son-in-law and his own grandson!