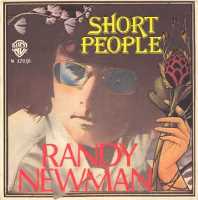 This week's suggestion was written by a singer/songwriter who had no UK hits as an artist but has written some of the most well-known songs. His songs include I've Been Wrong Before (Cilla Black), Nobody Needs Your Love and Just One Smile (Gene Pitney), Simon Smith And The Amazing Dancing Bear (Alan Price Set), Mama Told Me Not To Come (Three Dog Night and Tom Jones with the Stereophonics), I Think It's Going To Rain Today (UB40) and You've Got A Friend In Me (from Toy Story), but his biggest American Hit, Short People, caused a headache for him, his name is Randy Newman.
We now live in a very PC-world yet we still seem to have numerous songs in recent and current times which contain nothing but swear words, especially the most offensive n-word and no one seems to worry about it, but back in 1977 when Newman wrote, recorded and released Short People, so many people took it the wrong way and radio stations in America refused to give it airplay.
Newman was born in Los Angeles but spent many years growing up in New Orleans and writes social observational songs told in a story-like way with a deadpan delivery and Short People is indeed just that. It was meant to be an amusing declaration against prejudice but a lot of people never saw it that way. On the face of it, it's very insulting song with its  opening line, 'Short people got no reason short people got no reason, short people got no reason to live' and then follows it with, 'They got little hands and little eyes and they walk around tellin' great big lies', no wonder vertically challenged people were upset, but in an interview with Rolling Stone in 2017 he said, "Because it was a hit, the song reached people who aren't looking for irony. For them, the words mean exactly what they say. I can imagine being a short kid in junior high school. I thought about it before I let the record get out. But I thought, 'What the hell?' I know what I meant – the guy in that song is crazy. He was not to be believed." Newman was asked in an interview with The Guardian in 2008 if he realised that he might have trouble with the track, he said, "I didn't. I thought all you gotta do is listen. It's not like it's James Joyce. (Then) I realised the medium wasn't great for that. People don't listen to music like that, where they're actually listening. They're doing all kinds of things. It's just an irritation. I would never write a song to make fun of someone or something. What I'm making fun of his people's callousness and insensitivity." Short People was given extra kudos because it features backing vocals by Eagles' members Glenn Frey and Timothy Schmit.
In 1987, Newman further explained, "It's so bizarre, I mean everyone should know nobody has anything against people just because of their height and if they do, then there is something wrong with them. The people in my songs are generally exaggerations. What they say and think is coloured by who they are. When a song works, the audience understands the character's point of view and they don't mistake it for mine." This is possibly backed up by what he said of Mama Told Me Not to Come, "I was never crazy about that song, and it's just about a fool at a party that's all and I didn't think it would ever be a hit."
Toy Story was not Newman's first film score, in fact, he had done nine before that including, Cold Turkey (1971), Parenthood (1989), Awakenings (1990) and Maverick (1994). After Toy Story in 1995, he scored James and the Giant Peach (1996), A Bug's Life (1998), Meet the Parents (2000), Meet the Fockers (2004), The Princess and the Frog (2009) and this year sees him providing music for Toy Story 4 and Marriage Story which was released last month.
He has also found time to release a new album, Dark Matter, his first for nine years. The first song he wrote, but has since been scrapped, was one in the voice of President Trump, back when he was still a candidate and a conversation about penis sizes. In an interview with Vulture magazine, Newman revealed what the lyrics were going to be, 'My dick's bigger than your dick, it ain't braggin' if it's true, my dick's bigger than your dick I can prove it too. There it is! There's my dick isn't that a wonderful sight? Run to the village, to town, to the countryside, tell the people what you've seen here tonight. Scrapping it was probably a good move!
Newman, who is nearing his 76th birthday, has won six Grammys and, in 2013, was inducted into the Rock and Roll Hall of Fame. In another recent interview when he was asked how he'll be remembered after he's gone, he said, "In my obituary, which will be soon, it will say 'Newman, composer of Short People' — that will be in the first sentence. Right after 'composer of the Trump penis song.'"