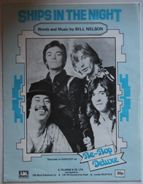 It would seem that when Be-Bop Deluxe turned up on the scene, their sound was a bit lost between genres, crossing like Ships in the Night to coin the phrase of their only UK hit.
The group was founded by singer/guitarist and primary songwriter Bill Nelson in Wakefield, West Yorkshire in 1972. The original line-up, in addition to Nelson, comprised Ian Parkin on guitar, Robert Bryan on bass and backing vocals and Nicholas Chatterton-Dew on drums. Their roots were in the West Yorkshire pub scene and were well received, so much so that they secured a residency at the Staging Post in Whinmoor near Leeds. Their music was not as their name described, but very much in the vein of rocky based blues like the Rolling Stones or Manfred Mann when they started. They released one album which was 1974's Axe Victim which in turn led to a short tour. They were often compared to the likes of David Bowie which riled Nelson to the point that he disbanded the group altogether to look for another musical direction.
It didn't take long before Nelson found direction and reformed the band with a new line-up comprising Paul Jeffreys on bass, keyboardist Milton Reame-James, and drummer Simon Fox. Within a few months Jeffreys and Reame-James left and were replaced by Charlie Tumahai and Andrew Clark and this became the regular line-up until 1978. Jeffrey went on to join Steve Harley's Cockney Rebel, who they had supported on their short tour and was sadly killed in the Pan Am Lockerbie bombing plane crash in 1988.
John Peel was a big fan and began championing them on his radio show. Their next album, Futurama, came in 1975 and sold poorly thus failing to trouble the chart. Success came with their next album Sunburst Finish the following year. It contained the track Ships in the Night, which was never meant as a single. Again Peel played it and the record company decided to issue it as a single and it reached a respectable number 23 in March 1976. In the music press at the time, again it received comparisons, this time to Roxy music and 10cc which Nelson would have hated, but it clearly didn't do them any harm.
Singles wise, they only had one further hit with the Hot Valves EP with the lead track being Maid in Heaven, a belated track from Futurama, it only just scraped into the top 40. They did release three further albums, Modern Music (1976), Live! In The Air Age (1977) and their final offing Drastic Plastic (1978), all of which spent a combined total of 16 weeks on the chart. The latter was recorded under the influence of punk and new wave which was a change from the progressive sound of their early style. At this time, Nelson dissolved Be-Bop Deluxe and immediately formed a new band, Bill Nelson's Red Noise, retaining Andy Clark on keyboards, and adding Nelson's brother Ian, who had previously contributed saxophone some Be-Bop Deluxe albums.
They released just the one new album, Sound on Sound in 1979 which contained two singles, Furniture Music and Revolt in Style that reached numbers 59 and 69 respectively.
Later in the 80s Bill pursued a solo career. In the mid 90s, he planned a reformation of Be-Bop Deluxe but Ian Nelson, Ian Parkin and Charlie Tumahai had all died so that put a halt to that idea.
In 2011 EMI employed Peter Mew to remaster the Be-Bop Deluxe album catalogue. Although Nelson did not supervise the release he gave final approval on the remasters and agreed to provide a disc of rarities to help sell the set if EMI paid him royalties on the release.