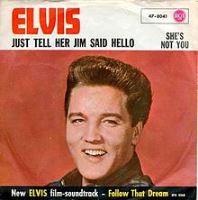 Elvis Presley had 21 UK number one hits, including three which were part of the 2005 re-issued series and every one of those songs is memorable in its own right, but arguably the least remembered is the 1962 chart-topper She's Not You. It was his 12th UK number one, but real rock 'n' roll fans will probably prefer the slightly pacier B-side Tell Her Jim Said Hello.
Elvis burst on the music scene in 1956 with Heartbreak Hotel which reached number two in the UK. He had a further six hits that year and 12 in 1957. Things slowed down a little for the remainder of the fifties as The King went into the Army, but his record label, in order to maintain his profile, kept issuing tracks, 10 of them in his absence. Elvis had five hits in 1961, four of those were number ones and identically followed suit in 1962. The Elvis bandwagon kept on rolling.
She's Not You was a chart-topper in September of 1962 and was written by his regular scribes Jerry Leiber and Mike Stoller, but this time collaborated with Jerome 'Doc' Pomus who had already co-written two earlier number one for Elvis. It was an unusual collaboration but it was written to order for the Pot Luck album.
Doc had a Fats Domino sound in mind for the song, but Leiber & Stoller convinced him that it would work better as a beat-ballad with a shuffle rhythm. Not wanting to waste the opportunity, Leiber & Stoller also submitted an older song of theirs, Just Tell Her Jim Said Hello, which Elvis recorded as an easy-paced ballad for the B-side. Curiously, Suspicion was recorded at the same session and put on the Pot Luck LP. How come that nobody realised that this was the best of the bunch? Terry Stafford had a US Top 10 single with it in 1964 at a time when Elvis wasn't selling well. Still, if Elvis had released Suspicion, would he have accepted the similarly-titled and themed Suspicious Minds in 1969? Perhaps it was for the best.
Given the pace of She's Not There and its predecessor, Good Luck Charm, The King of Rock 'N' Roll was establishing himself as a lounge singer, but give the amount of film roles, albeit, most of them not that great, he was in no danger of losing his popularity.
This song was released around the same time Elvis began filming the Girls Girls Girls film. His record company had wanted Elvis to record a new proper album, but his manager, Colonel Tom Parker, who called all the shots, preferred his to do the filming as it was less demanding for Elvis and more money for the Colonel with the deals he's negotiated. So, with the record company wanting to make money too, the American music publisher Freddy Beinstock was asked to cobble together an album that became Pot Luck which, as its name implies, is a real potpourri of songs. The record company were right, Elvis hadn't had a non-soundtrack album for five years and Pot Luck went to number one.
It's not a song that had been covered that often, but worth checking out the version by Chris Isaak on his 2011 album, Beyond the Sun.