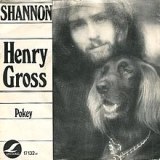 Songs written about a loved one is always going to be personal to the person who wrote it or to anyone in a similar situation who can relate to it. The same must apply to songs written about pets because pet owners will usually get very attached to it, but, oddly, this week's choice is a song written about someone else's pet.
Henry Gross was a one hit wonder in the UK, his only hit was called Shannon. He grew up in Brooklyn, New York and because his mother loved music, she encouraged her son to become a musician. He learned to play a number of instruments including the guitar, ukulele and sitar and by the time he was 14 he began playing in small clubs around the New York area. In 1969, when he was 18, he became a political science and speech major at Brooklyn College and was a member of a band called Orogeny which is the technical name for a formation of mountains. Whilst there he and a couple of school mates had the idea to form a fifties revival band which they called Sha Na Na. The same year they played at Woodstock and in doing so Gross became the youngest person to play the main stage. In 1970, he decided to depart for a solo career.
It took six years until Gross first graced the US chart with the track One More Tomorrow which reached the dizzy heights of number 93. Gross was a fan of the Beach Boys and paid a visit to Carl Wilson and Gross revealed in an interview with Bruce Nash and Allan Zullo what they talked about, "Carl told me that he had an Irish setter named Juliet and it was killed by a car. I related to it strongly because, at the time, I had an Irish setter too and her name was Shannon. It was corny, but it really touched me because I knew how I'd feel if my Shannon had died, so I went home and wrote the song in about 10 minutes. I'm a real animal rights person and loved my dog so much that it was easy for me to write the song." He went on to explain about likening the background music to the sound of the ocean, "I was living in an apartment in Queens and there was a guy from Colombia living on the floor directly above me and he had these great big speakers on the floor and in the afternoons he'd blast his salsa music. It was really great music but I couldn't think nor write because it was so loud. So I went out and bought an environmental sound record called The Ultimate Seashore and played it at full blast to drown out the bass coming from upstairs. Those ocean sounds put me in the right frame of mind to write Shannon."
He recorded the track onto a cassette and sent it to Carl Wilson hoping the Beach Boys would record it. It even had the falsetto sound the Beach Boys could produce. "I never heard from anyone about it, so I recorded it myself and put it on my album," Gross recalled.
Gross was signed to A&M records at the time and he was teamed with producer Terry Cashman. Terry wasn't over keen on the song until he saw Gross perform it live and that changed his mind, so much so that he bought Gross' contract from A&M and signed him to his own newly-formed Lifesong label. The execs at the label preferred to release a track from the album called Springtime Mama believing it had more potential than the story of a deceased canine but Gross said, "I didn't want to hear about it. I loved Shannon and believed in it. To me, it's the best thing I'd ever written and I wanted to go with it without further ado."
In the mid-eights Gross moved to Nashville and continued songwriting and recording. He formed his own Zelda Record label and released the album Nothing but Dreams. In 2006 he recorded an album called One Hit Wanderer which is also the name of his one-man show which he still performs around the States. In 2016, Joe Brown began a UK tour an invited Gross, his long-term friend over to share the stage where they perform songs from both of their repertoires. It was a great success and in January 2018, the pair took to the road again for three months and this time it was recorded for a live album.