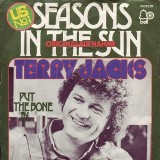 On week ending 6th April 1974, the top three UK singles that week were unique; at number three it was Emma by Hot Chocolate, number two was Billy Don't Be A Hero by Paper Lace and at the top was Seasons In The Sun by Terry Jacks – all three were death discs. This week I focus in on the chart topper.
When Terry hit the chart in March 1974 he was not a newcomer. His name first appeared in 1970 as a member of the Poppy Family which featured his then-wife Susan and their hit was Which Way you Goin' Billy.
Seasons in the Sun was written by Jacques Brel in 1961 as Le Moribond which means The Dying Man. He wrote it in a whorehouse in Tangiers, Jacques told Terry Jacks many years later. It was covered later the same year by Rod McKuen who also spoke French but translated the lyrics into English and called it Seasons In The Sun. Terry, who was born in Winnipeg, Manitoba, explained how he first came across the song, "The first time I ever heard the song was in the '50s (actually it was 1963) when the Kingston Trio recorded it. Now, this was not at all like my song. The original song was by Jacques Brel, who was a friend of mine and was from Brussels. He used to do it on stage and it was in a march form, like, Bom ba Dum, bom ba Dum. Quite a different thing. This old man was dying of a broken heart and he was saying goodbye to his priest and his best friend and his wife, who cheated on him. Her name was Francoise, and it went, 'Adieu, Francoise, my trusted wife, without you I'd have had a lonely life. You cheated lots of times but then I forgave you in the end, though your lover was my friend.' Now, a really good friend of mine died, he had acute leukemia," Terry revealed in an exclusive interview with Songfacts, "This was in about 1971, we were playing golf and he told me he's got six months to live. I said, 'Oh, come on.' And he said, 'No, there's no cure for what I've got." In those days there was no cure for that type of leukemia, but now they do bone marrow transplants. He was gone in four months. He was one of my best friends, and he said I was the first one that he told. I remembered this song of an old man dying of a broken heart, and I liked some of the melody and there was something there. I rewrote the song about him and how he said goodbye to his friend and then he said goodbye to his father instead of his priest, and then he said goodbye to his girlfriend."
The song had been around for a while before it was released, Terry explained why, "A lot of my friends didn't like the song because they knew him and they thought, oh, this is kind of crazy. So I didn't release the song right away." Now Terry was one of many producers who was asked to work with The Beach Boys and they became good friends. "Brian was having trouble down there in the States. As you know, he was into quite a few things he shouldn't have been into, and one of his ears was going bad or something. I was a hot producer at the time up in Canada – I had a few hits that I produced for other people. The Beach Boys knew that I really liked their music and they asked me if I'd come down and produce them. I said, Wow, that's quite an honour." They flew Terry done to the States and they asked him if he had anything they could use. "I thought of Seasons…because one of the lines in the song was, 'But the stars we could reach were just starfish on the beach.' I thought, Wow, this would be a great song for The Beach Boys. Carl had that beautiful voice that he used in God Only Knows and Good Vibrations. So I said, 'This is the song.' and played it to them. We were recording it at Brian's house, and hired all these different musicians, cut the track and put Carl's voice on it. We weren't finished, but I was having tremendous trouble producing this thing, because there was so much fighting going on amongst the group, and they wouldn't all come in at the same time. I remember Mike Love came in to do his lines in a guru outfit with some girl, and they were on a watermelon fast. His lines were like 'We had joy, we had fun… Bom bom bombombom, bom bombombombaba.' Typical Mike Love-type voice on that. Then I had Brian come in and play organ on it. Brian wouldn't sing the high part, and he's got the best really high voice. Al Jardine and I worked on the background vocals for it. The thing never got finished. Brian wanted to get hold of the tape and add some things, and the engineer would have to take the tape home at night so that Brian wouldn't get hold of it. This went on and on, and I was almost having a nervous breakdown because I would put so much energy into this thing and the stress was really getting me. So I said, I'm not going to be able to finish this. I can't get you guys all in here together. So it never got completed."
When it was finally decided that they weren't going to record it, Terry reclaimed his arrangement and did it himself and it topped the UK chart for four weeks. It was also brought to a new audience when Westlife took the song back to the top and was the last number one of the 1990s.
Terry followed it with one further top 10 hit, another Jacques Brel song, this time one he'd written in 1959 and also translated into English by Rod McKeun, and that was If You Go Away, another sad song with great covers by both Dusty Springfield and Scott Walker.
As for Terry, in the late 1970s he married his manager Margaret Zittier and gradually withdrew from the music world. The couple had a daughter, Holly Michelle Jacks in 1985, but the last 20 years he has long been dedicated to environmental causes and has worked in documentary film and video, producing several shorts on environmental themes including The Tragedy of Clearcutting and The Warmth of Love (The Four Seasons of Sophie Thomas).
In Terry's home country, Canada, Seasons In the Sun went to number one and sold nine million copies. Clearly a lot of loved it and probably for different reasons, but there was certainly one person didn't; "It's no secret that I didn't like Terry Jacks' version," said Rod McKuen, "Because he changed some of my words." I'm sure he didn't complain when the royalty cheques started, and kept, rolling in!