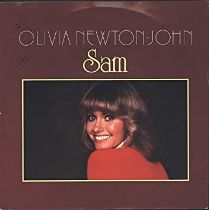 This week's suggestion came out of a conversation with someone who believed, quite rightly, that I am a fan of Olivia Newton-John and so the discussion was about her music and I was asked who the Sam was in the song of the same name. I gave my answer and then came the suggestion of doing a Single of the Week feature on it, so here goes.
Olivia, who has recently turned 73, and looks incredible, has, by her own admission, been very lucky with the songs she's recorded. She is not a song writer and has managed to sustain a career spanning over 50 years thanks to the old days of writers who wrote for other people rather than themselves. "It's very hard to get good songs because a lot of writers record their own; they keep the best for themselves," she explained, "I'm fortunate that I have fantastic writers around me who give me first choice. John Farrar has written some of the best songs that I've ever sung."
Farrar is a Melbourne-born songwriter who had been a member of various groups in the sixties and more famously one third of the trio Marvin, Welch & Farrar in the early seventies. Marvin was Hank Marvin and Welch was Bruce both from the Shadows. Despite a few appearances on Top of the Pops, none of their singles charted in the UK and only one album, the eponymous one, stalled at number 30.
He began producing Olivia in 1971 beginning with her debut UK hit, If Not for You and then writing for Olivia in the early/mid-seventies including her second American chart-topper, Have you Never Been Mellow gave him his first number one. His biggest success came in 1978 when he wrote the majority of song for the film Grease.
Sam was Olivia's seventh UK hit and was the only one credited to three songwriters, Farrar, Hank Marvin and the great lyricist Don Black. The song is rare in as much is it's in 3/4 time – waltz like, how come? "It wasn't planned, it just worked that way," Farrar explained. "I had done a lot of the song long before it was finished, I think Hank had a couple of verses and I did the chorus on it. First Hank and I came up with the music and later Don Black was invited to help with the words."
So, who is Sam? Simple answer, no one. "Sam did not refer to anyone," Farrar said, "it just scanned well and sounded good but as soon as I heard it in the studio it struck me as a hit. I remember when we recorded it in Nashville, it went down great."
It was released on the album Don't Stop Believin' in October 1976 and as a single in May 1977 where it went to number one on the Adult Contemporary chart giving Olivia her ninth of 10 numbers on that chart. It also went on to the top of the Easy Listening chart as well as topping the charts in Ireland and Canada. In the UK it reached number six. Not many have covered the song but certainly one to avoid is the Des O'Connor version from 1978.