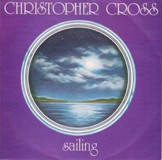 There are conspiracy theorists in every walk of life. There are people who will tell you that the Holocaust was an elaborately well-staged affair, likewise a select few will try to convince you that Neil Armstrong's landing on the moon was all a pantomime. And as for 9/11? Let's not waste our time with those who believe the incident at The Pentagon was all a massive stage show. Similar things happen in music, not to that extent I agree, but so many try and read things into songs that are just not there especially when it comes to drugs. A good example would be The Beatles' Lucy in the Sky with Diamonds, The Shamen's Ebeneezer Goode and The Strangers' Golden Brown – none of the acts actually agreed they were about drugs yet they are generally accepted that they are. Today's single is another, believe it or not, there are people who have taken time to contribute to forums to convince us that Christopher Cross' 1980 hit Sailing was all about getting high. Let's find out.
Christopher Cross was born Christopher Charles Geppert in May 1951 in San Antonio Texas and as a kid he first learned to play drums and within a couple of years turned to guitar. His career began in the mid-seventies when he was lead singer with a local band called Flash and then signed a solo contract with Warner Brothers in 1978. He released his eponymous debut album the following year and the debut single, Ride like with Wind, which featured Michael McDonald on backing vocals, reached number two in the States but stalled at number 69 over here.
The next release, Sailing went one better in his native country and did marginally better here where it reached number 48, despite receiving ample airplay. So is the song about sailing? "Not really," Cross explained, "I picked sailing as a metaphor because I used to do some sailing with an older, big brother, person in my life. It was a sort of escape for me from the chaos of my home and for me, the song is really about transition through art, so when I sing the canvas can do miracles, to me the canvas is a painter's canvas so it's about the transition you experience through art whether it be down to painting music it's that interaction with art that we experience. But I joke to people that if my friend had taken me bowling then it would have been called Bowling."
The roots of the song had begun as early as 1978. "I was just at home sitting in this cheap apartment, sitting at the table. I remember coming up with the verse and chorus, and the lyrics to the first verse of the chorus all came out," Cross revealed. "So I got up and wandered around the apartment just thinking, 'Wow, that's really cool.' So then I sat down and had to try to come up with other stuff to make the rest of the song, but I thought I had something there. It took about two years before I came up with the bridge that changes all the keys to where it lifts, but it was a pretty special moment. Like Joni Mitchell used to say, they get you in this sort of trance, so all that came out at once: 'It's not far down to Paradise, at least is not for me if the wind is right you can sail away, and find tranquillity, Ohh, the canvas can do miracles, just you wait and see.' The chorus just sort of came out."
The song was only ever meant to be an album track, "Sailing was really never meant to be released as a single but I'm really glad it was, I thought the song was way too introspective," Cross explained on stage at the 1981 Grammy Awards ceremony. The song went on to win three Grammy Awards: Record of the Year, Song of the Year, and Best Arrangement Accompanying Vocalist. Michael Omartian was chosen as the album's producer. "My favourite producers are Michael Omartian and David Foster, these guys are just incredible musicians. I'm pretty good at doing string stuff and synth overdubs, and of course guitar overdubs and stuff, but you bring good guys in, then it gets really masterful."
One of the biggest films of 1981 was Arthur which starred Dudley Moore, Liza Minelli and John Gielgud and Cross was asked to provide the theme tune. He co-wrote the song with Peter Allen, Burt Bacharach and Carole Bayer Sager and the following year won an Oscar for Best Song.
Cross was married to Jan Bunch in 1988 and they have two children, a son Rain and daughter Madison but they divorced in 2007. He continues to record and has released four albums in the last six years; Christmas Time Is Here (2010), Doctor Faith (2011), A Night in Paris (2013) and Secret Ladder (2014), none of which have been much of an impact on the album chart of either side of the Atlantic.
It probably doesn't bother him because in an interview with Billboard magazine he once said, "If it all stops right now and my career goes down the tubes and I'm forgotten, I can still be on my deathbed and say, 'I put out an album that went double platinum and had a number one single and I was up for five Grammy's. Now, what did you do?"