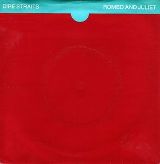 Romeo, Romeo, wherefore art thou Romeo? A famous line from the pen of William Shakespeare. It's fair to say that the Bard wrote in a conventional style often using drawn out metaphors that anyone copying or trying to replicate would may well struggle with, but that was not Mark Knopfler's intention when writing the 1980 hit Romeo and Juliet. He just borrowed Willy's names to tell the story of his own relationship breakdown.
Mark Knopfler was born in Glasgow in 1949, his father was a Hungarian-Jew and his mother was English. Three years after Mark was born, his mother had another son, David and the family moved to Northumberland in the mid-fifties. Mark eventually followed in his mother's footsteps by becoming a teacher. When asked on the Michael Parkinson show who his music heroes were, Mark replied, "Elvis Presley and my uncle Kingsley. Kingsley had a harmonica and a banjo and he played Runaway Train for me on the harmonica and I was hooked. He also had a piano which he played boogie-woogie on and when I first heard it, which was three chords, I could really understand and I thought this is it for me."
As soon as Mark completed his education he headed for the music world, "The day I finished University I got a copy of Melody Maker," he said, "and found the biggest ad for a guitar player and went to London the day after for an audition which I passed and I was hired by this band called Brewer's Droop and we were promised £25 a week, which never actually materialised, but they were on their last legs so that only lasted two months and then I was back up north and out of work." A friend's mother heard of a vacancy for a college lecturer and suggested Mark apply. He got the job and said of it, "That was fantastic for me because it earned me more money than I've ever earned in my life and I could afford to get a motorcycle and then bought my dad's old car. I started three years of teaching and also started writing songs. In 1976 I went to America and travelled around on various Greyhound buses where I started putting together the first sets of songs and that's how teaching saved my life."
On returning to the UK, Mark used to visit his brother who had now moved to Deptford in south London, and one night ending up sleeping on the floor. The next morning, David's flatmate got up and tripped over Mark, over breakfast Mark was introduced to the flatmate who was John Illsley. Within a year the three of them, and drummer Pick Withers had formed a proper band and called themselves Dire Straits, due to the sheer fact that they'd had no money for so long. John's last £250 was spent on a studio which eventually led them to submit some quality recordings.
In 1988, Transvision Vamp landed their debut hit single called Tell That Girl to Shut Up, which song was originally recorded in 1980 by an American new wave band called Holly & The Italians, led by Holly Vincent. That same year Mark and Holly became an item and their break-up a year later became the story of Romeo and Juliet.
The song starts of indicating love and then look closely and you'll see the signs. There are lines in there that may indicate that Holly had used Mark to further her own fledgling career. The line, 'Now you just say, oh Romeo, yeah, you know I used to have a scene with him,' came from an interview where Holly was quoted as saying, "What happened was that I had a scene with Mark Knopfler and it got to the point where he couldn't handle it and we split up."
The line, 'Come up on different streets, they both were streets of shame, both dirty, both mean, yes, and the dream was just the same' refers to their join humble beginnings where they both had little money but both wanted to get to the same place. 'There's a place for us, you know the movie song, when you gonna realise it was just that the time was wrong, Juliet?' the first bit makes reference to the opening line of the song Somewhere that had featured in West Side Story which, itself was based on Romeo and Juliet.
If you thought you recognised the intro, then it may well be that you know Bruce Springsteen's Jungleland, the epic track that closes Bruce Springsteen's 1975 album Born to Run. The piano intro on that was played by Roy Brittan who is a guest keyboard player on Romeo and Juliet.
The song was the stand-out track from the album Makin' Movies which was recorded at The Power Station studio in New York City with producer Jimmy Iovine who had been the producer on Patti Smith's Easter and subsequently went on to work with Stevie Nicks, Bob Seger, Simple Minds, U2 and the Eurythmics.
It's not the sort of song that is likely to garner many cover versions, but in 2007 the Killers recorded it and featured added it as the second track of the CD single For Reasons Unknown which stalled at number 53. The Killer's drummer Ronnie Vannucci explained, "The original plan was for us to records it with Razorlight lead singer Johnny Borrell guesting, but he got really sick and couldn't do it." The group's lead singer Brandon Flowers added, "We're not overly anxious about Dire Straits, though we're not ashamed of covering Romeo and Juliet, either. It's one of the finest songs ever. Brilliant melodies."