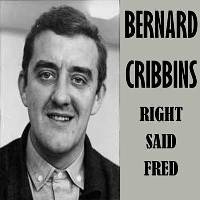 This week's Single of the Week is by a legend. I first remember him in 1970 shouting out "Oakworth" in the classic film The Railway Children where he played Albert Perks the station porter but little did I know then that eight or nine years previous he'd been a pop star. Younger readers will probably only know him from his role as Wilfred Mott – Doctor Who's sidekick in the 2007 Christmas special Voyage of the Damned. Unless you're an avid fan, you may not know that Bernard appeared as Doctor Who's companion, Tom Campbell in Daleks – Invasion Earth: 2150 A.D. in 1966. Before all, that he in the UK singles alongside Nat 'King' Cole, Ray Charles, Elvis Presley, Helen Shapiro and Brenda Lee in 1962.
Bernard was born in Oldham, Lancashire in 1928 (he will be 90 at the end of this year) and his career began in 1956 at the Arts Theatre in London where he played the (twin brothers) two Dromio's in Shakespeare's A Comedy of Errors. Soon after he appeared in another show which got his singing career started, in an interview with Jon Dennis at The Guardian, Bernard recalled, "The origins of my recording career go back to a revue show in 1961 or 62, something like that, called And Another Thing. We had a very nice cast of young up-and-comings, like Joyce and Lionel Blair, and some very good writers, including Barry Cryer – he wrote some of the sketches. I had two numbers in it, and one was called Folksong. George Martin, who was then head of A&R at Parlophone, and had made records with Charlie Drake and Peter Sellers, came to see the show with a view to recording it." George then signed Bernard to the Parlophone record label.
The lyricist Myles Rudge and the composer Ted Dicks were both working on the show And Another Thing and decided to write song lyrics and together came up with The Hole In The Ground which they gave to Bernard who duly recorded it and took it to number nine in 1962 giving him his first UK hit. Bernard said, "When Hole in the Ground went to No 1 (sic), EMI said 'More, please!' Then Right Said Fred happened and because I'm a non-singer, to suddenly find myself in the charts was fabulous."
Right Said Fred in its two minutes and 16 second entirety tells the story of two hapless removal men trying to shift a heavy object upstairs. At no point in the song is it mentioned what the item is, but it was so heavy that 'After strainin', heavin' and complainin" they were getting nowhere and then deciding to 'take off all the handles and the things wot held the candles' one would have to assume it's a piano. Well it was because it was inspired by the problems Ted Dicks experienced getting some workmen to move a piano. Bernard recalled, "Ted Dicks was living on the second or third floor somewhere, and he moved to a basement flat in Islington. He'd ordered a grand piano from Harrods. He said to the removal men 'It's just down these stairs.' 'Oh, I don't think so.' 'OK, what'll we do?' So they took it all to pieces and that became the lyrics from Myles Rudge."
The vision of the song is so clear, Charlie has an idea that the only way to get the piano in was to remove the ceiling and lower it in with a rope, but being a bit heavy-handed with the crowbar it became like a Laurel and Hardy sketch and the ceiling caved it and Charlie ended up with 'half a ton of rubble' on his bald head. It's got that 'typical' workman attitude, if it doesn't come easy, stop and have a cup of tea.
Then it came to the recording, "I recorded it at Abbey Road, at number three studio," Bernard said, "it was like a little concert hall. This was just before the Beatles got in there – we warmed it up for them! When I arrived there were about 12 or 13 musicians. I sang it live with them. We did a couple of takes, and that was it. Then George worked on it with his sound effects, like running up a ladder and so on. George used a lot of the techniques he went on to use on the Beatles' records. He used a lot of lovely little noises."
Bernard's third and final hit, Gossip Calypso was written by the actor Trevor Peacock, who is best remembered for his roles in The Vicar of Dibley, Eastenders, My Family and Between the Lines which stalled at number 25. Bernard, however also recorded an album which contained I've Grown Accustomed to Her Face and a faithful version of When I'm 64.
The only other hit that Ted Dicks and Miles Rudge wrote was the novelty song A Windmill in Old Amsterdam, a hit for Ronnie Hilton in 1965. It seems a lot of songs they wrote were regular favourites on Junior Choice which would have kept the royalties rolling in. They also wrote the theme to Carry on Screaming in 1966 and the following year worked material for Kenneth Williams for his album On Pleasure Bent. A Windmill in Old Amsterdam won an Ivor Novello Award for the Year's Outstanding Novelty Composition.
Rudge died in October 2007 aged 81 and Dicks, who also composed the theme to the television programme Catweazle, died in January 2012 aged 83.
In 1991 Right Said Fred cropped up again, this time as the name of a group. "I don't think Right Said Fred had permission to use the title," Bernard offered, "but they were quite a good group. Quite camp! I met them and did a song for Comic Relief with them, Stick It Out." (Check out the video)
For another generation, Bernard will always be remember as the narrator of The Wombles and a story teller on Jackanory which was a 15-minute children's TV series that ran from 1965 until March 1996. It featured many celebrities reading stories, a huge list which includes Clement Freud, Sheila Hancock, Penelope Keith, Tom Baker, Richard Briers, Angus Deaton, Judi Dench, Lenny Henry, John Hurt, Jeremy Irons, Arthur Lowe Spike Milligan, Willie Rushton, Kenneth Williams, Victoria Wood and a whole heap more, but it's Bernard who holds the record for the most appearances, 111 in total.
In 2011 he was awarded an OBE in the Queen's Birthday Honours List for his services to drama and three years later he received the J.M. Barrie award for his lasting contribution to children's arts.
Bernard is still popping up in various television shows and live appearances, I remember seeing him in May 2015 when he gave a reading at VE Day 70: A Party to Remember in Horse Guards Parade.
On a BBC London show in 2016 listeners were asked to ring in with their favourite comedy tracks and Right Said Fred was voted the favourite. "It's become a little classic. It's a real joy," said Bernard "Long-range applause, I call it." Anyway, time for another cup of tea after all, Charlie and Fred had six of them in two minutes and 16 seconds.