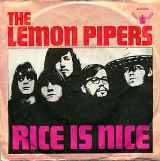 In 1968 one particular band were outselling acts like the Beatles, the Rolling Stones and the Monkees with one song that topped the US chart and made number seven in the UK. The song was Green Tambourine by the Lemon Pipers. Your average music person will swear blind they only had one hit, but there was a minor follow-up, Rice Is Nice, so let's find out about it.
The Lemon Pipers were a psychedelic band formed in 1966 in Oxford, Ohio and comprised singer Ivan Browne, guitarist Bill Bartlett, bassist Steve Walmsley, keyboardist R.G. Nave and drummer William Albaugh. They were students at the time and most had played in various student bands before all getting together to form The Lemon Pipers. A chance meeting with impresario Mark Barger pointed them in the direction of Buddah records where they signed a deal.
Their debut released was called Turn Around and Take a Look which went nowhere, but their next two did and were both written by musician Paul Leka and lyricist Shelley Pinz. Shelley, who was born Rochelle Pinz, was inexperienced at the time and decided to head to New York's Brill Building with a stack of lyrics in her bag. She walked in, got into the lift where a man already in there offered her a cigarette to which she replied, "I wouldn't like a cigarette, I would like a music writer." That man was Stan Costa, son of producer and music arranger Don and he took her to an office where Paul Leka was working away and introduced the pair. "I never saw anybody with so many lyrics," recalled Leka in an interview with Billboard, "But I like them and we ended up writing about 20 songs together."
The Lemon Pipers' debut hit, Green Tambourine, was based on a newspaper article Pinz spotted about an elderly gentleman busking in London and collecting his donations in a green tambourine that lay on the pavement and that image inspired Shelley to write the song. The band actually hated it because they wanted to make psychedelic music but their record label preferred them to fit in with the bubblegum genre that the label formed for and they only agreed to record Green Tambourine otherwise the label threatened to drop them. In the UK their hits were released on Pye International. They were contracted for two albums which they made, Green Tambourine and Jungle Marmalade, both of which were a mixture of established songs, Leka tunes and their own penned originals. Nave, they keyboard player recalled, "The albums sounded like two different bands – Leka's sound and our sound. We were the Jekyll and Hyde band of the late 60s."
On the back of the song's huge success the obligatory follow-up was required and as Nave recalled in an interview with Cincinnati Magazine, "I distinctly remember being in an 80th floor office in New York saying to myself 'I don't want to record these stupid songs." Browne, in the same interview said, "It wasn't long before it showed and that applied to most of us." Rice is Nice was a ridiculous song about matrimony with the cheesiest of lyrics, 'Rice is nice, that's what they say, rice is nice, throw some my way, rice is nice on any day.' Clearly the record-buying public were equally unimpressed as it stalled at number 46 in America and 41 over here. By now they didn't care because at a New York Awards ceremony where they received a gold disc for Green Tambourine the band purposely slaughtered Rice is Nice in the presence of all the label's top brass. One further single, Jelly Jungle (Of Orange Marmalade) was already earmarked and was as bad as the title sounds and by the spring of 1970 the Lemon Pipers broke up.
The sad point is that the band were very happy with their own 'sound' and were never really given the chance to showcase it. If they had been given that opportunity and maybe even signed to a record label that let them have artistic control, their career could have been very different. That's probably one upside to today's technology where you don't necessarily need a record label to launch a career and make a name for yourself.
So, what happened to the band; Browne moved back to California and is a postman by day and he and his wife have been making music for over 30 years and is available to download at ivanandisa.com. Walmsley continues to play bass and is currently a member of Second Nature. Meanwhile Bartlett formed the short-lived band Starstuck, but then joined Ram Jam who recorded a funk/rock version of Leadbelly's Black Betty and were rewarded with a UK number seven hit in 1977. Bill Albaugh died in January 1999 and Leka passed away in October 2011. Shelley Pinz became a psychotherapist specialising in the use of music, art and poetry. She also gained a Master's degree in social work, and in 2001 she published a volume of poetry and lyrics called Courage to Think.