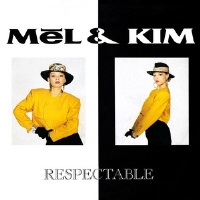 If the name Alan Whitehead is not familiar to you, he used to be the drummer with Marmalade back in the late 60s and early 70s. After the band broke up he moved into management and when I met him in 1993 when he managing a Sunday Sport Roadshow taking scantily clad all over the country. We had a chat when  the girls were invited to make an appearance at the club I was working at in Welwyn Garden City and he seems surprised, pleasantly, when I said are you the guy who used to be in Marmalade. But, prior to that he managed women with clothes on and Mel & Kim were two of them.
The Appleby sisters were born in London's East End; Kim in 1961 and Melanie in 1966. Mel, with her mother's encouragement, began modelling and eventually made it to page three of The Sun. Mel later agreed that it probably helped her move into the music industry. Mel originally recorded solo demos in 1985 but soon Kim joined her and their entrance happened in a rather unusual way. Kim recalled, "We'd sent off a tape to one of the record companies but nothing happened. So we went down there and it was the usual story, 'he's in a meeting' or 'he's out of the office today'. So we just started singing and dancing outside the office. A man who must have heard the commotion came out. We were showing him we had rhythm and voices to go with it, so he took us into the office for a chat." But, unfortunately, nothing more came of it.
Still determined, The sisters met Pete Waterman at London's Hippodrome nightclub in Leicester Square. After explaining who they were, Pete invited them to the studio the next day. "As soon as I heard them, I knew they were really good and the best thing about them was their personalities," recalled Waterman. The girl's original sound was more soulful but the S.A.W. team changed their direction to a feistier independent look, enhanced by the emerging Chicago House sound as well as the recent Hi-NRG which Evelyn Thomas has showcased a couple of years earlier.
Stock Aitken and Waterman wrote their first hit, Showing Out (Get Fresh At The Weekend) after a comment the girls made about going out for the night and showing out. Kim explained, "Showing out is when you go out and kiss frogs, seeing if they turn into princes." Respectable was the follow-up and, "it became an anthem, not just for them and their image, but also for the company itself," expressed Pete Waterman. "The lyrics came from an ad we took out in the trade press that used the lines, 'you can love or hate us, you ain't gonna change us… we ain't ever going to be respectable.'" It was Mike Stock's idea to add the gimmicky, 'Tay-tay, tay, tay, t-tay' at the beginning, but Mel and Kim hated that bit. It certainly gave it that defining eighties quirkiness, nonetheless, they took the track away with them to a gig they were doing in The Netherlands that evening. Later that night, Pete got a call from the girls saying that the Dutch audience went wild for that intro and it should not be taken out.
This song is about having independence and a rebellious attitude; 'We are never gonna be respectable,' they sang. The Stock, Aitken and Waterman machine had been in motion since the mid-eighties and, although Princess' Say I'm Your Number One was their first hit as a writing trio in 1985, Respectable became their first chart-topper. As a production trio, their first number one was You Spin Me Round (Like A Record) by Dead or Alive.
The song's accompanying video, which was directed by Simon West, worked wonders albeit a little odd. As Mark Nobes from Simply80s wrote, "The first minute and a half is set in a dark and dingy, American style backstreet full of overflowing trash cans, which doesn't really match the joyful tone of the song. The first character we see is dog, followed by a New York cop asleep on the job whilst leaning against a lamp post. Mel & Kim start dancing and this startles the cop (in a rather amusing, over-the-top fashion) and wakes him up, causing his hat to fall off. The cop angrily approaches the girls, but they push him away. Then the duo walk through two doors which are covered by an old billboard poster advertising Florida. They enter what looks like a cheap movie set with lots of atmospheric disco smoke, spotlights and a shiny black floor with a big white screen, which the girls dance against." West went on to direct the films Lara Croft: Tomb Raider and The Expendables 2.
Mel and Kim had two further Top 10 hits, F.L.M. and That's The Way It Is and in 1988, they attended the Montreux festival, but Mel was taken away in a wheelchair. Despite press reports claiming it was a slipped disc, Mel was receiving treatment for spinal cancer. She died in January 1990 of pneumonia. Later the same year Kim began a solo career and her first single, Don't Worry got to number two.