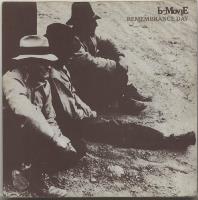 Genres have come and gone over the years and will continue to do so, but whichever one it is, there are some that make it big and other's despite great efforts, don't quite make the grade. This week's artist tried to follow in the footsteps of Duran Duran, Spandau Ballet, ABC and Culture Club, but there were many who made equally good music but most people wouldn't've heard of, Set The Tone, The Mood and this week's suggestion, b-Movie.
Their life began in 1978, when four guys from Mansfield, singer and bass player Steve Hovington, guitarist Paul Statham, keyboard player Rick Holliday and drummer Graham Boffey, began as a local punk band called The Aborted. Within a year, they changed their name to Studio 10 taken from a local hairdressing salon. By 1979, "We gradually moved away from the punk stuff – singing 'Maureen, you're so naive' didn't sound right coming out of my mouth," he explained to Electronicsound. "I was into more literary lyrics about Salvador Dali and the like – and changed our name to b-Movie, after an Andy Warhol painting, we also decided to add a keyboard player. We put an advert in the local paper and we only had one reply. That was Rick Holliday. He brought along his Fender Rhodes electric piano and I was amazed at the sight of his fingers running up and down the keys. He worked out a deal with our local music store to get a couple of analogue synths and everything changed from that point on."
In 1980, they signed to a local label called Dead Good Records and their first release was the Take Three EP containing the three songs The Soldier Stood Alone, Drowning Man and Soundtrack. This was swiftly followed by Nowhere Girl which was released on 12″ only and the last song on the second side was an early version of Remembrance Day. As only 850 copies were pressed, it sunk without trace.
Not long after, they met Stephen Pearce who decided to be known by the mononym Stevo, because his brother was jailed twice under the Race Relations Act, he was the owner of the Some Bizzare label which was home to The The and Soft Cell who got b-Movie a deal, Hovington explained, "Stevo was running a club night at the Chelsea Drugstore in London, but I met him at the Retford Porterhouse, where he was DJing with Cabaret Voltaire and The The. I thrust a demo tape into his hand and asked him to give it a listen. He called me up the next day and became our manager soon after that. He was only 17, so two or three years younger than us, but he was extremely charismatic and he had a huge amount of self-belief. He could be difficult at times but I have to say that I got on well with him. He was a very dynamic and interesting individual. He put us on his seminal Some Bizarre Album alongside Depeche Mode, Blancmange and Soft Cell and then got us a deal with Phonogram.
It was Phonogram who wanted us to do Remembrance Day as our first single for them. We'd already put the track out on an EP with a Lincoln indie label called Dead Good, but the original was five-and-a-half minutes long and I couldn't see how we were going to make it work as a single. In the end, we got it down to under four minutes. A lot of that was down to Mike Thorne, who Phonogram asked to produce us. I was very happy to get Mike on board. He'd produced the first three Wire albums and I was a big fan of those records."
Things began to happen quickly, In January 1981, we'd played at The Red Lion in Mansfield. By March, we were gigging with Duran Duran and headlining the Some Bizarre Festival at The Lyceum in front of 3,000 people. We recorded the new version of Remembrance Day at Scorpio Sound, which was a massive studio underneath Capital Radio in Euston Tower. We pretty much redid the entire track live on the day, rearranging the parts with Mike and improvising everything there and then. I remember sitting in the control room when we played back the final mix and I was totally stunned by how it sounded. I couldn't speak or move for a few minutes. From there, the record was pretty much pressed up overnight and in the shops within a week or two." Remembrance Day, was championed by John Peel, Peter Powell and Kid Jensen on their Radio 1 shows and in April 1981 it peaked at number 61.
The song tells the story of the Forgotten heroes underground as well as the pale stones and epitaphs and how, as the first verse says how 'now it's just a memory, eroded by the years'.
Because the success was not forthcoming, tensions and frustration began to build and the band split with Boffey and Holliday leaving first swiftly followed by Hovington and Statham going their separate ways and concentrating on song writing. Statham began to work with Pete Murphy from Bauhaus, Gary Numan and Simple Minds. As b-Movie, he still tours and occasionally releases new material.
Un-fortuitously, their name resulted in them being also rans, but at least they made the lower end of the UK singles chart and have since reformed on a few occasions. "The original line-up of the band have been playing together again for several years now," Steve revealed, "we did a reunion gig in 2004 and it's snowballed from there. In fact, we've done loads of gigs since then and released two albums, The Age Of Illusion in 2013 and Climate Of Fear in 2016. The four of us were essentially mates from school – we were born within six months of each other and we lived within six miles of each other – so it's great that we're still making music together. We have plenty of loyal fans too, especially in Europe. We've had some brilliant gigs over the last decade or so and the fact that there's still a lot of respect out there for the band is really pleasing." When asked if he had any regrets, Steve said, "Not releasing an album at the time of Remembrance Day is my biggest regret because it meant people didn't get a chance to hear the full extent of our sound.