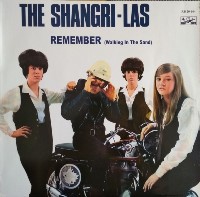 I do love it when someone puts out a morsel of information that eventually becomes legend only to find out it's not true and I spend the rest of my life correcting people. The best example is about Rod Stewart playing harmonica on Millie's hit My Boy Lollipop. No he didn't! That was Pete Hogman who was once briefly in a band with Rod Stewart and the idiot who made the statement didn't do his research and claimed it was Rod. The other is that Bob Holness played saxophone on Gerry Rafferty's 1978 hit Baker Street. No he didn't! That rumour was made up as a joke by Stuart Maconie when he was a journalist and people have believed it ever since. That, for your information, was Raphael Ravenscroft. This week's choice, The Shangri-Las' Remember (Walking in the Sand), is a song that is said to have Billy Joel playing piano. Is that true? Read on to find out.
This song was produced and co-written George Morton who was known within the industry as Shadow and was born in Richmond, Virginia but raised in Long Island. Whilst at school he met a girl, Lois Berman, who later became his wife and together they formed a doo-wop group called the Markeys.
A few years later he wanted to break into song writing so he moved to New York. Whilst there he met the songwriter Ellie Greenwich and they became friends. With the possibility of advice or tips from Greenwich about song writing he would often pay her visit and this, in turn, got Greenwich's husband, Jeff Barry, suspicious. When Greenwich explained Morton's frequent visits, Barry decided to challenge Morton and asked for a meeting where he could view some of his recent work. Morton was worried as his portfolio was pretty much empty and so when Barry asked for a song he rose to the challenge to write one.
He decided to drive back to his old stomping ground of Long Island which was only about 40 miles away to write a song. He drove to Long Island Beach and whilst there heard seagulls which gave him some inspiration and was used in the song's outro. Once written he headed back to New York and arranged for some musicians and a local girl-group he knew and liked to attend a recording session.
The girl-group were the Shangri-Las who were formed in 1963 by two pairs of sisters, Mary and Betty Weiss and identical twins Margie and Mary Ann Ganser who were all from New York. They recorded the demo complete with seagull sound effects which many people assumed Morton had recorded whilst at the beach, but he later stated, "No, they're from a sound effects record."
One of the musicians at that session was a 15-year-old piano player called Billy Joel. Many people wondered if this was true and even Billy Joel once said he wasn't sure, but in 1987 he revealed in an interview with Q magazine that is was him and how it came about, "I met a guy at an Echoes gig and he asked me if I wanted to play piano on a recording. So I go down to this little studio in a guy's basement in Levittown, Dynamic Studios, and they've got this sheet music down there. There's two songs, one's called Leader Of The Pack and the other is called Remember (Walking In The Sand) and this is pretty easy stuff to play and then Shadow comes in. He's a pretty strange guy, Shadow. He's wearing this big cape and dark glasses and he played the producer role to the hilt. I think he had a thing about Phil Spector. He wanted to be the Phil Spector of the East Coast. And he talked in these wild, dramatic, theatrical terms, he wanted more 'thunder' and he wanted more 'purple' in the record. He's waving his arms in the air saying 'give me more purple'. And I'm sitting there kind a nervous – this is my first time ever in a recording studio – and I'm hissing to the other musicians, what does that mean? How do I play 'purple'? And the guitar player leans over and says, 'Oh, just play louder, kid.' So we did these songs in a couple of hours and the singers didn't actually sing with us, we just did the backing tracks and I was never really sure who it was for and then I heard Remember (Walking In The Sand) on the radio, I went wait a minute, that's me, and the guys in the band said, 'Oh, what did you get paid?' I didn't get paid anything. What did I know. I guess Shadow pulled in guys like me so he could save some money."
The song was a winner because it covered that common story about love going wrong when one of them walks away and this will always resonate with people.
Morton offered the song to Jerry Leiber who had just launched his own Red Bird record label and Leiber accepted. The song went to number 14 in the UK, number five in the States and number two in Canada. All of Morton's writing credit were confined to The Shangri-Las including the more well-known Leader of the Pack, the less-well known Past Present and Future that became a minor hit for Cindy and the Saffrons in 1983 and Give Him a Great Big Kiss which peaked at number 18 on Billboard but failed to chart in most other places in the world.
Remember (Walking in the Sand) has been covered by, among others, Skeeter Davis, the 1974 Dutch Eurovision entrants Mouth & MacNeal, The Go-Go's and The Beach Boys but most notably by Aerosmith which was recorded in 1979 and featured uncredited backing vocals by The Shangri-Las' own Mary Weiss.
During the 80s and 90s there was a group called the Shangri-Las touring across American but none of them were connected with the original act. It was put together by a promoter called Dick Fox who had claimed he'd bought the rights to the name. Needless to say legal action took place on both sides.
Mary Ann Ganser died of a drug overdose in 1970 aged just 23 and her sister Marguerite passed away in July 1996. Betty still lives and works in Long Island but not in the music industry and Mary released a solo album in 2007 called Dangerous Game. As for George 'Shadow' Morton, he turned to alcohol in 1976 and after 10 years of treatment at The Betty Ford Clinic he got clean but never did anything of note. He died of cancer in February 2013.