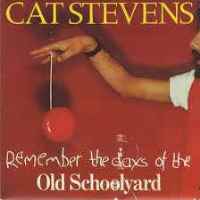 This isn't the first time I've written about a Cat Stevens song, in fact, it's the third. The prolific singer songwriter crops up a few times but always with different songs. This week's choice features what for years was his last UK chart hit. I say for years that was until 2007 when his 1970 song Wild World finally made the chart after it was performed twice at the Live Earth concerts by Stevens himself in Germany and James Blunt in London. It peaked at number 52. The song this week is (Remember the Days of the) Old Schoolyard which just missed the top 40 in 1977, but what is it about? Let's find out.
Stevens was born in Central London and lived above his parent's shop and attended St. Joseph Roman Catholic Primary School in Macklin Street in London which was close to his father's business on Drury Lane. It was his days of playing in that playground that inspired the song where he spends time reminiscing about the fun and innocent times; 'We used to laugh a lot, oh don't you?' and 'When we had simplicity and we had warm toast for tea and we laughed'. Even at a young age, he remembers a special person who held his affection because in the third verse he remembers, 'You were my sweet love, my first sweet love my lovey dove, my love lovey dove' and 'I still see your face, your smiling face, in childish dreams, inside my dreams'.
Who was the first love? Who knows? He's never said. Maybe it was Linda Ann Fredericks who is two years his junior and later became Linda Lewis. It's unlikely as she grew up in West Ham and became a child actor even appearing as a screaming fan in the Beatles' 1964 film A Hard Day's Night. The reason I mentioned her is because Cat wrote the song for her and she was the first to record it. She had been a backing singer for Cat appearing on his 1972 album Catch Bull at Four and toured with him on his Bamboozle World tour in 1974.
It was recorded for her 1975 album Not A Little Girl Anymore. Clive Davis at Arista records signed her on the strength of hearing her version of the song and her album was released on Arista's subsidiary label Bell. The song was released as a single by her but it failed to chart.
Cat's version was released as a single in June 1977 and featured former Sly & The Family Stone drummer Andy Newmark. Andy later became a session drummer and has played on songs by Pink Floyd, Roxy Music and David Bowie. There are two female backing singers on the song one of which is the New Zealand singer Suzanne Lynch and the other is the more prominently heard Elkie Brooks. The track was lifted from the album Izitso which, for the first time for Stevens, features a synthesizer, a Polymoog synthesizer played by Jean Roussel.
The accompanying video begins with the musicians in the studio and then changes to a playground scene with lots of young children innocently playing together. At the start of the third verse you see Cat and Linda singing together as if indeed remembering those days.
Lewis went on to have four hits in the 1970s including her version It's In his Kiss which made the top 10. She has a five-octave vocal range and has been compared to Minnie Riperton and Mariah Carey. She is still active and revealed on Robert Elms' BBC London show last year that she is working on a new album.
After this hit, Cat changed his name and religion and moved away from the spotlight, however he did occasionally perform at various charity events and he was steadfast about not returning to music, but in 2015, he did return still under the name Yusef Islam and when he did, one of the songs he began performing was this song because it was innocent and made no reference to politics nor religion.