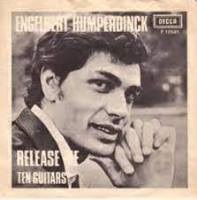 Until the Beatles came along and changed things, many major stars had songs written for them by professional songwriters. Cole Porter, Irving Berlin, Julie Styne, Sammy Cahn, Alan Jay Lerner, Frederick Loewe, Richard Rodgers, Oscar Hammerstein III, Burt Bacharach, Hal David, Barry Mann and Cynthia Weil, to name a few, all made their living from writing songs for others. None of them were singers. So, I can only imagine the frustration of what it must be like for a songwriter, who knows they've written a good song, but unable to 'sell' it to anyone. That was very much the case with this week's suggestion.
In 1946 country music songwriter Eddie Miller wrote Release Me, but after four years trying to find someone to record it, he gave up and recorded it himself. Eddie had a tendency to write songs backwards. He said, "I know what the end is going to be before I start. I don't follow a trend, I go to the opposite. I think a writer should set a trend and not follow one". Eddie recorded and released half a dozen versions of the song and, at one point, held three separate positions on the US country chart, with the same song. Eddie's version was sung with so much passion and feeling, it's just sad that more people didn't get to hear his version. The idea for it came to Eddie whilst in a bar in San Francisco. He overheard a husband and wife talking about their marital troubles. The wife said, 'If you'd release me, we wouldn't have any problems and everything would be all right'.
Miller was born Edward Monroe Miller in 1919 and raised in Oklahoma where he worked as a railroad engineer during World War II. After the War he formed his Western swing band Eddie Miller & His Oklahomas and began his recording career. He then moved to Tennessee and became one of the co-founders of the Nashville Songwriters Association. In 1950, he moved again, this time to California and was signed by the recording company, Four Star, as both a songwriter and a recording artist. That same year, his version of Release me was released again but didn't trouble the pop charts.
In 1953, the country singer, Jimmy Heap, heard Miller's version on a jukebox and decided to cover it and was released as Jimmy Heap & The Melody Masters with Perk Williams and it sold over 700,000 copies. It made number five on the Billboard country chart and two other versions, by Kitty Wells and Ray Price made number eight and six respectively.
Numerous country singers covered later including Lefty Frizzell, Carl Belew and Patti Page. In the 60s, Bobby Darin, The Everly Brothers, Dean Martin, Jerry Lee Lewis, Pat Boone and Dolly Parton all had a go at it. In 1967, a struggling pop singer name George Dorsey, whose manager, Gordon Mills, recommended a name change to Engelbert Humperdinck 'borrowed' from the deceased German composer, had a go and finally gave it the recognition it deserved. It became Hump's debut and biggest hit here and, in the States, it peaked at number four and their label showed the title as Release Me (And Let Me Love Again).
The writing credit on various versions of the single are a minefield to say the least. The majority of versions show the writing credit as Eddie Miller, Robert Yount & Dub Williams. Engelbert's version shows Eddie Miller, Robert Yount, Dub Williams and now with the added name Robert Harris. Even more bizarrely, the writing credit on the US version on Parrott records shows as Miller Stevenson. Okay, let's sort this out. The original songwriters were Eddie Miller and Robert Yount but during the recording they began working with Dub Williams, so they offered him one third of the credit. Dub Williams was a pseudonym for James Pebworth. when they signed the contract with Four Star records, the label's owner Bill McCall would often add his own name, usually under some pseudonym, to the label to get extra money. This was a much more common practise that you might imagine. Buddy Holly's producer and publisher, Norman Petty, did this quite regularly. However McCall had forgotten to do this initially, so, in 1958, McCall bought Yount's royalty share and, after renegotiating the contract, the writing credits were often noted as Miller Stevenson. Many versions still exist with various names on it. As for the Robert Harris credit on Engelbert's version, that was another scam; it later transpired that Dub Williams and Robert Harris were two pseudonyms for James Pebworth. Another brazen attempt ensured a double pay packet for the impudent songwriter.
When Four Star went into bankruptcy, Acuff-Rose Music acquired all the copyright and continued to pay Yount until McCall's family revealed that McCall had died in 1978 and the family filed a lawsuit. At that point all further payments to Yount were withheld until a court case in 1996 found in favour of the McCall family and Yount received no further money. Yount died in June 2005 aged 75.
So how did Engelbert come by the song? Well, it was his manager, Gordon Mills, who found an instrumental version by the British saxophonist Frank Weir. Weir had one minor hit in 1960 with Caribbean Honeymoon, but when Engelbert heard it, he told Billboard magazine, "I heard the melody and thought it could be a hit. I asked if we could find the lyrics. When we heard the words, it was a double whammy for me because they sounded terrific. Then we brought in a great arranger, Charles Blackwell."
Engelbert may not have been so lucky to have the big hit he did if it wasn't for Dickie Valentine. Valentine was due to appear on the legendary show Sunday Night At the London Palladium but became ill and Engelbert stepped in. Release Me was already in the chart at the time, but because of the enormous viewing figures the show had, he reached a much wider audience. The song knocked Petula Clark's This Is My Song off the number one spot and it stayed there for six weeks. More importantly it remained in the top 50 for 56 consecutive weeks, a record he held until 2014 when John Legend's All of Me spent 58 weeks. Incidentally, his new record only lasted a few weeks until Ed Sheeran came along with Thinking Out Loud later the same year and hung around for 63 weeks.
The Beatles had established a new record of 10 straight number one hits. That run was halted when Release Me kept the double A-sided Strawberry Fields Forever and Penny Lane at number two. In 2002, that fact upset one contestant who lost out on £25,000 on Chris Tarrant's breakfast show on London's Capital Radio. Chris asked the multiple-choice question: "What kept The Beatles' Strawberry Fields Forever / Penny Lane off the number one spot? Was it A) This Is My Song by Petula Clark, B) Release Me by Engelbert Humperdinck or C) I'm A Believer by The Monkees?" The lady answered B, only to be told she was wrong. The next contestant could then have a guess and went for Petula Clark and won 25 grand. I called the station to inform them of their heinous error and was told that the producer would get back to me. True to their word, the female producer did call me back and I explained the situation. She asked me how I know and I told her. She thanked me and that was the end of the conversation. You and I will never know if the rightful contestant ever got the money they richly deserved.