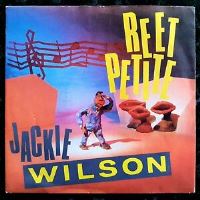 Whenever the name Berry Gordy is mentioned in music circles most people would immediately think Motown, which is absolutely right, but prior to establishing Detroit's most successful record label, Gordy made a bit of a name for himself as a songwriter and this week's suggestion is arguably his most famous. In addition to Reet Petite, Gordy also co-wrote, with Billy Davis under his pen name Tyran Carlo the follow ups To Be Loved and Lonely Teardrops and the royalties from those songs allowed him to launch his new label. It also gave him good business sense and made him understand the value of the money from royalties when your name is on the label and often worked it in his favour.
Reet Petite was made famous in 1957 by Jackie Wilson who initially, as a teenager, wanted to be a boxer but decided on music in the end, possibly realising it was easier to get the girls in the music business. This is something Wilson made a habit of and earned himself a shady reputation with the way he treated his female company, but that is for another day. It's his music I am concentring on here. He regularly performed in local talent contests around Detroit and often played on the competition especially with his cousin Levi Stubbs who later became the lead singer of the Four Tops. On the occasions when Stubbs won, Wilson was often known to have said, "You win this week, I'll win next week."
Jackie Wilson, who was born in 1934, continued performing at the amateur night talent shows until at the age of 17 he was signed to Dee Gee Records, a small label that was co-owned by the jazz trumpet player Dizzy Gillespie. Whilst there he recorded two singles under the name Sonny Wilson. He then joined the doo-wop group, Billy Ward & The Dominoes, and although he and Ward had disagreements (Jackie decided to sleep with Ward's fiancé), he displayed his vocal gymnastics on the US hit, St. Therese Of the Roses in 1956. A British cover version by Malcolm Vaughan reached number three, but may have got to number one if it hadn't been banned by the BBC on the grounds that it was contrary both to Roman Catholic doctrine and to Protestant sentiment. Malcolm later recorded a cover of Wilson's To Be Loved and it made number 14.
When Jackie left The Dominoes, he befriended Berry Gordy and his cousin, Billy Davis, who gave him songs beginning with Reet Petite which the label mysteriously added 'From the Sweetest Girl in Town' under the title indicating it came from a movie, but there was no such movie, on the 1986 re-issue, however, it became part of the title in parenthesis. It was a contemporary phrase for a good-looking girl. It had been written as a simple boogie-woogie but Dick Jacobs's colourful orchestration added brass passages and horn stabs. "It didn't bother Jackie," said Billy, "There was no way of overpowering him.'" The title was taken from the 1947 film Reet, Petite and Gone, which starred Louis Jordan and an all-black cast. "The rolling of the R's was particularly distinctive," David continued, "but when Jackie did it on stage, whilst as a support act to Dinah Washington, he blew his front teeth out: 'I'll never sing that again,' he said, and he never did."
Berry Gordy and Billy Davis were cheated out of royalties and decided to start their own projects. Berry Gordy started Tamla-Motown, and though Billy Davis worked with him from time to time, he established his own career, producing Fontella Bass' Rescue Me and co-writing I'd Like to Teach the World to Sing.
Unfortunately, Wilson didn't have a good reputation and an overview of his life was pretty disastrous. He was known to be short-tempered and very promiscuous and in the early 60s he was accused of sexually assaulting Patti LaBelle whilst backstage at a Brooklyn theatre in New York – a claim Patti made in her autobiography.
He assaulted a police officer whilst on stage once when some fans clambered on stage and when the police officer allegedly shoved a female fan, Wilson assaulted him. Soon after Wilson was shot by one of his girlfriends when he returned from a gig with another woman. He also failed to pay his taxes nor child support money and in 1964, in order to avoid arrest for the tax offence, he jumped out of a second-floor window of the theatre he had been performing in. His personal life was remarkably tragic too, he was married twice and had six children altogether. Two of them died under tragic circumstances and quite young – his 16-year-old son was shot and killed on a neighbour's front porch.
On 29 September 1975, Wilson was performing at Dick Clark's Good Ol' Rock and Roll Revue in New Jersey when he suffered a massive heart attack on stage. He fell down and hit his head. Apart from a couple of brief reprieves, he never really regained consciousness and remained pretty much in a coma for nine years until his death January in 1984 at the age of 49. He was being buried like a pauper with no headstone, just the marker B261.
In the mid-80s, Levi's Jeans used a number golden of oldies in their television ad campaigns and Reet Petite was one of them. Marvin Gaye's I Heard It Through the Grapevine and Sam Cooke's Wonderful world were also used and they became hits all over again. All three acts had passed, both their estates benefitted well. For the ad, Giblets, a London-based animation team produced a brilliantly inventive claymation to accompany the song. It was screened on the BBC's Arena programme and it so well received that it was picked up by SMP records who re-issued it and it shot to the top of the chart to become the Christmas chart-topper of 1986 – some 29 years after its first appearance. A record at the time.
Thanks to its new-found success, there is now a headstone with the epitaph, No more Lonely Teardrops at his resting place, the Westlawn Cemetery near Detroit.
Van Morrison paid tribute to him by writing and recording the song Jackie Wilson Said (I'm in Heaven When You Smile) which failed to chart until a cover by Dexy's Midnight Runners took it into the top five in 1982. Two years later, Michael Jackson paid his own tribute by dedicating his Album of the Year Grammy for Thriller to him at the 1984 Grammy Awards ceremony.