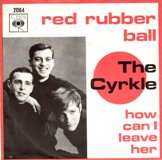 This week's song owes its success, but only in America, to one half of a legendary duo and one quarter of an even more legendary quartet. Despite charting half a dozen US hits in just 16 months, The Cyrkle are only remembered for their debut which was called Red Rubber Ball.
Rhythm guitarist singer Don Dannemann and singer, lead guitar and bass player Tom Dawes met in 1961 whilst studying at Lafayette College in Pennsylvania and originally formed a band with drummer Mary Fried called The Rhondells. Dawes said, "We did all the pop tunes of the day including songs by the Beach Boys and the Four Seasons." It was after a performance at Atlantic City in New Jersey that led them to signing a recording contract with Columbia records. The area where Lafayette College is situated in downtown Easton is known locally as the circle. According to the sleeve notes on their anthology, Red Rubber Ball : The Best of the Cyrkle, Dawes said, "Nat Weiss (an artist lawyer) had spoken to Brian Epstein (whom he had been friends for a while) and supposedly asked John Lennon if he had any ideas for group names and, as an allusion to the college area, he came up with The Cyrkle.
The newly named Cyrkle got their big break in early 1966 when they opened for Simon and Garfunkel for whom Dawes was also a touring member. During that time Paul Simon offered them Red Rubber Ball, a song he had co-written with Bruce Woodley of The Seekers. After the duo had released the album Wednesday Morning, 3 A.M. which failed in America, Simon moved to the UK where he met Woodley and the pair wrote the song which was originally intended for The Seekers, but the rest of the band didn't like it and turned it down. After learning that it was a hit for The Cyrkle, the Seekers eventually did record it and can be found on their 1966 album Come the Day which was titled Georgy Girl in the States. Later that year, because of the Brian Epstein connection, they opened 14 nights on the Beatles' US tour.
It was Dawes who first heard the demo and played it to Dannemann who recalled a few years later what he thought at the time, "To be honest with you, my first feeling was it's no great shakes, but everybody else seemed to think, 'yeah there's something here.  Let's try it.'  So we did and the song became a big hit for us. It's really funny, but I never thought much about it at the time."
Paul Simon has stated in numerous interviews that he wrote Red Rubber Ball whilst in England and did so just to get a £100 advance from the Seekers. The Cyrkle's version, which features an electric organ played by Earl Pickens, was the first production by John Simon who later went on to work with The Band. What set it apart from other tracks of the era was that it was recorded in stereo with lead, bass guitar and percussion on the right track and acoustic guitar and electric organ on left. The vocals were on both.
The Cyrkle had one other top 20 US hit, Turn Down Day, but following the death of Brian Epstein the band broke up with Dannemann and Dawes becoming successful jingle writers. Dawes' most famous TV advert was for the 'plop plop fizz fizz' jingle for Alka-Seltzer. Dannemann's most popular material was for Continental Airlines and Swanson Foods, eventually writing the original 7Up – Uncola ads which featured Geoffrey Holder.
The song, which not only famously featured on Leonard Cohen's jukebox, has been covered by Del Shannon, Mel Torme, Cliff Richard, Cilla Black and Neil Diamond.
In the mid-eighties Sundazed records acquired the license from Columbia to re-issue The Cyrkle's back catalogue, "They sent me what they were putting out and they wanted comments from Tommy and I and our drummer, Marty Fried," recalled Dannemann. "Now understand, after the band broke up I got involved in advertising and had a nice career doing commercials and things. I had a production company. So I had really left that part behind. Anyway, I was on a plane and had nothing to do, so I pulled out my Walkman and listened to the cassette. When Red Rubber Ball came on and as soon as I heard the first two seconds, it was like 'Wow! There's magic in that. That really was a special hit.' I had just never thought about it like that. My conclusion is, you can take the best producers, the best musicians, the best writers, and the best artists and bring them all together and you might make a good record.  But you can't guarantee the magic. It may or may not happen."