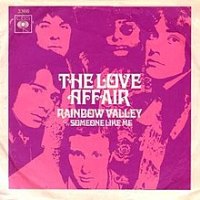 This week's suggestion comes from a group who nearly didn't have a career when, at the time of their only chart-topper, they were caught out on a live television interview with Jonathan King when, after asking if they played on their own records, they admitted they hadn't. It was the bass player, Mick Jackson, who made the revelation even though the presenter knew that was the case. Only the group lead singer was present with a bunch of talented session musicians. Fortunately, thanks to come quick thinking, their career was rescued, at least until the lead singer had had enough.
The Love Affair were originally formed in 1966 as The Soul Survivors and were a proper band with keyboard, bass, guitar and drums and were spotted and signed by Decca records in the summer of that same year. Three months later they went to Abbey Road Studios and recorded their first single, the Kenny Lynch-penned Woman Woman but was never issued, at least not until 2000.
In the spring of 1967 they changed their name to the Love Affair because they got a new manager, John Cokell, who said there was already a band in the States called the Soul Survivors and suggested the name Thin Red Line. "I was happy with the Soul Survivors," Ellis, the band's lead singer, remembered. "There was talk of calling us Thin Red Line, the idea being to have a painted line down the middle of our heads that went down into the suit and trousers! Honestly! This was quite radical, almost like Clockwork Orange, but we went, no way, we're not 'avin' that!" They were then teamed with Decca's resident in-house producer Mike Vernon and various other songs were recorded but nothing came of any of them and were soon dropped by Decca.
The band were very soul orientated and most of their live sets involved covering the soul tracks of the day and went into another studio to record some demo and began sending them to stacks of record companies. Eventually, Steve Winwood's brother, Muff, who was the A&R director at Island records showed an interest. The band's drummer Maurice Bacon said, "Because John Cokell was at Decca, he heard Robert Knight's Everlasting Love, which was on their subsidiary label, Monument." Ellis added, "The management put it on and we all loved it immediately. Muff wanted us to record it on our own – no orchestra, no nothing. Somewhere, there's a version just by the Love Affair." None of the band could read music so it was decided that Ellis would record the vocals and as Ellis recalled, "Mike Smith (now our producer) was brilliant, so talented. They had a 40-piece orchestra and you'd be in the back door at CBS Studios – bosh and you're on, three takes and that was that. I put the vocal on and the number was a bit special so everything just clicked. Obviously, I felt odd without the band being in the studio but it was for the good of all involved."
Next came Rainbow Valley which had been written by Buzz Cason and Mac Gayden (who had also written Everlasting Love) and, again, first recorded by Robert Knight and, again, had session musicians in the shape of Big Jim Sullivan on guitar, Clem Cattini on drums and Russ Stableford on bass. The female session singers were Sue Glover and Sunny Leslie known as Sue and Sunny. Sunny sings the 'meet me where the rainbow ends' bit and Sue did the spoken part. Sue left the music industry in the early seventies to raise a family and Sunny continued as a singer even managing a top 10 hit on her own in 1974 with Doctor's Orders. Rainbow Valley was credited as Love Affair With The Keith Mansfield Orchestra as he was the man who had arranged all the session musicians.
Tying in the with the released of Rainbow Valley, they managed to get some sponsorship as Maurice Bacon revealed in the mottarchive, "We were one of the first bands to do a sponsored tour – with Yardley make-up. We did all the big Top Rank clubs and Yardley put their 'pretty goods' range in the foyers. I've got a 10-minute video that Yardley did of us. On the back of the cover of Rainbow Valley, girls could send off for a Yardley pack. We got paid a fortune, about £400 a show. I think the only act earning more money was Geno Washington & the Ram Jam Band."