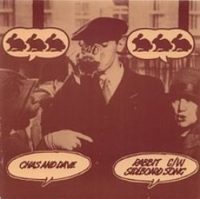 Chas Hodges and Dave Peacock – two of the nicest, down-to-earth people you could ever meet in the music industry. I worked with them on a number of occasions and each time they remembered me by name which was very flattering. Both lived in Hertfordshire, not far from me, so we often chatted about roadworks and other rubbish in the local area, but we talked music too. One night when we worked together Chas said to me, bring something in tomorrow and we'll sign it for you, I couldn't decide what to take so I took all my 7″ singles and albums and they signed the lot. Bless them! Anyway, enough of this rabbit, let's find out about the song.
The duo first hit the UK chart and thus became famous in 1978 and their first top 20 hit was Gertcha. I remember Dave saying they weren't allowed to use the word Cowson on Top of the Pops and so the pair just looked at each other and nodded leaving a gap where that word was supposed to be. They did slip it in a couple of times. They recorded a special version with different lyrics for a Courage Best UK television commercial. Talking of a brew, their follow-up was The Sideboard Song (Got My Beer in the Sideboard Here) which ridiculously only got to number 55. Then, in 1980, came their first big hit, Rabbit.
Like most of their songs, Rabbit was humorous and packed with clever word play and Chas recalled to Songwriting how it came about, "Me and Dave used to go away to write. We'd hire out a remote cottage somewhere and put ourselves away for a week or so. This time we were in a cottage in Sussex and Dave has an idea based on an old word for a person who spoke too much – a jaw-me-dead. I liked the idea but said 'can we modernise it a bit as it sound old-fashioned.' I suggested a modern version of You Talk Too Much (an American top three hit by Joe Jones) we could do an English version of that, so we batted it about and came up with rabbit as in the cockney rhyming slang rabbit and pork – talk."
Once the song was written, they went into the studio and during the recording Dave started singing 'Rabbit, rabbit, rabbit' and Chas said "That's a good idea but I thought it was too fast for us to use so I suggested how about I do the first and third rabbit and Dave did the second and fourth." After a few duff takes they got it word perfect, but Dave thought that bit should be used on the fade out, Chas disagreed and said it had to end on the word Rabbit.
The oddest line in the song is, 'You've got more rabbit than Sainsbury's' which is not a big seller by any supermarket back then but Chas explained, "I was never mad on that line even though I came up with it and wanted to ditch it just as quick, but Dave thought it was a great line and because he was so enthusiastic about it, it stayed in."
Dave told The Guardian, "A lot of rock'n'roll stuff has humour in it. Like the Coasters, 'Take out the papers and the trash.' Rabbit is an English version of that." Meanwhile Claire Packman, a correspondent at the Daily Mirror wrote, "The song promotes the stereotype idea that women are objects for men to admire and use." Or perhaps it implies that men don't like women who talk too much, however physically prepossessing they may be?" Chas Hodges explained in an interview with the Metro in 2018, "It was just a bit of fun. It was about a girl who had everything going for her but would talk at all the wrong times. We got a few feminists on our backs." There are always one or two!
Chas was quick to add that the song was not inspired by his wife, "although she can rabbit a bit," he said. It was aimed at blokes as much as anybody. It has a universal appeal although we didn't realise that at the time." The song had extra advertising because, like Gertcha, it was also used in a TV advert for Courage Bitter.
The man seen on the sleeve of the 7″ single supping a pint is a part-time actor called Mr Jackson who, eight years after the song was a hit, had a daughter called Elly. She grew up to be the lead singer with La Roux who, in 2009, had a number one hit with Bulletproof.