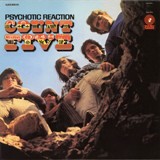 By the mid-nineties the UK music scene was very dance orientated (it was either that or Britpop) and one of the sub-genres was garage, but that term wasn't new. Very much like the phrase, R&B it had a completely different meaning back in the sixties. Garage, then, was used to describe music that had quite rocky with fuzzy guitars and an element of distortion. The lyrics were usually a bit psychedelic and occasionally aggressive but not in a punk way and was extremely popular in America in the late sixties. It's believed the term derived from bands, often professional, rehearsing in garages and helped give it its raw sound. One such band was the short-lived act Count Five who swiftly arrived on the scene in 1966 and disappeared just as quickly.
They were formed in San Jose, California in 1964 and comprised Kenn Ellner (lead vocals), John Byrne (rhythm guitar), John Michalski (lead guitar), Roy Chaney (bass) and Craig Atkinson (drums) and who were all rock 'n' roll fans. "I grew up with the Beatles, I wanted to be a musician and I emulated the Beatles," Byrne, who was actually born in Dublin, recalled. Michalski added, "We had San Jose wrapped up! Everybody was our fan and we got along with the kids really well, so we had a good following."
In an interview with Devorah Ostrov, Ellner said, "I started with music when I was real young. I used to sing quite a bit. When I was around 10 or 11-years-old I would listen to KLIV, they used to have a contest called Name It and Claim It so I used to listen with my ear to the radio, and I'd win almost every record that came on the air! Michalski explained how he got into music, "I used to listen to a lot of the Ventures. I picked up an acoustic guitar and just went by ear. I kept listening to the radio, trying to pick up everything people were playing, that's how I got going." It was Byrne who came up with the group's name, "We were thinking of band names like the Dave Clark Five, and all the other Fives – and I just said Count Five and we stuck with it." Ellner added, "It was never The Count Five, we wanted the double entendre. You could count one, two, three, four, five; or it could be like Count Dracula. The Dracula association continued as an early publicity photo showed the group dressed in ankle-length black capes, but why that gimmick? "That was mine and Sean's idea," admitted Ellner, "we came up with the capes and ruffled shirts. It just fit, as we thought that capes went with Counts." The trouble is the costumes caused the band to start sweating so they could only wear them for about 10 minutes then off they came.
Psychotic Reaction was one of the few songs that was written by the members and became a crowd favourite. So what's it about, "It was a drug idea, although we were not into drugs," revealed Byrne "but we were looking at what was going on around us and we could see that kind of music could sell. Although I don't want to say that we were trying to cash in on the drug thing, we thought it was interesting. We felt the song, we believed in it." And the title? Ellner explained, "Sean was in a psychology class with a friend of Butch's named Ron Lamb and they were talking about emotional problems, like neurotic and psychotic reactions, and Ron said, 'God, that's a great name for a song!' Sean agreed, 'You know, you're right!' I had just got my first harmonica and we were jamming, and we got into the part of the song that goes da da da da da… That's how the whole thing got started. Then Sean wrote the lyrics to it."
The group were managed by Ellner's father and he certainly kept them in line and made sure that when they were in the public eye they were on their best behaviour. But they really had a good time as the drummer recalled, "That was probably the most fun of anything, the camaraderie we had with the other groups. We got along real well with the Syndicate of Sound. It just seemed that anybody had music in common with was pretty easy to get along with."
They toured the US and at one stage were supported by The Doors. Michalski recalled, "I remember the first time I met Jim Morrison, he said, 'The only difference between my group and your group is that you've got a hit record.' He had mustard all over his face from eating a hot dog! He was a pretty sloppy guy." During their live sets they did a number of cover version of British songs because they liked the 'English' sound. Byrne said, "At the time, we did more Yardbirds' covers than we did The Who. The only reason the Who songs appear on the album is because we did them a little better than we did the Yardbirds', at least as far as the record company was concerned. Truth is, we did neither of them very good. Their one and only album, also called Psychotic Reaction, was released in 1966, it contained 11 songs including two Who covers, Out in the Street and My Generation.
By 1968, Count Five was drifting apart. Byrne said, "Our record company didn't promote us after Psychotic Reaction but the dollars started rolling in for those guys and they wanted to keep them. They didn't put the money into producing or promoting us. Michalski and Chaney were the first to leave. They were replaced for some local shows by two members from the Syndicate of Sound, but by the end of the year the band had broken up. Atkinson added "It's kind of tough when your first record is a hit and you can't do it again. I think it would have been better if we had cut a couple of flops and then had a hit. We weren't ready for it; it seemed too easy. When we couldn't do it again and again, it got kind of frustrating." Michalski said, "We were all 19, and at that time when you were 19, you were drafted. Butch enlisted because he wanted to be a pilot. Sean wasn't a citizen yet, so he didn't have to worry and Kenn had a bad back. Roy got out of it. But it took me four years to beat it."
Atkinson passed away on 13th October 1998 and Byrne died in December 2008 from cirrhosis of the liver. In 2006 Count Five was one of the first bands inducted into the San Jose Rock Hall of Fame, so they certainly made their mark.