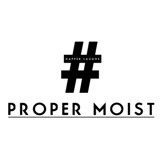 This week's choice is an odd one with no real story. When I was asked for this I didn't actually remember it being a hit. Well, I say hit, on 22nd February 2014 it entered the chart at number 15 and the following week it was gone. Do you remember Proper Moist by Dapper Laughs? I thought not!
If you Google Dapper Laughs you'll notice immediately words like 'offensive' 'vulgar' and 'controversial' and that's exactly what David Daniel O'Reilly is. He was born in Kingston in Surrey but grew up in Clapham, south London. He made his name as a participant on social media sites Facebook and Vine. Once he'd got around two million followers on the former he then continued on Twitter, Snapchat and YouTube. One of him first gimmicks was filming himself putting 'wet floor' signs in the sea which earned him the nickname 'Moisturiser'.
Once upon a time, singer and comedians etc had to work the clubs and earn respect and a following. Singers had to impress record companies to get deals which, in turn, led to radio airplay in the hope chart success would follow, but with the advent of social media people don't need all that now which was lucky for Dapper Laughs. With the astronomical number of followers he amassed he managed to undertake a series of one-man shows which completely by-passed the club circuit. Most of his act was centred around talking about the size of his anatomy and how sexually advanced he was. His patter was often ill-mannered, he once told a female member of the audience that she was lucky she had big tits because she was as thick as pig s**t.
His one and only single was in a similar vein which only has one offensive word in it where the F-word crops up a couple of times, but it's more the directness of how he 'raps' to the listener of how the girl is loving the sexual act and of how good he is at adding in that she'll be walking like Robocop the next day. Then he proceeds to explain that when he's finished with the girl he'll check out her mother and how he'll f*** her mom so much so that at the end of the night she'll need a wheelchair. Fully aware of the controversy, he even adds into the lyrics, 'They'll be hatin' on me for just havin' a bit of fun'.
The internet has done all the work for the track because virtually all radio stations completely ignored it. If it's cleverly marketed, it can get onto ITunes' own chart which this song did and the week leading up to its chart entry it hovered around the top 10 thus sparking interest and people downloading it out of curiosity. Much of the press he received at the time were likening him to eighties comic Roy Chubby Brown but more annoying than offensive. One of his own promotional tricks was a Tweet which said, "It's gonna piss a lot of people off. Download and bang a bird to it. Hard!"
His television career was halted fairly quickly. He had his own ITV2 show called On The Pull but he was axed siting that his comedy routines were degrading to women. On one of his tours there was a report that he made a terrible rape joke which he later claimed was taken out of context but nonetheless he cancelled the rest of the tour. He was invited onto the BBC's Newsnight programme and interviewed by Emily Maitlis where he revealed he was killing off the Dapper Moist character. But, just a couple of weeks later he'd resurrected it and released a DVD of one of his south London shows. In an interview with the Radio Times, he patronisingly said to the interviewer, "people like yourself need to have a lot more respect for the intelligence of my audience, they understand that Dapper Laughs is an exaggerated character." Do they?
In 2016, he and his long-term model girlfriend, Shelley Rae had a baby which they called Neve, originally he had planned to Snapchat the birth to his followers, but in the statement he said that the event became "too emotional and private" for him to share. He also said in an interview with The Sun, that he had no intention of sharing pictures of his new arrival online – for fear of repercussions after he became notorious for his 'lad culture' character on Snapchat.
In January 2018 he was invited to appear on Celebrity Big Brother but he was soon in hot water after making a number of shocking sexual remarks about his housemate Jess Impiazzi. He was voted off much earlier than he expected and was called a hypocrite by fans after he reacted furiously to the decision, but he did leave in style by proposing to his girlfriend as he went down on one knee during his exit.