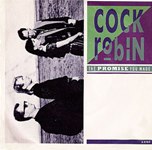 Most people will know the song I Drove All Night which was a hit for both Cyndi Lauper and Roy Orbison and both peaked at number seven with it. That song was originally offered to Peter Kingsbery, a name you may not be familiar with, but he was the lead singer with the one-hit wonder group Cock Robin.
Billy Steinberg, who wrote I Drove All Night, explained what happened, "Cock Robin were very successful in Europe. They had songs called When Your Heart is Weak, Just Around the Corner and The Promise You Made. Tom (Kelly), Billy's regular writing partner) and I heard them perform live, they were just blowing us away. At that time, they were managed by Jay Landers, who's been very prominent in Barbra Streisand's career. We heard Cock Robin play live and this guy Peter Kingsbery had this great voice very much like Roy Orbison, it's a powerful voice. We thought, 'Wouldn't it be great if he would sing I Drove All Night' so we invited him over to Tom's house where we had a studio. Peter was a good guy, a little bit arrogant. He heard the song and he liked it, but he said, "Well I'm a songwriter myself. Why would I record one your songs?" it was a nice meeting, but he didn't have any interest in recording our song. In the end Cyndi Lauper snapped it up."
Cock Robin's only UK hit which was 1986's The Promise You Made which was originally recorded in 1984 for the group's self-titled debut album. It was released as a single in 1986 and became a big hit in Europe and then in the UK when it peaked at number 28. The band comprised; Peter Kingsbery on vocals and bass, Anna LaCazio on vocals and keyboard, Clive Wright on guitar and Louis Molino on drums. They were formed in California and are named after a 17th century story by an unidentified author called The Courtship and marriage of Cock Robin and Jenny Wren. The track was produced by former Gong guitarist Steve Hillage.
The band split in 1990 and Peter moved to France where he pursued a successful solo career. It helped that he speaks fluent French. He signed to Barclay records and released his first solo album A Different Man in 1991. As well as being a bass player, he wanted to learn other instruments and decided to take up piano and accordion. Cock Robin's sound was fairly basic but after learning new instruments be began to explore and soon included flutes, saxophones and trombones into his solo material. In the early nineties he toured France by playing piano in the small club circuit.
In the mid-nineties he participated in the concept album musical Tycoon, the English version of Michel Berger and Luc Plamondon's French musical, Starmania. He contributed Ego Trip and Only The Very Best, the latter of which became a major hit in France. In 1995, he released his second solo album Once In A Million which was recorded in Belgium, France and Los Angeles.
In January 2015, news spread on the internet that Peter Kingsbery had died. The hoax was sparked after somebody posted this on Twitter: 'At about 11 a.m. ET on Sunday (January 04, 2015), our beloved singer Peter Kingsbery passed away. Peter Kingsbery was born on December 2, 1952 in Phoenix. He will be missed but not forgotten. Please show your sympathy and condolences by commenting on and liking this page.'
This was the latest in a long line of celebrity hoax deaths and he is still alive and well.