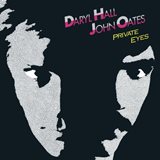 Who are the most successful duo in American pop history? Simon and Garfunkel? The Everly Brothers? Well, they both were once (at different times) until they were overtaken in the late eighties by Daryl Hall & John Oates as certified by Billboard magazine. This week it's the story of their third, of six, American number one hits.
The pair met in 1967 by accident. They were fronting their own separate bands, Daryl Hall, who was born Daryl Hohl, was the lead singer with The Temptones and John Oates fronted The Masters and were both appearing at the Adelphi Ballroom in Philadelphia which was Daryl's home state of Pennsylvania, while Oates had travelled from neighbouring state New York. That evening was a band contest with many taking part and at one point trouble broke out between two other bands and gunfire was heard, so everyone tried to escape. Both Hall and Oates got into the same lift and found they had mutual interests and attended the same University so they struck up a friendship. They later shared a few apartments around the state capital. One of their properties had a letterbox which was labelled Hall & Oates and that would eventually become their professional name once with got their musical partnership going.
They began that partnership in 1972 and their first album Whole Oats went nowhere. The following year they released what would eventually become their most memorable album, Abandoned Luncheonette, but it did very little at the time. The single, She's Gone, from that album was only released in 1976 after two or three acts had already covered it.
Four year had passed until the UK heard any more from the duo, even though they'd released six album in the States. They signed a new deal with RCA records and returned with Voices which contained the hit singles Kiss on my List and their original version of the Paul Young hit Everytime You Go Away. Next came Private Eyes which contained the first UK top 10 hit, I Can't Go for That (No Can Do) and this week's suggestion – the title track.
Montreal-born musician Warren Pash was trying to make a career as a songwriter in Los Angeles. He had written a song called I Need You to Need Me, but wasn't happy with the title. One day he was driving on Ventura Boulevard when he saw an advertising poster for a new film called The Private Eyes which was about two bumbling detectives, that title appealed to him so he went home and wrote some more of the song then retitled it Private Eyes.
Pash, a few months earlier, had met Hall and his long-term girlfriend Sara Allen. Hall used to write songs with Allen's sister Janna who was also a singer. Daryl and Janna had written Kiss on My List which was originally going to be for Janna's debut album, but it ended up on Hall and Oates' instead. Janna called Pash to see if he had any songs for her album which is when he mentioned Private Eyes. Janna like the sound of it and returned to L.A to work with Pash on it and they finished the song together. When she brought it back to New York to play it to Daryl, Sara added some bits and the song was then credited with four writers.
Pash recalled, in an interview with Song Facts, what it was like when Janna came back to L.A., "We went in a little rehearsal room somewhere – I think it was five bucks an hour with a beat-up, old piano with cigarette burns and half the keys not working, and a cassette player. We banged it out with some stuff that she added to make it more singable for her and more melodic for her. She took it away and I said, 'OK, we'll see what happens.' She calls me maybe a month later and says, 'I don't think that song is for me.' I said, yeah, I understand, and she goes, 'but I think it's perfect for Daryl and John, so I gave the cassette to them.' I went, What are you trying to do, kill my opportunity to work with Daryl again? Why'd you give him that piece-of-crap tape? She says, 'no, no, no… they'll know what to do with it.'"
The song tells a story in a similar way that detectives would work, the opening line 'I see you, you see me' which indicates the moment when they spot each other after casing a joint. Lines like 'when it's watching for lies you can't escape my Private Eyes' give the song that eerie feel.
The accompanying video was done in the same way resembling an episode of Columbo with the stereotypical raincoats and hat. The video was done cheaply by a film director called Jay Dubin who was known for making cheap videos quickly.
Their song writing changed from around the time of the Private Eyes album, Daryl Hall explained in an interview with Output magazine in 1981, "A lot of times we'll just come in with the basic idea of verse-chorus-verse musically, and I'll just sing something over it, words that don't make any real sense. Then we'll come back and put the real lyrics in the song. It has worked real good for us because it keeps us from getting frustrated. We have it down now where we can go in the studio with incomplete songs and finish them there." He also said, in a Billboard interview, "If you want to understand what we're talking about, read between the lines," to which John Oates added, "Some people go to a psychiatrist. We write songs."
The song was used in the 2002 film Cherish and again in 2010 in Knight and Day which starred Tom Cruise and Cameron Diaz.
One artist who has been really inspired by Hall and Oates is the New York rapper Travis McCoy. He is such a fan that he had the artwork of the Private Eyes album tattooed on the back of his hands saying, "One day I was looking at the Private Eyes cover and I was like, that's really f***ing awesome."