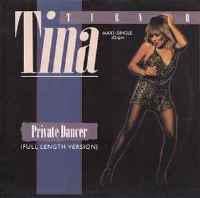 Numerous acts have made a substantial comeback after their career was seemingly over, Santana, Cher and Take That are all notable examples, but none more successfully than the singer of this week's suggestion, Tina Turner. She first graced the UK chart with husband Ike in 1966 when River Deep Mountain High elevated to number three and their last appearance was in 1973 when Nutbush City Limits peaked at number four. Then Tina was gone for over 10 years. Thanks to Rod Stewart who asked her to be his support on his 1981 US tour which, in-turn, led to an appearance at the British Electric Foundation on a remake of the Temptations' hit Ball of Confusion, she was back. She signed a deal with Capitol record and Tina was ready to go again.
Tina's career, in the 60s, was with a husband Ike but it is well documented about his behaviour and how he used to beat her. She was bitterly unhappy and one night, whilst staying in a hotel in Dallas, Texas, Tina plucked up the courage to walk out on him whilst he slept. She left with nothing except the clothes she was wearing and 36 cents in her pocket. With the help of a close friend, who paid for her to fly to Los Angeles, she made a new start.
She was born Anna Mae Bullock in Brownsville, Tennessee in 1939 and it was Ike who gave her the name Tina Turner. Her comeback began in 1983 when she was 44 years old and it was a cover of Al Green's Let's Stay Together that put her back on the chart map when it peaked at number six. She followed it with a cover of The Beatles' Help which stalled at number 40 and within four months she was back in the top three with What's Love got to Do with It. She always had good some writers including Ellie Greenwich, Jeff Barry and Holland Dozier Holland in the early day. The only hit Tina solely wrote herself was Nutbush City Limits. Once she was back, songwriters wanted to write for her.
Her comeback album was Private Dancer which peaked at number four and spent 147 weeks on the chart and had a staggering six singles lifted from it. The title track was the fifth and probably the best known despite peaking at number 26 in the UK. The song was written by Mark Knopfler for his band Dire Straits.
Once it was finished, Knopfler realised very quickly that singing, 'I'm your private dancer, a dancer for money' was not something a man should really be singing and it wasn't going to work so it was his idea to pitch it to Tina. In a 2004 interview, she explained her thoughts when she first got to know about it, "Mark said this song is not for a man, it's a girl's song. He recorded it but won't use it so when he put the demo on, he sung 'I'm a private dancer, dancer for money, do what you want me to do,' I told him, 'I think you're right, it's not a song for a guy. I liked it a lot. I wasn't sure whether the girl was a hooker or a very classical private dancer but I thought I'd take it." Mark later said, "Tina injected a whole lot of power and stuff into it." In an interview with the late Roger Scott, Tina said, "He [Mark Knopfler] gave me the track and I copied it with Dire Straits' people – most of them. At first, I was going to try to just put my voice on Mark's tapes, but there was a record company problem, so we got Mark's musicians, Dire Straits, and went into the studio… Someone said, 'Why did you select Private Dancer? It's a song about a hooker. Is it because you've been a hooker?' And I was shocked. I didn't see her as a hooker. I can be naive about some of these things. But actually, the answer is no. I took it because it was an unusual song. I'd never sung a song like it. And I wish you could hear Mark's version of it. He's got a very English-sounding voice and it was really quite beautiful. A very arty song, so I put the old soulful touch on it."
The musicians on the track are Dire Straits' own bass player John Illsley and drummer Terry Williams. Mark was unavailable for the session so the guitar part was played by Jeff Beck.
Over the next 15 years Tina had a further 31 UK hit singles including duets with Rod Stewart, Bryan Adams, Eric Clapton and even Barry White. Arguably her best-known song is The Best which peaked at number five in 1989. In 1996, such was her fame that she copied singers like Kylie Minogue, Diana Ross and Janet Jackson by dropping her surname from the artist credit. In the download era, her 1960s cover of Creedence Clearwater Revival's Proud Mary charted for the first time in the UK.
In 1994, she relocated to Zurich in Switzerland. A couple of years later she announced that she was working on a musical based on her life under the title Tina. The show opened in London in April 2018 with Adrienne Warren playing Tina. She also reprised that role the following year on Broadway. That same year Tina received a Grammy Lifetime Achievement Award and also announced her retirement at the age of 79. It didn't last long because in 2020 the Norwegian producer Kygo lured her out of retirement to collaborate with him of his re-mix of her hit What's Love Got to Do with It. That song peaked at number 31 but in doing so it gave Tina the accolade of being the first singer to have UK hit in seven consecutive decades.
The money over the previous 40 years has come in handy because, despite her relatively poor health these days, Tina and her husband, Erwin Bach, have just bought a $76 million waterfront estate overlooking Lake Zurich.