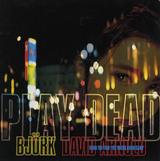 Enya, Basia and Björk are mononymous singers, and thank God, as their surnames are almost unpronounceable. In the early days many also had trouble with Björk's first name which is actually pronounced Byerk and she even playfully points out that it rhymes with jerk! It was 23 years ago this week that she recorded the song Play Dead which was to be featured in the new film Young Americans, let's find out all about it.
Björk Guomundsdottir was born in Reykjavík, Iceland in November 1965 and was 11 years old when she was introduced to music. It was at the height of the punk craze and she began playing in a number of punk and jazz fusion bands after she graduated from music school. "When I was at school, other kids were playing instruments completely out of time or were singing out of tune, and it was beyond me," she told Songwriting magazine. "I remember thinking it was really odd that they couldn't hear beats and rhythm. I didn't know what they were either, but it was like watching someone being unable to walk – I couldn't figure out why someone couldn't do that. I had some terrific music teachers and learnt about different instruments, harmony and melody. For me, playing in school ensembles and college bands were things that got me excited about making a noise – the noise that I would enjoy of someone on the radio, in concerts, or in films especially. School orchestras were typically playing instrumental pieces – there wasn't anyone singing – so I suppose I thought more instrumentally than I did about songwriting. But I was listening to a lot of songs, because growing up in Iceland you couldn't avoid it. There was always a radio on at home and I wanted to be involved with music or films, so I believed I'd be a musician or an actor, or something. I was 14," she continued, "and hanging out with people who were much older than me at the only indie shop in Reykjavik. Everybody volunteering, to keep the tiny shop alive. We imported really accidental things – the big Cocteau Twins album never made it, but their fourth awkward album that nobody else knew about did. We'd be like: 'We love it!' People who loved opera came, the poets came, and we had this DIY punk spirit where if you wanted to record an album on a cassette in your bedroom, you would find art students in the shop to help you design the cover. If somebody needed to go to a radio station, we'd all do it together. So it might sound hippy but it was more punk functionalist."
In 1986 she joined the Sugarcubes as lead singer where she remained for nearly seven years. In 1993 she launched a solo career beginning with Human Behaviour which just crept into the top 40 and followed it with Venus as a Boy which crept into the top 30. Her first major hit, Play Dead, came next when she collaborated with the composer and musician David Arnold.
David's track record included penning the themes to five James Bond movies; Tomorrow Never Dies (1997), The World Is Not Enough (1999), Die Another Day (2002), Casino Royale (2006) and Quantum of Solace (2008) as well as the films Independence Day (1996) and Godzilla (1998) and the TV series' Little Britain and the 2000 remake of Randall and Hopkirk (Deceased).
David, who is currently working on the music for a Sherlock Christmas Special, explained how he approaches the process, "We started on the Sherlock special with Michael Price and we've got a show in front of us that requires music and it makes demands of us creatively. I suppose the principle is exactly the same. I saw Young Americans and I had to come up with the music for it, and that's the same today. It produces a huge amount of problems that need to be solved, musically, and that's what I have to do. That's not really any different from Sherlock to James Bond. The job is effectively you in a room, by yourself, with the film, trying to respond to it."
Songwriting magazine asked him what it was like when it came to writing a more traditional theme song, like Play Dead. "The track for Play Dead was the thing that I thought of first, and I didn't think of it necessarily as a song, until we talked about having an end title piece. So I didn't write it for the film as a song. That chord sequence that was the opening of Play Dead was what I came up with as a motif and it starts the film off as well, when Harvey Keitel's character is coming into land in London. It's those mournful strings, oozing over the throbbing bass – I think it was an old Matrix 1000 – and it felt introspective and dark, and felt like something was going to happen. Then we started talking about perhaps turning into a song and who we could do it with. I'd been listening to a lot of Jah Wobble and Björk, from the thing she did with 808 State and the Sugarcubes, so we asked Jah to play some ideas and Björk literally lived around the corner. We asked if she was interested and she come over and we played her the track, and she said she'd do it. I like to come up with ideas on my own first and then share them. I hate going into the room for a songwriting session. To be perfectly honest I don't think I'm good enough to sit down and come up with something great immediately. I don't want to waste anyone's time, least of all my own. But when you're in a room with someone, as a writer – whether it's an artist or a co-writer – everyone wants to be good and everyone wants to have great ideas, but sometimes you really have to dig deep and find it somewhere and it's not always there. So I like to come up with something first and then look for collaborators to further the idea. With songwriting, I'm not the sort of person that would topline a song – I'm not saying I couldn't do it, I've never tried – but I couldn't make a track that someone else would write a tune for, because I think the two go hand in hand."
Björk explained what her contribution was like in an interview with David Hemingway, "I'd just written Debut when I was asked to do this song for Young Americans. I watched the film and wrote Play Dead based on the main character. It was actually fun because the character in the film was suffering and going through hardcore tough times and at the time I was at my happiest. It was quite liberating to sit down after writing a whole album to write from someone else's point of view. The particular character was pretty fucked up, you know. In the film, he had a girlfriend who just wanted him to be happy and in love and he just couldn't get his head around it. It was just me trying to imagine what he would say to her. Things he never actually said to her in the film but things he would have said to her. When I met David Arnold he'd already written the score – like a three minute greatest hits of what's in the film – and Jah Wobble had written the bass part. My role was basically to write a melody and a lyric that would make it into a pop song."
The single version is different from the album which appears as a bonus track on Debut. The 7″ was remixed by Tim Simenon, the man behind Bomb The Bass, and it reached number 12 in the UK chart, but made the top 10 in the Netherlands, Poland and Sweden.
Since it was recorded, 20-odd years ago, things have changed, "The revolution in technology has completely changed the landscape in which we're working and the means by which you got into the industry in the early days is very different to how it happens now," David Arnold explained, "Someone like Hans Zimmer effectively takes apprentices and he has a facility where people can learn how to write film scores or make the amazing sounds he comes up with. That's a very generous and effective way of doing it. Other people would be a composer's assistant and make their way into a couple of co-writes that way. It's all about meeting people and finding your own voice and proving yourself to be a team player and someone who people like. The main thing to be in this industry is to be a nice person and someone who solves problems. I still think the best thing you can do, if you want to be a film composer, is to compose music for a film. Even if you haven't got any professional experience, you need to be able to be able to turn up with something."