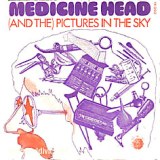 The legendary DJ John Peel will always be remembered, and loved, for giving thousands of acts a play on his radio shows that no one else would touch. His young ears kept him popular with music lovers across five decades, but many won't know that in 1969 he launched his own Dandelion record label with the idea of getting music and bands he liked signed and thus a chance to be played on mainstream radio. The only UK hit on his label was Medicine Head's first hit (And The) Pictures in the Sky which reached number 22 in July 1971.
Medicine Head were a duo comprising John Fiddler and Peter Hope-Evans who were born three days apart in September 1947. They met at Stafford College whilst studying art, and found they had a mutual interest in American folk-blues that sealed a friendship and sparked the interest to form their own band. They began playing blues and rock'n'roll songs in pubs around the Birmingham area. Their raw sound of keyboards, dual harmonicas and Jew's harp got them noticed by John Peel when he spotted them at a gig in Wolverhampton. Legend has it that Peel played a track of theirs, given to him by them on a reel-to-reel tape, to John Lennon who insisted Peel sign them to his label. When Pete Townshend heard them he commented, "They are one of the few truly original British bands that can be counted on the fingers of one hand."
At this point they didn't have a name, so suggestions of The Mission and Dr. Feelgood & the Blue Telephone were made but they settled for Medicine Head because, literally, the melancholic ballads coupled with stompers were good medicine for the head.
The tape they gave Peel was the original demo of (And The) Pictures in the Sky which was recorded in Fiddler's kitchen and featured The Yardbirds' Keith Relf on guitar. The finished item didn't feature Relf, but he did produce the track.
Fiddler recalled how the song came about, "I wrote Pictures in the Sky in the dressing room just before going on stage at another Midlands gig. I just started playing it that night, Peter joined in on Jaw's Harp, and that was it, the crowd literally went wild for that song, and just wanted to hear it over and over." The parent album was called New Bottles Old Medicine and the more recently issued CD version contains that original demo as a bonus track.
After the song fell off the chart, it looked like that was the end of their career. Dandelion had gone into liquidation and Peter had had enough. John explained, "We had a reasonable sized hit with Pictures in the Sky, and it didn't damage our credibility either. However, I don't think Peter enjoyed the hit situation and announced that he intended to concentrate on poetry and radio drama and left. I kind of felt that he would come back, and I knew that he (just) needed to work out some stuff for himself, so respect." He replaced John with drummer John Davis, and Relf moved in as the band's full-time bassist, Medicine Head set to work on their third album, Dark Side of the Moon. This was exactly a year before Pink Floyd decided to give their latest album the same title. Fiddler laughs, "I came out with that title first, and I do have a song called Dark Side of the Moon, too. But Pink Floyd made an awesome piece of work and, though they didn't thank me, I would say thanks to them for such an amazing album."
Hope-Evans returned to the fold in late 1972. "Peter had been living in the north of England," Fiddler explained, "Way out in a very isolated place, he had been writing, trying to get plays published, trying to find his way. A very good friend of ours, Jim Carney, lived not far from him, and he kept in touch with us both. I think Peter first voiced his desire to re-join, through him. Peter and I were the best version of Medicine Head."
With the success of the singles One And One Is One, Rising Sun and Slip And Slide, led to them headlining at the Royal Albert Hall supported by Tony Joe White. Their homemade brew driven by thumping bass-drum /hi-hat with rhythm/lead guitar has since been dubbed by historians as 'proto-punk' like the Pink Fairies and Stack Waddy. It's ironical that when punk did arrive the band splintered rather than being killed by it at a time when their songs had become heavier live. One reviewer saw the microcosm of Medicine Head as the history of rock 'n' roll in a particular English style.
Fiddler and Hope-Evans continued gigging around the country, before signing with Chas Chandler's Barn label in mid 1976. "Chas is amazing," Fiddler raved at the time. "He instils a massive kind of confidence and you pick up on it. It's what we've always lacked; we've never had confidence in our management."
A new Medicine Head single, It's Natural, was released that July and picked up a little interest and everything was heading in the right direction again. "We had no problems being there in the midst of the punk thing; we had the same energy, all was cool, so I thought. We had a full tour sheet and then Peter decided to leave. I tried to dissuade him, but to no avail. I knew his heart was no longer with the band. He needed to move on, and I probably did as well. We'd probably blown that one apart and we couldn't fix it."
The band finally split in 1977 and Fiddler became a member of British Lions and later Box of Frogs as well as occasionally reviving the Medicine Head name. As for Hope-Evans he has continued recording most in collaboration with Pete Townshend.