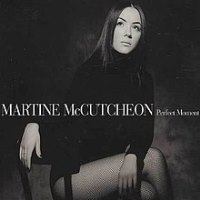 Tiffany (Darwish) first charted in the UK in January 1988 and it took 11 years until Tiffany was back at the top, but this time a different Tiffany, Tiffany Raymond. This was the character name of East-end-born singer Martine McCutcheon who was given an obscure track first recorded by a Polish singer and took it to the top. Martine had a hard upbringing in the London borough of Hackney and once said, "I'd spent my whole life wanting to get away from the East End, it's where I'm from and I didn't want to portray reality, I wanted glamour. I wanted to do movies, or be in Dynasty, wearing shoulder pads." Dynasty it wasn't but Eastenders it was and it's where she became a household name for three and a half years. When Martine topped the UK chart in April 1999 she was only the second star from the soap to get to number one – 12 years after the first which was Nick Berry with Every Loser Wins.
Martine Ponting was born on 14 May 1976 and her father, Thomas, was an alcoholic market trader who often resorted to domestic violence, so at the age of two, her mother took Martine away. Thomas tracked them down and the problems reoccurred, so when she was nine, the courts denied Thomas parental visits. Her mum later met and married John McCutcheon and Martine eventually took his surname. Martine first got the taste for show business from watching fifties and sixties movies. "I was fascinated and intrigued by them," she recalled to Spencer Leigh. "I was beginning to dream about following my heroines – such as Barbra Streisand and Marilyn Monroe – on to the big screen."
She won a place at Italia Conti, the Academy of Theatre Arts, where among other things, she learned to speak eloquently. "I spoke really beautifully when I left there, it was only when I got into Eastenders that I went back to my old habits." Not long after joining Italia Conti, Martine landed her first television job in a children's series called Bluebird, which starred Barbara Windsor and Lance Percival. "It only ran for six weeks but I learned so much about acting from Barbara, little did I know that years later she would end up as my mother-in-law – well, in the soap, anyway."
As well as acting, she was still keen to show her vocals skills and so she auditioned successfully for the all-girl group Milan. They signed with Polydor and she, Claudia and Dionne seemed ready to take on the world. As Martine noted, "At the time, all-girl groups were quite a rarity. Bananarama had had their day and the Spice Girls were years away." The only girl group making it big were Eternal. "We all loved Kylie and our image was vaguely Kylie-esque, with the emphasis on 'vaguely'." They recorded a cover of Rose Royce's 1979 hit Is It Love You're After, but it missed the chart completely. After a couple of years, things weren't going well. Their management preferred Claudia to do lead vocals and Martine was reduced to a backing vocalist. They received little airplay and had to resort to performing in the dingiest clubs. On one tour they supported East 17, but that ended in disaster. "The East 17 fans thought we were getting off with the boys backstage and used to throw mints at us on stage," recalled Martine. "As for their manager, Tom Watkins, he hated us too because he thought we were a distraction to his boys." It was time to quit. But in 1995, the keyboard duo Uno Clio 'borrowed' Martine to front their single Are You Man Enough, which peaked at number 62 but at least her vocals got an artist credit.
Things were quiet and she'd taken a job in the Knickerbox shop briefly when her agent called to tell she'd had an audition for Eastenders. She got the job immediately and was only supposed to be in for a few weeks but she impressed everyone and ended up staying. She became a barmaid at the Queen Vic, "I loved the character," she explains. "My mum had been a barmaid in a pub in the East End, so I knew what that life was like."
Typically, like a lot of soap stars, managers and labels bosses want to 'enhance' their career, and presumably their own pocket, by enticing them into the chart and it was no different with Martine, but at least she had experience. In 1998, Martine met Simon Cowell and Hugh Goldsmith and they got on well, but as she said, "Simon knew how to make money quickly for his artists, but a quick buck wasn't the issue. I wanted to have a long-term career in music." It was Hugh's friend, Cheryl Robson, an A&R expert who first played Martine a version of Perfect Moment. "This is your song," she said. It was written by Wendy Page and Jim Marr, who had written and produced hits for Billie, it was first recorded in 1997 by the Polish singer Edyta Górniak. Martine was growing tired of the Eastenders' storylines. "I was also getting fed up being strangled by my on-screen husband, Ross Kemp every other episode. I made a fair amount of money from the soap, but the money Hugh was talking about convinced me of a career in music."
Martine's storylines were pretty tragic with various members of her family having affairs and then she ended up in a coma having fallen down some stairs. Having indicated to the bosses that she wanted to resume her music career, she was eventually written out but in a more brutal way than she expected. She was eventually run over and killed by Frank Butcher. She wasn't coming back, mind you Harold Bishop came alive again in Neighbours so anything's possible!
Having secured a deal with Virgin's Innocent label, Martine crashed in at number one and spent nearly four months on the chart. The follow-up, I've Got You, went to number six as did the next single the double A-sided Talking in Your Sleep (first recorded by Marmalade) / Love Me with all proceeds being donated to the BBC's Children in Need Appeal. Her debut album, You, Me & Us reached number two.
She had a total of six solo singles and all of them made the top 10. her final effort was a great cover of Donna Summer's 1980 hit On the Radio which peaked 25 places higher than the original.
As her musical career ended, she wrote her autobiography Who Does She Think She Is? and then raised her profile when she starred as the lead in the stage show My Fair Lady in 2001, then  in the blockbuster Love, Actually alongside Hugh Grant in 2003.
In 2012, she married singer-songwriter Jack McManus who had a minor hit in 2008 with Bang on the Piano and a top 30 album called Either Side of Midnight.
I read with interest that she likes music quizzes, "Sometimes we'll go to Jack's mum and dad's or my mum's, and have a music quiz on the sofa," she said, "We get really involved, there's even a cup, and the winning team sings We Are the Champions! Well Martine, why not come to one of mine and we'll see how good you are!