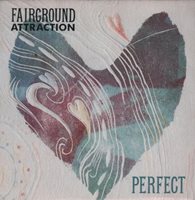 Three weeks ago, I wrote the story of In the Air Tonight which was inspired by Phil Collins' marriage break up. Phil said, "Some people were surprised that I would write about it, but that really is what writing songs is all about." The writer of this week's choice was in a similar boat regarding a relationship and went on to say, "There is no such thing as a bad break-up," I guess that's true if it help write a successful song and it makes you rich.
That songwriter was the Ebbw Vale-born Mark E. Nevin the founding member of Fairground Attraction in 1987 alongside Glaswegian lead singer Eddi Reader, guitarist Simon Edwards and drummer Roy Dodds. Edwards had previously been a member of Red Box who had a top three hit in 1985 with Lean on Me.
Eddi, who was born Sadenia Reader, never craved the limelight and said, "I used to hide behind big glasses, wear wigs and silly plastic skirts. The idea was to distract attention from me, but of course it did exactly the opposite." She was the daughter of a welder and grew up listening to The Beatles and Elvis. It was only when the family moved to Irvine, that she realised what she wanted to do. "When I was 17, I went to an Irvine folk club. I had never heard folk music before. I had never heard unaccompanied singing and storytelling songs, certainly not in a Scottish accent. That's when I realised it was something I could do." After studying at Glasgow Art School, she became a busker and travelled around Europe with a circus. On her return, she moved to London and became a backing singer for the Eurythmics and Alison Moyet before meeting guitarist Mark Nevin.
Mark recalled, "I was in a band called Jane Aire & the Belvederes and one night there was a fight at this club and all the band got beaten up except me and the singer. We then needed a new backing singer, so Eddi turned up, but she was better than our lead singer."
Mark wrote Perfect long before Fairground Attraction formed. He was living in a grotty bedsit in Cricklewood, north London with a girlfriend. He explained in an interview with Songwriting how the song came about, "I was lying in bed in the middle of the night thinking 'She's got to go, she's just not the one for me. You know that horrible, gnawing feeling when you know you've got to do that 'thing'? So I'm lying there looking at the ceiling and thinking, 'I don't want this half-hearted thing. Next time I'm going to get it right' so the next morning I went to my notebook and wrote some of those thoughts. I had a melody but it wasn't quite right, it was a bit reggae-ish and not very good and was never going to amount to anything so I left it there in that book."
Not long after, Mark was in American staying in an apartment in Akron, Ohio and found himself in the same situation, "I was with another girlfriend and thought, 'Oh no, she's got to be fired as well!' then I remembered the song in the book and this time the melody came straight away and that's when I finished the song." His girlfriend at that time was a singer and he got her to sing the demo. He returned to the UK and hooked up with Eddi and began doing a few gigs around the London area. One night at a gig in a pub on the Balls Pond Road in Islington, everyone was singing the chorus and Mark thought at that point that he must have plagiarised the song. Someone in that audience said to Mark, if you release that as a single it'll be number one. A year later it was.
In the early days that song closed the set, Eddi explained why, "We used it at the end of the set to cheer everyone up because the rest of the songs were full of angst, break-up and love gone wrong, so Perfect was thrown in at the end of the hour to make everyone dance a little bit."
They recorded the album, The First of a Million Kisses in 1987, which went to number two, and Mark was surprised it became so popular. "It's just about having girlfriends that haven't really worked out. You get into a relationship and go along with it in a half-hearted attitude and then you think, well, it's time to stop messing about and get it right this time. Find that perfect one."
The follow-up single, Find My Love, reached number seven but A Smile in a Whisper and Clare failed to reach the same audience and when the next album, Any Fond Kiss, failed to make the Top 50, the band broke up. Mark returned to writing songs and penned hits for Morrissey, Carleen Anderson and Kirsty MacColl. Eddi had two children before launching a solo career and had two Top 40 hits, Patience of Angels and a cover of Gene Pitney's Town without Pity. In 2003, she moved back to Glasgow declaring she was sick of the music business. 10 years later, she married John Douglas, a songwriter and member of The Trashcan Sinatras.
Perfect didn't really crack America however, in 1990, Baillie & the Boys, a country band from New Jersey, took Perfect into the top 30 in the US country chart. The song won a Brit Award, and was also used in a TV ad campaign for ASDA which earned Mark a reputed £100,000 a year for four years.