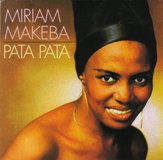 Nelson Mandela is certainly the most famous South African to be exiled but a close second has to be a singer who was an outspoken opponent of apartheid and as a result was exiled for 30 years. From a very young age, she witnessed things most people would never have to endure. She was unique in her sound which America and its people appreciated and it's her most famous song I look at this week. Her name is Miriam Makeba and the song is Pata Pata.
She was born Zensi Miriam Makeba in Johannesburg in March 1932. Her mother was a housemaid and her father was a teacher of Xhosa, the second most popular language after Zulu. Its name came from King uXhosa and originated from an ethnic group of people from the eastern side of South Africa. Miriam's real first name derives from the Xhosan word Uzenzile, which translates as 'you have no one to blame but yourself.' Nice! When Miriam was just two and half weeks old, her mother was arrested for the heinous crime of selling a beer which she brewed herself and was sentenced to six months in prison. Instead of the authorities taking Miriam away her mother was allowed to take her to the prison and thus Miriam spent her first six months of her life in jail. Her father died when she was just six years old and Miriam was forced to do jobs for local people to help her mother to support the family. She also began singing in a choir at a training institute in Pretoria where she had moved to live with her grandmother.
In 1949 she married and the following year, at the age of 17, gave birth to her daughter Bongi. She was then diagnosed with breast cancer, which was treated rather unconventionally, but, nonetheless, successfully, by her mother. Her husband left shortly after. Miriam would go on to marry a further four times, her second being the South African trumpeter Hugh Masekela who later topped the American chart with Grazing in the Grass. Her third marriage was to the Trinidad-born civil rights activist Stokely Carmichael, who changed his name to Kwame Touré, which caused controversy in America and she suffered when her record deals and tours were cancelled.
In 1953, after a short stint with a local group called The Sunbeams, she was invited to join a jazz group called the Manhattan Brothers who sang a mix of South African songs as well as popular American ones. Whilst on tour in 1955 she met a young man, a lawyer at the time, called Nelson Mandela. She went on tour with the Manhattan Brothers and her natural stage presence and dynamic vocal range as well as an emotional awareness in song raised the group's profile which led, in 1962, to an invitation to appear alongside Marilyn Monroe at John F. Kennedy's birthday party. In 1959 she landed the lead female role of shebeen queen of the Back of the Moon in the 1959 jazz-influenced musical King Kong which portrayed the life and times of the heavyweight boxer, Ezekiel Dlamini. The show's cast, despite being entirely black, was seen by millions of white people which would enhance her reputation. Later that year she attended the Venice Film Festival and was then refused re-entry back into South Africa.
She went to America where she befriended Harry Belafonte, who took her under his wing and helped her build a solo career. In 1960, shortly after the Sharpeville massacre, Miriam learned that her mother had died, but because her passport had been withdrawn and she was unable to return home for the funeral and that's when she began her 30 years of exile. That ban was finally lifted once Nelson Mandela got into power in the mid-nineties. She and Belafonte often sang together and she earned herself the nickname Mama Africa.
Her singing was unique, she could soar like an opera singer as well as plummet to a roar, she could even growl like Eartha Kitt, but it was the clicking sounds she could produce with her mouth that became a topic of fascinating talk and wonderment. The clicks are very prominent on the 1967 song Pata Pata where the noises are interspersed with the words. It sounds like a drum rimshot, but as Miriam once said, "Everywhere we go, people often ask me, 'How do you make that noise,' and it used to offend me because it isn't a noise, it's my language," she explained in a television interview in the Netherlands in 1979.
The song was written by the jazz saxophonist Reggie Msomi and first performed by The Sunbeams with Makeba on vocals and Spokes Mashiyane on the penny whistle under the original title Phatha Phatha which translates as Touchy Touchy in Xhosa and is quite an erotic dance. The clicks are an art and in the Xhosa language there are three types of clicks, which are known as dental, lateral, and alveolar, and are written, confusingly, with the letters C, X, and Q.
In early 1985 her daughter died in childbirth following which she decided to move to Brussels. On 4th March that same year, the day of her 53rd birthday, she came to London and performed at Royal Festival Hall. She addressed the audience, many who had seen her the previous time some 11 years earlier, where she explained the criticism she had received about turning her back on the west and had made insulting comments to the white people; "People have accused me of being a racist, but I am just a person for justice and humanity. People say I sing politics, but what I sing is not politics, it is the truth. I'm going to go on singing, telling the truth."
The following year her former husband, Hugh Masekela, introduced her to Paul Simon who invited her on his Graceland tour. Two years later she took part in the Nelson Mandela 70th Birthday Tribute at Wembley Stadium.
She continued touring until 2005 when she announced her retirement, at that point she realised how popular she was in her homeland by the older generation, she said, "Everyone keeps calling me and saying 'you have not come to say goodbye to us!'" So, despite announcing her retirement, she occasionally made appearances until 2008 when she decided to announce a final farewell tour which ended in Naples. After the tour ended she made one last appearance when she performed in Castel Volturno, near Caserta, following an invitation to support a member in his stand against the Camorra which was a mafia type local organisation. Whilst on stage she performed Pata Pata and then suffered a heart attack and was rushed to a nearby hospital where she was pronounced dead on arrival. She was 76 and, apart from being affectionately known as Mama Africa, she was also acknowledged as the Empress of African song.