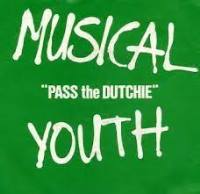 It's often cited that Michael Jackson was the first black act to received regular rotation on MTV when it launched in 1981, which is not quite true. He was the first black (which he was then) solo act, but this week's act beat him to it by just a few weeks. They were Musical Youth but, unfortunately, they suffered the same drawback as Laurie London in the 1950s and Our Kid in the mid-1970s which was, because they were too young to tour and promote their songs, their career was limited. Both the aforementioned had one hit each, but at least Musical Youth managed seven.
Freddie Waite, a former singer with Jamaican band, The Techniques, was teaching music at his local community centre in Birmingham. He began assembling a band in 1979 with his two sons Patrick on bass and Junior on drums and he named them Musical Express. He set up some auditions and found the keyboard player, Michael Grant. Michael suggested that his brother Kelvin (then only eight), who played guitar did an audition. Once Freddie saw his performance, he recruited him as well. Finally, he brought in the vocalist, Dennis Seaton. In late 1979 he changed their name to Musical Youth and they showed the potential of being Britain's answer to The Jackson 5.
They took a couple of years to get going, "If we'd all been 18 and legally able to cope for ourselves, Musical Youth would still be going now", said Musical Youth's lead singer, Dennis Seaton back in the early 2000s. Musical Youth were only allowed to work 39 hours a week, the legal requirement for kids their age. It was a hindrance to them because they had to cancel tours to attend school, thus lack of promotion.
Pass the Dutchie was co-written by Jackie Mittoo, a reggae songwriter who was the musical director at Coxsone Dodd's Studio One label and Lloyd Ferguson and Fitzroy Simpson were both members of a young group called the Mighty Diamonds who had formed in 1969 in Trenchtown. The lead singer with the Diamonds was Donald 'Tabby' Shaw and all three were school friends when they decided to form as a group then known as Limelight. Shaw's mother often referred to them as 'the diamonds' and that's when they changed their name to the Mighty Diamonds. They remained together until 2012. Tabby was murdered in a gun attack on 29th March 2022. He was among a group seated on the road when they were sprayed with bullets. Lloyd Ferguson said, "Tabby was one of the great soul singers, we did 46 albums and a whole heap of singles together and toured the world. He will be greatly missed."
Mittoo, Simpson and Lloyd Ferguson wrote a song called Pass the Kouchie in 1981 which itself was based on a 1968 reggae instrumental by Leroy Sibbles called Full Up. Sibbles was a respected figure on the Jamaican music scene because he had been Coxsone Dodd's right-hand man at Studio One. The song had its own share of problems – a kouchie being a slang term for a cannabis pipe which people passed around for each to have a toke but the then-Prime Minister of Jamaica, Edward Seaga, condemned it for endorsing the use of illegal drugs.
Freddie White had found the song and had the foresight to realise that a song about a device for making and consuming illegal substances would not go down well with the radio authorities, or even with their fans, so they decided to change the lyric to 'Dutchie'. Whenever they were interviewed and asked what a 'Dutchie' was, they always replied, "It's a kitchen cooking utensil." When one BBC interviewer asked him why it had to be passed to the left, Dennis replied, "It doesn't matter, you can pass it to the right too."
It is, without doubt, that the airplay it received on MTV helped launch them in the States where the Dutchie flowed up the chart to number 10 and won them a Grammy for Best Newcomers. In the UK, it was John Peel who gave them their first radio play and in turn that led them to signing a deal with MCA records. It entered the UK chart at number 26 at the end of September 1982 and the following week rocketed to number one giving them (then) the third biggest jump to number one after Elvis Presley's Surrender (27-1 in 1961) and Captain Sensible's Happy Talk (33-1 exactly three months before Musical Youth).
They followed-up their chart-topper with Youth Of Today, with its memorable intro 'Dennis, come back with my apple pie' and were in the chart at the same time as uncredited backing singers on Donna Summer's hit State of Independence. They had one further Top 10 hit with Never Gonna Give You Up. Unable to cope with the pressures, they split in early 1984. Both the Grants continued in other aspects of the music industry, Junior became a recluse, and tragedy befell Patrick. As Dennis described, "He became bored and returned to joyriding and drugs." When he turned 22, he served three years in prison for robbery and assault, and died in a car accident in 1993. His brother Junior Waite was later institutionalised, and Kelvin Grant became a recluse. Eventually he returned the music business and, in 2016, he was working on two music videos for two new singles, Defend Them and Jah Love Light.
In 2001, Dennis and Michael reformed Musical Youth as a duo and about to embark on a US tour when the 9/11 attacks put paid to that. Dennis formed a new reggae band called XMY standing for Ex Musical Youth but failed to make any impact on the UK charts. He was last known to be selling second-hand cars in the Birmingham area but occasionally ventures back into the music scene where he can be booked with 4-piece band called Seabass or as a Stevie Wonder tribute act under the name Know Wonder.