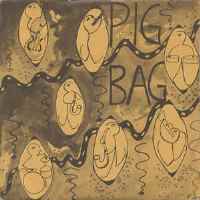 You know when you've heard the same song so many times, usually through radio saturation, you never want to hear it again? Well, this is one for me, not through radio but on one of my many visits to the Top of the Pops studio. It was a case of failure after failure. If it wasn't the band, who were so drunk, probably after a visit to the BBC club before the recording, who kept playing all the right notes, but seemingly in the wrong order, then it was sound issues. There were about 18 run throughs of this same song that the audience were bored shitless. In the end, they had to edit various bits of various takes to make it broadcastable. Nearly 40 years on, I can listen to it again without feeling nauseas. But why did it take nearly two years after its initial release to become a hit? Let's find out.
Pigbag formed in 1980 and comprised, James Johnstone on alto saxophone and guitar, Simon Underwood on bass, Chris Lee on trumpet, Chris Hamlin on clarinet, Mark Smith on bass, Roger Freeman on trombone, Ollie Moore on tenor and baritone saxophone and Andy Carpenter on drums.
Ollie Moore recalled how it all started for him, "My father wanted me to learn the clarinet whilst at Bristol Grammar School, and my Uncle, who played clarinet in the London Symphony Orchestra, sourced a reasonable student model for me to play. I still remember the pleasing smell of the instrument in its furry case with its cork and woodiness. Any pleasant associations with this intriguing instrument were soon to be dashed by an abusive, bad-tempered teacher called Mr Stone. I was 12 years old and he was a lumbering figure of a man who stood at about six foot three and wore a suit several sizes too small for him. He also drove a three-wheeled Reliant Robin car, in which he looked ridiculous. A bulging leather briefcase completed the dishevelled look. He would correct my mistakes with a thrust of the base of the clarinet upwards against my teeth. If I made a squeak or played a wrong note, his face bulged and turned puce in colour, as if he were about to burst a blood vessel, as he spat angry words in disgust at my incompetence. Consequently after a few lessons with this monstrous man, I stopped going altogether."
Simon Underwood had been a member of The Pop Group, he became disillusioned with the band and wanted to move on. "In the spring of 1980 I was jamming with Simon, and we had been put in touch with some guys in Cheltenham who had heard that Simon had left The Pop Group and asked if he would be interested in playing with them," Ollie continued. "We would go up to Cheltenham and play in a place called Beech House in a room with black walls. Sadly, early recordings from these sessions were lost from an Akai reel-to-reel tape recorder. These sessions were where Papa… was born and it would go on for about 20 minutes in a frenzy of percussion, including frying pans and horns!"
The track was actually written by Chris Hamlin and James Johnstone despite the label credit saying Pigbag. But as Ollie stated, "It's important to say that the song was written collectively, that was always the way we worked as a band as everyone had an equal input to the music that evolved. I think it's fair to say that Pigbag, the band, and Papa's Got A Brand New Pigbag were inseparable in many people's view.
Most of them were not fully trained and qualified musicians, "We were still raw, rough, self-taught musicians, high on energy. We didn't have a grasp of bar lengths and sections, so when it came to recording the solos it was decided that Roger would stand in front of us with a stopwatch and after one minute of free-blowing he signalled us to end."
Dick O'Dell was the former manager of The Pop Group and once O'Dell realised that Underwood had formed a new group he signed them to his Y record label. He had already signed The Slits and Pigbag's live debut was supporting The Slits. Their repertoire that night was a very extended version of their one song.
The song's title is just a play on James Brown's 1965 hit Papa's Got a Brand-New Bag and failed to chart when first released in 1981, "After about a year of being number one in the indie chart, it was deleted and then re-released," Johnson explained to Kieron Tyler, "the back order then propelled it straight into the pop chart." A John Peel session also played its part in its top 10 chart position.
While heading towards the top 10, an invitation came for Top of the Pops, "Roger Freeman left the band in protest about going on that show," Johnstone recalled, "Top of the Pops was shit though. We got banned from the show and escorted from the studios after what they said was misbehaving on the end-of-year line up. The band chose not to go mainstream, "EMI offered us money," Johnstone continued, " but we told them where to stick it."
At one gig, they were supporting The Specials, "We were very nervous to be playing in front of a huge crowd of mods and Skinheads and ended up playing at nearly twice the tempo," Ollie recalled, "Jerry Dammers was grinning at the side of the stage, encouraging us on. We were on for about 25 minutes.
After a couple of numbers one of the youths at the front shouted 'Oi, what's the name of the band? The single wasn't in the charts at this time. James Johnstone leant forward and politely said, 'Pigbag.' What? Pigshit? We were then met with chants of 'PIGSHIT' after each number. I think they enjoyed it really though."
By 1983, the band were running out of steam and seemed to lose direction. "We had turned soft, lost direction and got bored etc etc, the early days were so exciting – but it couldn't last long," Johnstone accepted.