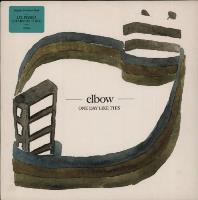 Radio stations are often in danger of killing off the appeal of a good song because of the heavy rotation and people get fed up hearing the same song over and over again. So many people ended up hating Bryan Adams' (Everything I Do) I Do It For You because, not only was it number one for 16 weeks, but it was on the radio on almost every DJ's show for about six months. This week's choice was a similar case, but I personally got fed up with it, not through radio, but because of o2. They used it as their holding music on repeat for months and you know how long you're on hold with these companies? It drove me mad. Anyway, let's delve into the story.
Elbow were formed in 1997 by lead singer and guitarist Guy Garvey and includes Pete Turner on bass, Craig Potter on keyboards, Craig's brother Mark on guitar and Richard Jupp on drums. In 2016, Jupp was replaced by Alex Reeves. They were originally, but briefly called Mr Soft which was then shortened to Soft and finally to Elbow, a name which was inspired from a line in the television series The Singing Detective where the lead character Philip Marlow describes the word 'elbow' as the loveliest word in the English language.
If you surveyed 100 people at random to name three hits by Elbow, most people would struggle after one or two. The band had 13 UK hits to date of which One Day Like This was their 11th and only reached number 35. Their albums, however, have fared better having had 11 of them with three making number one. Their most successful was The Seldom Seen Kid from which One Day Like This was lifted.
One Day Like This was the last song to be written for the album, Garvey explained more in an interview with the Manchester Evening News: "We were buzzing, we'd just got our new deal and it was like a breath of fresh air. It was like 'thank God that's happened at last, let's chuck this song together'. It was dead simple. We wanted to do something very uplifting and very positive. That's where the line 'One day a year like this will see me right' comes from. It's very northern, and that's maybe why it's not done as well abroad. Maybe they can't get their head around it."
But what actually inspired the lyrics, Garvey explained in a different interview, "It was about falling in love or actually the morning after falling in love specifically, you know, pondering it. It's semi-autobiographical, I was single for a bit then I got together with the girl I was with for almost a decade, Emma Jane Unsworth and that's when I wrote the song which I came up with in the bath. In the flat I was living in at the time, the shower was broken so I had a bath every day. I used to sit there and put my Dictaphone on record and sing in the bath. Even though the lyrics are quite bleak, I'm saying 'I'm not having a good time most of the time but today is great.'"
Because of its rousing and anthemic nature the song was used as the soundtrack to the 2008 Beijing Olympics as well as various nature documentaries, adverts for the National Geographic Channel and Sky UK's Earth Day 2009, a scene in Hollyoaks and Waterloo Road and an instrumental version was also used by Apple in their 2010 video introducing the MacBook Air. In addition, it was also chosen to be the soundtrack to England's 2018 World Cup bid. Garvey said, "It just ran away with itself." It went on to win the award for Best Song Musically and Lyrically at the 2009 Ivor Novello awards. It was not the only win they had at that ceremony, they also won the award for Best Contemporary Song with Grounds for Divorce, another single released that reached number 19 in the UK chart.
In 2012, One Day Like this was used during the closing ceremony of the London Olympic Games and such was its impact that the song re-entered the chart and reached a new peak of number four. It had been covered by only a handful of people including Sarah Brightman on her 2013 album Dreamchaser. She explained to Song Facts the reason she chose to cover it was, "One small experience can last you a lifetime and nowadays, we're very greedy for experience. I just thought about the deeper meaning of the song, what it was trying to say."
She wasn't the only famous person it has had an impact on, Sir Michael Caine picked this as one of his Desert Island Discs songs which was broadcast on Christmas Day 2009. He said, "I was watching Glastonbury and I thought, 'Who the bloody hell are this lot, they're great.'"