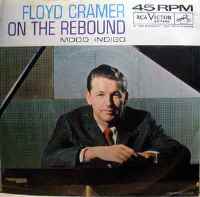 This week's suggestion is from Milkybarnick who emailed to say, "I wondered if Floyd Cramer's On the Rebound was worth a punt as single of the week. It's a record I never heard until I started doing hospital Radio some years back, and despite being a good 16 years older than me, it's one of my favourite records. It feels oddly of its time, but also timeless which is often what makes a good pop hit." Well Nick, that is very true, so let's look into it.
Floyd was born in Shreveport, Louisiana in 1933 and began learning piano by ear at the age of five. Although he didn't have his first UK hit, the chart-topping On the Rebound, until 1961 he'd already made his name in the States playing piano on numerous songs mainly by country acts. After graduating from high school, he joined the cast of the Louisiana Hayride country show in Shreveport. His break came when he began playing in Webb Pierce's country band and doing session work for singers like Jim Reeves. In 1953, he recorded his first single Dancin' Diane. A couple of years later he moved to Nashville, Tennessee and became one of the most sought-after session pianists where he played for the Everly Brothers, Johnny Cash, Roy Orbison, Perry Como and Patsy Cline among others. He'll be remembered by many as the man who played on the early sessions by Elvis Presley when he made his debut at RCA in 1955. He played on most Presley songs through to 1968.
He developed his own style known as 'slip note' which was described at the time as 'a lonesome cowboy sound.' Cramer said, "It's like a near miss, you hit the note below the one you want and slide up into it. I developed this technique with the songwriter, Don Robertson." He first used it on the 1960 hit Please Help Me I'm Falling by Hank Locklin. The same year, Cramer, at the suggestion of his guitarist friend, Chet Atkins, to showcase his style, recorded his own track, Last Date, which reached number two in the States and it was kept from number one by Elvis Presley's Are You Lonesome Tonight? on which he also played piano. Cramer acknowledged in an interview with Pophistory, "It's been done for a long time on the guitar by people like Maybelle Carter and by lots of people on the steel guitar; half-tones are very common."
On the Rebound was the follow up to Last Date and his first hit in the UK. Naturally, the record company wanted him to tour, but he was reluctant to leave his lucrative session work by touring. Instead, he released numerous easy listening albums including America's Biggest Selling Pianist (1961), Floyd Cramer Gets Organ-ised (1961), Country Piano, City Strings (1964) and Floyd Cramer Meets the Monkees (1967) as well as albums with Chet Atkins, Boots Randolph and Danny Davis.
A number of his albums featured cover versions of popular hits of the day and in 1979, he won a Grammy for Best Country Instrumental with My Blue Eyes. In 1980, he recorded a hit version of the theme song from the Dallas TV series. Later that same year he decided to go on tour with the aforementioned Chet Atkins and joining them was the saxophonist Boots Randolph (best remembered in the UK as the man who recorded the theme to the Benny Hill Show) and called themselves the Million Dollar Band. That name was inspired by the famous Million Dollar Quartet, which was collectively, Carl Perkins, Jerry Lee Lewis, Johnny Cash and Elvis Presley following an impromptu jam session at Sun Studios in Nashville.
Cramer died of cancer on New Year's Eve 1997 at the age of 64. Although best known for playing country music, he did play many other styles which included jazz, gospel, blues and classical. He said, "Music is emotion, mood, regardless of what you name it. I wouldn't want to be pigeonholed as playing only country or pop."
On The Rebound would have been heard by a new younger audience when it was played over the opening credits on the 2009 Oscar-nominated film An Education that was set in 1961.