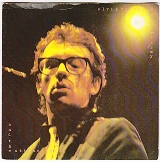 This week's Single of the Week, is another one with lyrics that shouldn't have been played on the radio, but, unlike less offensive songs (ok, that is an opinion) for example God Save the Queen, Wet Dream or Relax, was. This song was never banned, or, as the BBC like to put it, 'restricted' since its release in 1979 that still includes the blatant use of the N-word. Radio presenters have been sacked for similar offences like the case in May 2014 when David Lowe, a DJ on BBC Devon, lost his job after playing a song on his golden oldies show containing a racist word. He was unaware that a 1932 version of The Sun Has Got His Hat On included the n-word and the BBC failed to accept his excuse that he was unaware of it even though he immediately apologised on air. When I mentioned on Twitter that this was ridiculous when Oliver's Army by Elvis Costello & the Attractions is played all the time, it cause a bit of an uproar. So let's analyse Oliver's Army and find out why.
Elvis was born Declan MacManus, not in Liverpool as many suspect, but in London, Paddington to be precise, but his parents are Scouser's and the family moved to Liverpool when Declan was 17. His father, Ross, was a jazz trumpeter and singer/songwriter and used to sing with the Joe Loss Orchestra. In 1974 Ross wrote and sang the R. White's lemonade television commercial (remember I'm a secret lemonade drinker?), well if you do, you will have heard, but not been aware, that his son was singing the backing vocals.
In early 1971 Ross released one solo single on the Spark record label, a cover of the Beatles' The Long and Winding Road which was credited to Day Costello. It failed to make any impact, except on Declan who liked the name and chose to adopt Costello as his own profession surname. Whilst at school Declan played as a member of both Rusty and Flip City before being spotted by Jake Riviera who became his manager and promised to sign him to Stiff records if he changed his first name to Elvis. Initially reluctant, but soon agreed, Elvis had a record deal. His first release, Less Than Zero, came in March 1977 but failed to chart. Between that release and his first hit, Watching the Detectives in November the same year, the other Elvis (Presley, in case you weren't sure!) died and Mr Costello was worried that using the same name might hinder his success, but thankfully not.
In early 1978 he switched to Radar records and scored hits with I Don't Want to Go to Chelsea, Pump It Up and Radio Radio before having his biggest hit Oliver's Army which spent three weeks at number two behind both the Bee Gees' Tragedy and Gloria Gaynor's I Will Survive.
That song is so poignant on so many levels today. Elvis wrote it in 1978 on a plane whilst returning from Belfast. Being his first time in the city, he was upset and shocked to see such young soldiers from the British army walking around with machine guns. The song also touches on the troubles in Northern Ireland at the times, general life in the army and the end of the British Empire. Elvis said, "I was upset by the idea that armies always get a working class boy to do the killing."
There's been confusion over the years as to whether the Oliver in the title refers to Oliver Cromwell who was the leader of the Parliamentary army during the English Civil War under the reign of Charles 1, or Oliver Lyttelton who was Winston Churchill's President on the Board of Trade at the start of the Second World War and there's no reason to think it isn't both especially as Cromwell was hated in Ireland and that's where Elvis was returning from and the line 'Though it could be arranged, with just a word in Mr. Churchill's ear' would indicate the latter. Either way, the song doesn't actually have anything to do with either, it's a general anti-military statement and points to the fact that in his opinion the only realistic option that anyone who is unemployed have is to join the army and it came at a time when the unemployment figures in this country were extremely high.
Musically the piano melody was inspired by Abba's Dancing Queen and was only originally intended as an album track until the track was finished and Radar said it was too strong to be tucked away. Elvis wanted to paint the picture that joining the military can be a nice thing as indicated with the line, 'My mind goes sleepwalking, while I'm puttin' the world to rights'. 'Call careers information, have you got yourself an occupation' refers to the way the British army recruited kids with bad grades straight from school at the age of 16.
There are references to other troubled parts of the world, Checkpoint Charlie being the vehicle and pedestrian crossing by the Berlin Wall between East and West Berlin. The 'Murder Mile' is a stretch of road in North Belfast where Protestant loyalists regularly used to remove Catholics from the streets during the 1970s to face agonising deaths. 'Hong Kong is up for Grabs' was ahead of its time by 18 years when in 1997 sovereignty was handed back to China, 'London is full of Arabs' sounded even more prophetic especially after what happened on 7/7 and the line 'With the boys from the Mersey and the Thames and the Tyne' is pointing to three of the UK's biggest rivers in cities where much military recruiting was done. The last line, 'We could send you to Johannesburg' basically says that if we can't get you a job here we'll send you to South Africa where things aren't much better. The hardest hitting lyric is the controversial, 'Only takes one itchy trigger, one more widow, one less white n***er' which is how Elvis envisaged Britain being established as the hub of an Empire and actually being able to points and fire guns at people like himself.
In an interview with Q magazine in 2007, Elvis gave his opinion as to why he thinks it was such a successful and enduring song, "I don't think its success was because of the lyrics. I always liked the idea of a bright pop tune that you could be singing along to for ages before you realise what it is you're actually singing. Of course, the downside of that is some people only hear the tune and never listen to the words. After a while I got frustrated at that."
The song was produced by Elvis' friend Nick Lowe, who, in an interview with Uncut magazine, recalled what happened, "We went through it all afternoon, and it just wasn't happening at all. Elvis didn't like it and he was getting more and more shirty. I couldn't see why. I thought it was a really good track, but it did sound very obviously poppy. Maybe that was a problem for him. Anyway, something about it was getting up his nose, and I'd started making overtures about this, well, all is not lost, Elvis. I can take this off your hands any time. Steve Nieve, the Attractions' keyboard player, said, 'What about if I do a sort of Abba piano part on it?' Complete silence. We knew their records were good, but no one wanted to own up to it. Elvis', solid consensus was, 'Let's try it.' I didn't think this was going to disturb my plan to get the track for myself. Nieve did the piano part and suddenly the thing went from black-and-white to fireworks. I don't think it's quite the first take that you hear on the finished record but the effect was instantaneous," Nick added. "It gave the record an unbelievable sound and spirit. I thought it was pretty good before, but when the piano went on it I saw my nefarious scheme going out of the window. I didn't mind too much, because it was such a great cut. And so Elvis had them massive hit – and I didn't!"
In 2014, the BBC were bombarded with complaints after they edited out the n-word for play on Steve Lamacq's BBC 6 Music programme. One particular listener complained to Radio 4's Feedback programme that, "the BBC had failed to understand the meaning of the song's lyrics." He continued, "Although it is not a nice phrase and I wouldn't condone the use of the word these days, it is an anti-war song as far as I believe, and arguing against British colonialism and the word would be appropriate for that song." Both Mike Read and Trevor Nelson were invited to comment on the show and both criticised the decision to censor the song, Mike said, "I think cutting a piece out and changing the whole tempo of the music simply draws attention to it. If you don't like the sentiment or you don't agree with the sentiment then don't play it but to take the scissors and cut a bit out of it, I am sure Elvis Costello might have something to say about that." A BBC 6 Music spokesman said the decision to censor lyrics was made "on a case by case basis. In this instance it was decided that the song would be edited but it does not mean that it would always be the case. We take into consideration a number of factors including the nature of the language, the station and its audience, the time of day, editorial justification and the wider context of the programme." Of course you do! In 2013 Elvis performed the song at the Glastonbury Festival, which was broadcast by the BBC and no one minded then.
The BBC also tried a similar trick with The Pogues' and Kirsty MacColl's duet on A Fairtytale of New York when they decided after about 25 years that the word faggot should not be heard anymore and cut it out and once again, following many complaints they decided to reinstate it.