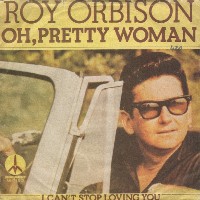 This week's suggestion is about someone with one of the most distinctive soaring voices in musical history. How his voice is heard coming out of the speaker on your radio or stereo is not how it sounded when he recorded it I remember hearing Jeff Lynne explain once in an interview, but it's amazing how a throw away one-line comment inspired such a timeless classic.
Roy Orbison, whose unusual middle was Kelton, was born in Vernon, Texas in April 1936, 10 years later he and the family moved 350 miles south-west to Wink. He learned to play guitar after his father bought him a guitar for his sixth birthday. In the mid-fifties he began singing with a local band called the Wink Westerners and one day he saw a live performance by Elvis Presley and Johnny Cash and it was the latter who suggested he went to see Sam Phillips at Sun records. After a couple of television appearances, the The Wink Westerner changed their name to the Teen Kings and recorded the song Ooby Dooby for a local label called Je–Wel. When a local record store owner heard it he called Sam Phillips, played the song down the phone and on the strength of that he was signed to Sun.
Roy could also write a good song and one of his first and biggest success for another act is when the Everly Brothers recorded Claudette, a song he'd written about his wife. A couple of years later it was a comment from Claudette that inspired Oh Pretty Woman.
He had begun writing songs with Bill Dees whom he had known from his childhood in Texas and one day Bill was at Roy's house and they were writing some lyrics when Claudette, came in and said flirtatiously, "Give me some money, honey. I'm going to the store." Bill Dees offered, "A pretty woman don't need no money" and Roy started singing, 'Pretty woman walking down the street.' "He sang it while I was banging my hand down on the table," recalls Bill, "and by the time she returned, we had the song." Fred Foster at Monument Records said it needed an ending so that they added a coda in which Roy gets the girl.
Bill Dees says, "I love the song. From the moment that the rhythm started, I could hear the heels clicking on the pavement, click, click, the pretty woman walking down the street, in a yellow skirt and red shoes. Perhaps it's a sailor singing the song. She goes by and flashes him a half-smile as if to say, 'I am above this.' He looks at his watch and when he looks back, she's looking at him. We wrote Oh Pretty Woman on a Friday, the next Friday we recorded it, and the next Friday it was out. It was the fastest thing I ever saw. Actually, the 'yeah, yeah, yeah' in Oh Pretty Woman probably came from The Beatles." The musicians on the track included four guitar players; Roy Orbison, Billy Sanford, Jerry Kennedy, and Wayne Moss and the others were Floyd Cramer on piano, Boots Randolph and Charlie McCoy on sax, Bob Moore on an upright bass and two drummers Buddy Harman and Paul Garrison. Interestingly, the song only mentions the full title once right at the end when he includes the extended 'Ohhhhhh Pretty Woman'.
Roy had a pretty tragic life, he had poor eye sight as a child and had to wear enhanced lenses. Because of his black rimmed glasses many thought he was blind but he wasn't. In the early sixties Roy discovered that Claudette had been having extracurricular activities and when Roy found out he filed for divorce. In 1966, they remarried but ended in tragedy after she was killed when a truck hit the motorcycle she was riding. Two years later, whilst Roy was on tour, more tragedy struck as his house caught fire and his two eldest sons lost their lives.
One of the song's most distinctive parts was Roy's growl and cry of 'mercy' "I can't do that growl like Roy," Bill Dees told Spencer Leigh, who performs Oh Pretty Woman in his own act, "but the 'Mercy' is mine. I used to say that all the time when I saw a pretty woman or had some good food. Still do." Dees even said 'Mercy' when he found that the song was being used in the Julia Roberts film, Pretty Woman in 1990. The film's original title was 3000 but it was only when the song was added did it lend the film its title.
Roy's chart career stalled in the late sixties with his last hit being Penny Arcade which dropped at number 40. His name was rekindled in 1980 when Don McLean took Roy's Crying to number one and the same song memorably being used in an episode of Only Fools and Horses when a cabaret singer suffering with a speech impediment kept singing 'cwying'.
In 1987, Roy was inducted into the Nashville Songwriters Hall of Fame as well as the Rock and Roll Hall of Fame and it was his friend Bruce Springsteen who initiated him. His own career was revived in 1988 when he began collaborating with Jeff Lynne on a new album. Jeff had recently been working with George Harrison on his new album and Lynne suggested all three had lunch. It was at that lunch the idea of a supergroup was muted. Bob Dylan and Tom Petty were contacted and The Traveling Wilburys were born. They had three UK hits beginning with Handle with Care. It was during a recording of one of their sessions that Jeff Lynne asked Roy to sing like he did in the sixties and Roy said he was, go into the control room and listen back he told Jeff. It was the interview I heard where Jeff said he couldn't believe Roy sounded so different when standing next to him.
In December 1988, Orbison finished a gig in Ohio but was exhausted and returned home to rest. Two days later he visited a friend where they flew model aeroplanes and later had dinner. After dinner, Roy left to visit his mother and died of a heart attack at her house. He was just 52.