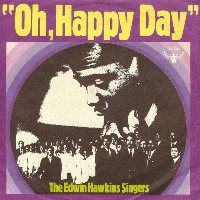 There are literally hundreds of music genres and sub genres and many are restricted to certain areas around the world, for example, Latin music is massive in the USA and warrants its own Billboard chart but has limited appeal in the UK, likewise is true of the genre that this week's suggestion fits into. Oh Happy Day is a gospel song which means so little in the UK, but, again, in America at one time had its own chart. The suggestion for this came from noodlehendon who asked, via email, "As lockdown restrictions are nearing an end, how about cheering us up with the story of Oh Happy Day." Well noodle, why not?
Although the song was popularised by the Edwin Hawkins Singers, it began life as a mid-18th century hymn and penned by an English clergyman named Philip Doddridge with Edward Rimbault writing some music to it in 1854 which included the refrain Oh happy day, oh happy day, when Jesus washed my sins away, he taught me how to watch and pray, and live rejoicing every day". The first recording of it was by the Trinity Choir led by Elsie Baker and Elizabeth Wheeler in 1913.
Hawkins was born in Oakland, California in August 1943 and came from a family of gospel singers. Before he reached double figures, he had learned piano so that he could accompany the family. Later he became the pianist at the Ephesian Church of God in Christ in his hometown of Berkeley. He assembled his own gospel choir called the Northern California State Youth Choir but when local gospel officials complained about the way Hawkins was using the music and petitioned radio stations to stop playing his music. It was his record label who rechristened them the Edwin Hawkins Singers.
Hawkins discovered a lady by the name of Dorothy Morrison who had been singing in R&B clubs in Richmond, California, but Edwin advised her to keep that activity quiet as it wouldn't have been well-received by the strict gospel fraternity. He recruited her to his choir which, at various times, featured Donald Cashmere, Clara Hill, Odia Coates, Rueben Franklin, Shirley Miller, Daniel Hawkins, Ruth Lyons, Elaine Kelly, Sylvia Guiton, Tramaine Hawkins, Gayle Smith, Francis Williams, Jewel Nickerson, Lynette Hawkins, Jeannie King and Dorothy Morrison who took the lead vocal on Oh Happy Day and got the deserved credit on the record label. "The song expresses joy and love for Jesus, but it connects with a wider audience," Dorothy Morrison said. "Audience reactions are always strong, people want to have a happy day, and that song helps them do it."
In an interview with the San Francisco Chronicle in 2009, Hawkins explained that Oh Happy Day was one of eight arrangements he put together for his Northern California State Youth Choir, which was made up of 46 singers ages 17 to 25, and the plan was to sell an album of the songs to finance a trip to a church youth conference in Washington, D.C.
According to Songfacts, the tracks were quickly recorded live in church on a two-track tape machine which was industry standard at the time, but the records weren't pressed in time for the trip. They did attend the conference, and the choir was placed second in a singing competition, where they performed two of Hawkins' arrangements, but not Oh Happy Day, which Hawkins said was "not our favourite song."
Five hundred copies of the album were pressed and one of them found its way to the popular DJ Abe 'Voco' Kesh at KSAN-FM in San Francisco, who put it on rotation and Hawkins got signed to Pavilion records where they released his debut album Let Us Go into The House of The Lord which featured Oh Happy Day. Other radio stations followed suit and in 1968, Hawkins found himself with an offer to be signed to the Buddah record label. They released Hawkins' next album Peace Is Blowin' In the Wind which featured Silent Night, White Christmas, a cover of Frankie Laine's I Believe and the title track – a cover of the Bob Dylan song. They then repackaged and re-released Let Us Go into The House of The Lord under its new title Oh Happy Day.
Hawkins' created a new model for gospel music by using innovative and unique sounds never before heard within gospel circles. He gave some of his songs a Latin feel and even used synthesizers. This almost undoubtedly had an influence on soul singers like Aretha Franklin who had grown up singing gospel songs in Church where her father had been a reverend.
The single reached number four in America and number two on the UK listing and running at three minutes and 45 seconds which was edited down from the five minutes 10 second version that appeared on the album and the version that seems to appear on all compilation CD issues.
It won a Grammy Award for Best Soul Gospel Performance and has been used widely in films like Roadside Prophets (1992), Big Momma's House & Nutty Professor II: The Klumps (2000), Bruce Almighty (2003) and Parental Guidance (2012) but is probably best remembered for its showstopping performance in Sister Act 2: Back in the Habit in 1993. As for television, it has made appearances in 90210, Six Feet Under and Queer as Folk. In 1992, Hawkins made an appearance in the film Leap of Faith as a choir master.
Morrison later toured as a backing singer for Boz Scaggs and Van Morrison and formed her own group the four Blues Broads of which she is still a member. Hawkins died of pancreatic cancer in January 2018 at the age of 74.