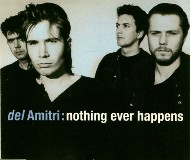 One of the age-old music trivia questions is, which group's name in Greek means 'from the womb?' Del Amitri right? Wrong! Find out more and read all about their 1990 hit Nothing Ever Happens.
The band were formed in 1983 by former chef Justin Currie, an appropriate name for a chef, in Glasgow. The original line up comprised, singer/bass player Currie, guitarist Iain Harvie, rhythm guitarist Bryan Tolland and drummer Paul Tyagi. They were compared, at the time, to Orange Juice, but Currie's songwriting let them carve a niche of their own.
Justin explained in an interview with Song Writing magazine how he got into music, "I started by listening to The Beatles and pop music from quite a young age. My dad was a classical musician, but that was all a bit too intellectual for me. I really got into MOR stuff when I was eight or nine years old. My parents had a stereo in the 1970s and for some reason they bought Gilbert O'Sullivan's first two albums, which I absolutely adored, and still do. We had a piano in the house so I learned Let It Be and Imagine on the piano when I was about 12 or 13, then one of my dad's mates stored a bunch of stuff in our house and he had a classical guitar, so I started learning that. But at that point I was into punk rock, so I played basslines on the bottom two strings and started writing little punk songs on it." A friend of Justin's started his own record label and they recorded one song. They farmed a few copies around and it make Single of the Week in Sounds which, in turn, led to a John Peel session on Radio 1.
Now, about the name; when asked in a 2010 interview he said, "It was invented to be meaningless. Just a corruption of the Greek name 'Dimitri.' In various books it says Del Amitri, which is Greek for 'of the womb' — it's not Greek for of the womb in any Greek dialect. But that's become almost a fact even though it's not a fact."
Their debut single, Sense of Sickness and its eponymous parent album, both released in 1985, failed to make an impact. Further singles; Stick and Stones Girl and Hammering Heart did likewise. They took a little break and Currie spent time honing his songwriting skills. In 1988 the line-up changed when Currie and Harvie – the only two original members to remain throughout – brought in Andy Alston on keyboards and various sessions players including violin, cello and accordion, they also signed a record deal with the A&M label.
Their first hit, Kiss This Thing Goodbye reached number 59 in August 1989, but it got them on the chart map. The accompanying album, Waking Hours, did much better reaching number six and spending 10 months on the chart. Harvie recalled, "The album was out for about four months before anyone paid any attention to it. At the time, we were basically playing the same places we were playing when we were blagging gigs. It's pretty crappy, but in this country you have to have at least one hit single to get people's attention."
The follow-up, Nothing Ever Happens went all the way to number 11, and became their biggest hit. "It's a protest song that came directly out of the mid-to-late 80s," Currie said, "a lot of our songs came out of that period and are not relevant to us anymore," but they continued to play them. It's actually a song that have haunted the band ever since. Currie said in an interview with Ian Fortnam in Record Collector, "We ended up getting pigeon-holed as a bit of a folk band because the video for Nothing Ever Happens had me and Iain strumming acoustic guitars. In actual fact, we were desperately trying to be a rock 'n' roll band."
The song tells the story of the mundane, boring life of your average person finishing their day. The secretaries who type all day and are glad to switch off their machines. Janitors, or caretakers, as we call them, going around locking up buildings just so a night security guard can keep an eye on them all night. Pub landlords happy to call 'time' so people can leave and then having to kick the last few stragglers out at the end of a night. Then how everything is silent at night. CCTV's in department stores that constantly record nothing happening. He even suggests that martians could land in the car park and no one would bat an eyelid. On the news, we hear terrible stories but just carry on as we do. Then the next day, the same thing happens. In other words, nothing ever happens, nothing really different happens and so the world remains as it did before.
Throughout the 90s, they released 15 more singles, all of which made the top 40, the highest being 1998s Don't Come Home Too Soon, a song Justin wrote whilst he was bored on tour. He said of it, "I wrote that song about Scotland going to the World Cup which I disguised as a love song. People who heard it said I should send it to the Scottish Football Association, which I did." Their last hit was appropriately called Just Before You Leave which reached number 37 in 2002. The band have never actually split up but Harvie began concentrating on production and Currie began a solo career. He has released four albums, What is Love For in 2007 and The Great War in 2010. Both failed to make the chart, but in 2013, Lower Reaches did just that, when it made number 46 and just last month came his latest, This Is My Kingdom Now which made number 54.
In recent times, Justin confessed that he's become lazy. Roll to Me, a 1995 single, did really well in the States and the royalties have kept him comfortable. "I gave up the whole prolific thing years ago," he told Aaron Slater. "I used to write maybe 30 songs a year of which 20 I would take to the band. I've got stacks of these songs and I go back to listen to them now and they're rubbish. So now what I do is if I start a song and I know it's going to be rubbish I just don't bother finishing it. I write the first verse, think 'this is going nowhere' and go back and watch the telly. I know that sounds lazy but it's not. It's a structured creative approach." But he can't and doesn't want to give it up, "It's just something I have to do, or I go completely mad. If I haven't written a song for six months I start getting very antsy. It doesn't need to be a good song – I just need to write something. It's not something I'd ever stop doing. I don't care if it's a song by Justin Currie or Del Amitri, as long as I've written and sung it, I'm happy."